Message from the Program Director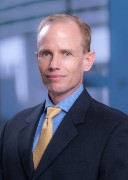 Scott A. Lindberg, MD, FASA
Program Director, Anesthesiology Residency
Welcome to the anesthesia residency program at Houston Methodist Hospital. Our goal is to train outstanding clinical anesthesiologists who are recognized as leaders in patient safety and more broadly, within their community.
While we are a newly accredited program, we are not new to training residents. Houston Methodist has established residencies in twelve disciplines and more than thirty fellowship programs. Nor are we new to training anesthesiologists: The Department of Anesthesiology currently hosts rotations in neurosurgical, cardiothoracic, regional and transplant anesthesia for three affiliated residency programs.
Our program is unique in its blending of private practice and a more traditional academic department. Our large and diverse faculty, is formed out of a long-standing collaboration between Houston Methodist Hospital and US Anesthesia Partners, one of the largest anesthesia groups in the country. A mix of traditional academic and private practice experiences will prepare our residents to appreciate – and excel in - any practice environment.
The bulk of your training will occur at Houston Methodist Hospital, ranked the number 1 hospital in Texas by US News and World reports. It is the flagship hospital of the Methodist System, a high volume quaternary care center with over 70 anesthetizing sites providing care. Additional rotations will be hosted by Memorial Hermann Hospital, one of the largest trauma centers in the United States.
As the program director my mission is to deliver an excellent educational curriculum, clinical experiences second to none, all while ensuring an environment conducive to your growth and well-being. I have been practicing at Houston Methodist for sixteen years. In that time, I have served in many roles, most recently as the director of liver transplant anesthesia. Outside of my clinical roles my passion is patient safety and quality improvement, having served on committees at the hospital, and on the state and national level.
I am looking for residents who are curious, skeptical, and open minded, and who display empathy and humility.
Through our commitment to unparalleled safety, quality, service, and innovation, we are confident that you will find Houston Methodist Anesthesiology to be an exceptional choice for residency training.