Live sport and entertainment events have been cancelled. Movie releases have been postponed. Many people are working from home.
We're all being asked to practice "social distancing" these days. If your first thought is, "What does social distancing even mean?" — we've got you covered.
Why are we social distancing?
COVID-19 is primarily spread from person-to-person via the respiratory droplets released when an infected person coughs, speaks or even breathes.
Social distancing aims to prevent this spread by reducing close contact between people. It may sound inconvenient, but it's a social responsibility we should all take seriously. (That and making sure you're wearing a cloth face mask in public and practicing proper hand hygiene and proper cough etiquette).
The CDC reports that someone infected with COVID-19 can be contagious before symptoms ever even begin. To make matters worse, some people remain completely asymptomatic, but are still contagious. This means that, even if you feel healthy, you could be unknowingly spreading the virus if you're not practicing social distancing.
While some people experience only a mild illness when infected with the new coronavirus, others don't. Preventive measures like social distancing help protect vulnerable people from developing more serious illness.
Social distancing can include large-scale measures, like canceling crowded group events and closing public spaces. But it also includes a conscious, individual effort from each one us to practice the measures that help prevent the spread of COVID-19.
The do's and don'ts of social distancing
Many cities and businesses have implemented large-scale forms of social distancing, but we should all be making an effort to practice social distancing in our personal lives.
If this all still sounds pretty vague, here are the do's and don'ts of social distancing:
Do avoid close contact. COVID-19 spreads primarily through person-to-person contact, via respiratory droplets formed when a sick person coughs, speaks or breathes.
Don't greet people with a handshake or hug. In fact, keep six feet of space (or more) between yourself and others as often as possible.
Do avoid large crowds. Avoid gathering in large groups, especially while indoors.
Don't dismiss it since you think it sounds unreasonable. Social distancing isn't the same as being isolated or quarantined in your home 24/7. It just means making a purposeful effort to modify your social behaviors and reduce your contact with other people as much as possible.
Speaking of quarantine, if you've come into close contact with someone who has COVID-19, it's recommended that you self-quarantine — even if you aren't showing symptoms.
Is social distancing effective?
Whether it's a postponed wedding, canceled conference or the complete lack of live sports and entertainment, the aftermath of large-scale social distancing has likely already affected your everyday life.
So, it's worth it, right?
Yep.
One of the primary benefits of social distancing, if put into action early enough during an outbreak, is the effect it has on the "epidemic curve" — namely, its ability to flatten it.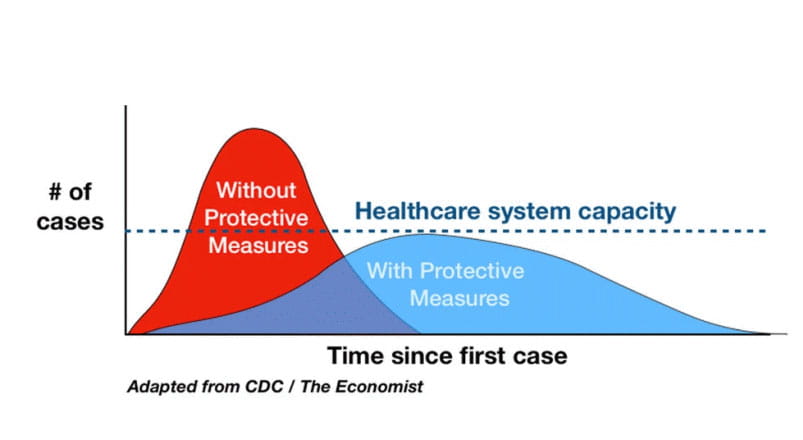 An epidemic curve depicts the number of cases occurring at any on time. Without preventive measures, that curve is a very sharp, steep peak. In this scenario, it's easy to see how the number of sick individuals could quickly and easily exceed available health care resources — such as hospital beds or ventilators.
"Flattening the curve" reduces the number of cases occurring at any one time. This helps ensure that hospitals have the supplies and resources needed to provide those with severe illness the effective care they need.
Plus we know social distancing works because of a 2007 study that analyzed how several U.S. cities fared during the 1918 Spanish influenza epidemic — believe it or not. The study found that the cities that implemented preventive social distancing measures — like closing schools, churches and theaters — in the early stages of the outbreak experienced less disease transmission, as well as less death.
Concerned you may have COVID-19?
If you're experiencing COVID-19 symptoms, you can speak to a Virtual Urgent Care provider 24/7. The provider will help you determine if testing is needed and advise you on where you should go.
Stay up-to-date
Please Enter Email
Please Enter Valid Email