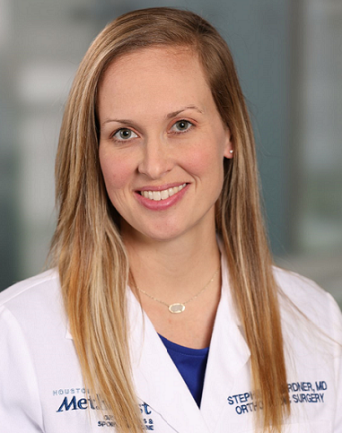 AY 21-22 Chief Resident
I graduated from Texas A&M in 2013 with a degree in Biomedical Science and received my medical degree from Texas A&M Health Science Center in 2017. You might say that I bleed a lot of maroon. I would like to thank my parents Sam and Beverly, my brother Brian, and my husband Ben for supporting me over the years. I could not have accomplished all that I have without their help, love, and unwavering support.

My first interaction with the orthopedic department at Houston Methodist was during my third year of medical school. I had an interest in orthopedics and reached out to Dr. Liberman. She immediately got me in touch with Drs. Harris and Weiner to discuss research and rotation opportunities, and they were very welcoming and eager to help. I was impressed with their level of dedication to me as a medical student that they had not yet officially met and could tell from that first impression that this faculty's passion and dedication for teaching was sincere and precisely what is needed to promote success. This is one of the things I love most about our program.

I have genuinely enjoyed my years at Houston Methodist and recommend this program to anyone. The faculty are very responsive to feedback and are willing to make changes to our curriculum (rotations and conferences) to foster the best learning environment for the residents. I am grateful to learn from such a great group of attendings; Attendings who have taught me not only how to take care of patients with the best quality of care, but also how to run an effective practice while maintaining a personal life. We also have direct access to abundant research resources, including a great research support team to help with IRB submission, stats, data collection, etc., and have dedicated time to conduct it.

Houston is a great place to spend five years and offers a multitude of activities for all types of interests. There are many museums, a remarkably diverse culinary scene, AND it is near other Texas attractions, including the Texas hill country and Galveston Beach. Houston offers a unique mixture of cultural experiences so there is something for everyone. Outside of orthopedics, I enjoy spending time with my family, watching Texas A&M football, and being active outdoors.

After graduation, I am going to Memphis, TN to complete a foot and ankle fellowship at Campbell Clinic. I would like to thank all the attendings for their time and dedication, and owe a special thanks to Drs. Varner, Liberman, and Hanson for their guidance which helped me land a great fellowship. After fellowship I plan to come back to Houston to start my foot and ankle practice.
---