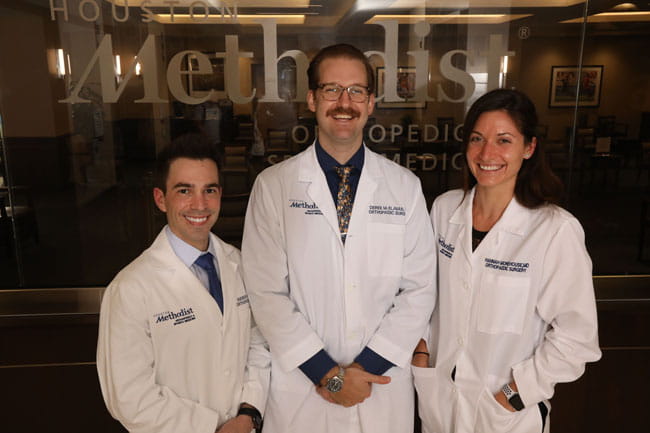 Ay 20-21 Chief Residents
I graduated from the University of Wisconsin-Madison in 2012 with a degree in Biomedical Engineering and went on to receive my medical degree from Georgetown University School of Medicine in 2016. While I am extremely honored to call myself an alumnus from both of those institutions, I am even more proud to call myself a son to Bob and Sarah, and a brother to TJ. Without the love and support from these three individuals, I wouldn't be where I am today.

In the fall of 2015 as a fourth year medical student visiting from Washington D.C., I completed an orthopaedic surgery acting internship at Houston Methodist. I would encourage all medical students interested in orthopaedic surgery to apply for an acting internship here. On the first day of my rotation, Dr. Weiner the program director personally walked me around the 25th floor clinical office. Who knew orthopaedic surgeons wore cowboy boots in the hospital? Our discussion entailed him telling me about the history of the department as well as his vision for the future. From our department's location 300 feet above the city one can clearly see the downtown Houston skyline to the North, the entire Texas Medical Center to the east, NRG Stadium (home to the NFL's Houston Texans) to the south, and Rice University campus immediately to the west with the Uptown Galleria skyline not far behind it. It is no coincidence that Houston Methodist literally and metaphorically sits atop the epicenter of everything that is happening in the United States 4th most populous city.

The orthopaedic surgery faculty at Houston Methodist understand how to promote success and consistent development in each resident. Our program director Dr. Shari Liberman (hand & upper extremity surgery) and department chairman Dr. Kevin Varner (foot & ankle surgery) are just two of the many surgeons who take valuable time out of their day, and away from their families, to develop young surgeons such as myself. In addition to Drs. Varner, Weiner, and Liberman I also owe special thanks to foot & ankle surgeons Dr. Pedro Cosculleula and Dr. Jason Ahuero. They too played a huge role in helping me to match my top fellowship choice in foot & ankle surgery at Rush University Medical Center in Chicago, IL.

Outside of work I enjoy watching college football, eating out repeatedly at the same three restaurants despite having one of the world's most diverse culinary scenes at my disposal, and spending time with Houston's (unofficially) top-rated Neurosurgical ICU nurse, Erin. After completing my fellowship I plan to settle down in a location that makes her most happy, and build my orthopedic foot and ankle practice while providing team coverage to high school and collegiate level athletes.
As a graduate of the United States Air Force Academy, I have taken a slightly different route than my colleagues to get to Houston Methodist. During my undergraduate years, I was able to experience a vast array of mental and physical challenges, ranging from basic training, freefall parachuting, survival training, to working as an EMT. I finally knew I wanted to go into orthopedics after sustaining an ankle fracture and meeting the orthopedic surgeon at Travis Air Force Base. From there I continued on the military path and went to the Uniformed Services University in Bethesda, MD. During medical school, I had the opportunity to work with fantastic teachers and mentors to overcome the challenges of caring for military personnel and their families. I was then very excited to match and become a resident at Houston Methodist Hospital.

Houston Methodist has many strengths to orthopedic training, both in the clinic and the operating room. At Methodist I've been lucky enough to work with some of the greatest examples of attending surgeons who are not only skilled surgeons and talented teachers, but also caring human beings who put the wellbeing of their patients first and foremost.

The program works tirelessly to ensure each resident leaves training with both a breadth and depth in the many disciplines revolving around the practice of orthopedics, including spine, sports, musculoskeletal oncology, foot and ankle, joints, hand and pediatrics. Methodist also encourages academic research and, even more importantly, provides the time and resources to pursue different projects.

If you want to face challenges that will inspire you and make you an excellent surgeon, consider Houston Methodist's residency program. And as an added bonus, Houston is a vibrant city with a great many things to do, from great restaurants to incredible professional sports teams, to an outdoor experience ranging from great running trails to water sports to horseback riding and rodeo. Coming from a small town in Northern California, it was an adjustment moving to Houston, but it has become one of my favorite places to work and live!

Since the Air Force paid for my undergraduate and medical school education, I will be serving as an orthopedic surgeon in the military after residency. I look forward to that challenge and know that Houston Methodist has prepared me to give back to those who protect us.
I want to congratulate all the applicants on their choice to pursue an incredibly rewarding career in orthopedic surgery. I am humbled to have the opportunity to provide my reflections over my past 4 years and give a brief window into life training at Houston Methodist.

As you begin this endeavor, my first recommendation would be to take the time to enjoy the process. You are all exceptionally qualified, and I hope you will take a moment to reflect on all your hard work. Appreciate the journey and the opportunity that lies ahead of you. Orthopedic surgery training across the country is phenomenal, and I firmly believe you will graduate well equipped for practice regardless of the institution. When considering training programs, one thing I would offer is envision who you want to become in 5 years. As you interview at programs, try to determine whether that program and environment would help set you on the trajectory. I did not fully evaluate programs this way, when I was in your shoes – but I am extremely thankful to have found my home at Houston Methodist. I am confident in saying that our mentorship model, predicated on the close support and instruction by our faculty was the best training environment for my growth.

As I considered programs (for both residency and fellowship), I placed a high value on the opportunity to leave an impactful legacy on the program. I continue to be amazed by the willingness of our leadership to actively seek resident input into rotation schedule, conference curriculum, and teaching tactics. I am proud to have helped establish our weekly Hand grand rounds and restructure our curriculum using online platforms during the COVID-19 program. The ability to adapt as a program and continuously evaluate our areas of opportunities is one of our greatest strengths as a training institution. Our program is drastically different than when I began as an intern, and I am hopeful that our new class of interns will be able to say the same four years from now. I am confident that our current trajectory will cement the Houston Methodist Orthopedic Residency as one of the premier training programs.

During my time, I have also been involved in the GME council and House Staff committees. The collegial environment among the residency programs here at Houston Methodist is unmatched. The preeminent support provided to trainees by the GME department is readily apparent. The benefits provided are innumerous, but some highlights include resident compensation (the highest in the state), comprehensive medical insurance policies, and a focus on resident wellness (including a state-of-the art gym and even providing free massages for residents). This dedication was recognized on the national level, as Houston Methodist was selected as one of only six finalists for the ACGME and Arnold P. Gold Foundation DeWitt C. Baldwin, Jr. Award. An award that "recognizes institutions with accredited residency/fellowship programs that are exemplary in fostering a respectful, supportive environment for medical education and the delivery of patient care, which leads to the personal and professional development of learner."

One last personal piece of advice is to surround yourself with people who support you every step of the way. I am extremely fortunate to have such incredible mentors who helped guide me to today. The countless hours spent developing my surgical skills, clinical acumen, and helping to shape the person I have become.

I want to thank Dr. Woody, Dr. Jafarnia, Dr. Liberman, Dr. Siff, and Dr. Le for their unabated support during my training and invaluable guidance during the fellowship process.

I'd also like to thank my wife, Brittany. I could not have completed this journey without your unwavering love and support over the past four years. Best of wives, Best of women.

I wish you all the best, and I hope you will strongly consider Houston Methodist for your next five years.

I'm excited to head to the Northeast next year for a Hand Fellowship at UMass Hospital.
---