Nickolas Boutris, MD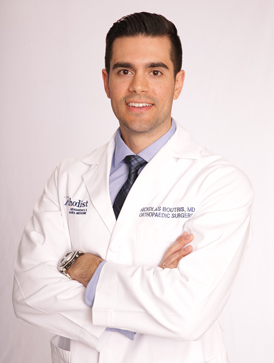 I was born and raised in the Dallas Fort Worth area. My earliest influence in life came from my Greek and Italian family who showed me the importance of integrity and a strong work ethic. I played many sports growing up, earning my Black Belt in Taekwondo and playing basketball while in high school and these experiences helped lead me to a career in Orthopaedics. I earned my Bachelor of Science in Biology from Baylor University and attended medical school at the University of Texas Medical Branch. During my 4th year of med school, I had the opportunity to perform an away rotation at Houston Methodist. I witnessed firsthand everything that Houston Methodist had to offer, from the one-on-one teaching provided by top notch staff to the world-renowned facilities. The positive multidisciplinary team-based environment was unlike anything I had ever experienced before. Although at that time it was a young residency program, I could see its great potential. I was so impressed by the program that I knew this was where I wanted to be for residency.
Those same positive characteristics that initially drew me to Houston Methodist are stronger than ever before. Consistently ranked as having one of top orthopaedic departments in the nation and the best hospital in the state, Houston Methodist is continuously improving and our residency program is improving along with it. Our residency experience is unique in several ways:
Mentorship model – In contrast to the large resident run teams of many academic institutions, our clinical rotations are set up so that residents are working one-on-one with faculty whether in clinic or in the OR. On a daily basis, residents are provided with a great educational experience from physicians who are leaders in their field.


Didactics – Attached to the hospital is a high-tech simulation lab called MITIE where we hold cadaver labs and surgical skills labs throughout the year. A mixture of lectures, OITE reviews, journal clubs, and subspecialty conferences are held weekly as well.


Research – Our faculty are very involved in clinical and basic science research. No matter what the interest or field of study, faculty support and funding are available. Residents are encouraged and funded to present research at national conferences.


Location, Location, Location – Houston Methodist is located in the middle of the largest medical center in the world. Within walking distance of multiple hospitals, two other orthopaedic surgery residencies, and a multitude of orthopaedic surgery subspecialty fellowship programs, we have access to a large number of educational resources. Not to mention, many of the major Houston sports teams are covered by physicians who we get to work with on a daily basis. Houston itself is a great place to live and work.


The decision to train at Houston Methodist has already paid off for me as I was able to match into my top choice for a Sports Medicine Fellowship at Lenox Hill Hospital in New York City. I know that the education and surgical experience I've obtained here will help me succeed in the future.