Robert Jack, MD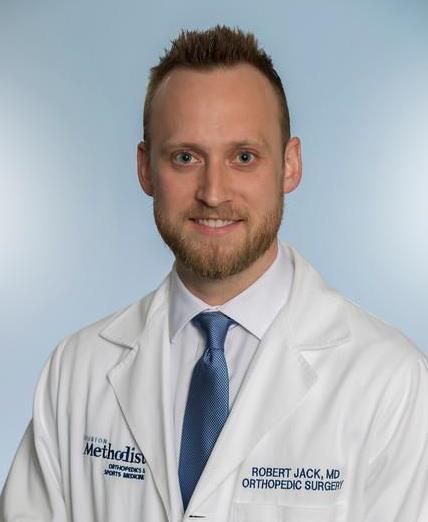 I was raised just north of Pittsburgh, Pennsylvania and have been making my way south ever since. I earned my undergraduate degree in chemical engineering at Virginia Tech but realized early on that medicine was a better path for me. I received my medical degree from Eastern Virginia Medical School and was excited when I matched at Houston Methodist for my residency.
I have always been interested in teaching, and I plan to pursue a career in academics to work alongside medical students, residents, and fellows. Additionally, my aim is to be a team physician. These interests are what led me to match at Houston Methodist. A huge asset of this program is its youth and versatility; residents truly are able to mold their residency experience to suit their interests. In my four years here, I have been provided with numerous opportunities to take care of athletes both on and off the field from the high school to professional levels.
Consistently ranked as having one of the top orthopaedic departments in the nation and the best hospital in the state, Houston Methodist is continuously improving and our residency program is improving along with it. Other reasons to consider the Houston Methodist orthopedic surgery residency program:
Mentorship model – You will not be lost among a sea of residents here. We are typically placed with one or two attendings in each rotation lasting 2-4 months. This allows for an individualized experience for each resident as they learn the tricks of the trade from attendings both in the operating room and in the clinic. From literally day one of residency I was able to gain hands-on experience with nationally respected surgeons. This has already been indispensable for my career. .


Research – All of our faculty are active in clinical or basic science research. There are countless ongoing projects that faculty are more than happy for you to get involved in. Alternatively, there are numerous resources and overseeing faculty in all subspecialties to help bring your own project ideas from development to completion. In addition, residents are encouraged and funded to present research at local and international conferences.


Location – The Texas Medical Center is the largest medical center in the world with many other top ranking hospital systems blocks from Houston Methodist. It is a huge asset to have these resources just around the corner. Houston itself is currently the fourth largest city in the country and boasts a broad restaurant scene, various night life locales, a rich museum and theatre district, and a short drive to the Gulf of Mexico. Oh, and the Houston professional sports scene is pretty great right now.


After residency I will be moving to Philadelphia for a Sports Medicine fellowship at Thomas Jefferson University at the Rothman Institute.