Orthopedic Sports Medicine Fellowship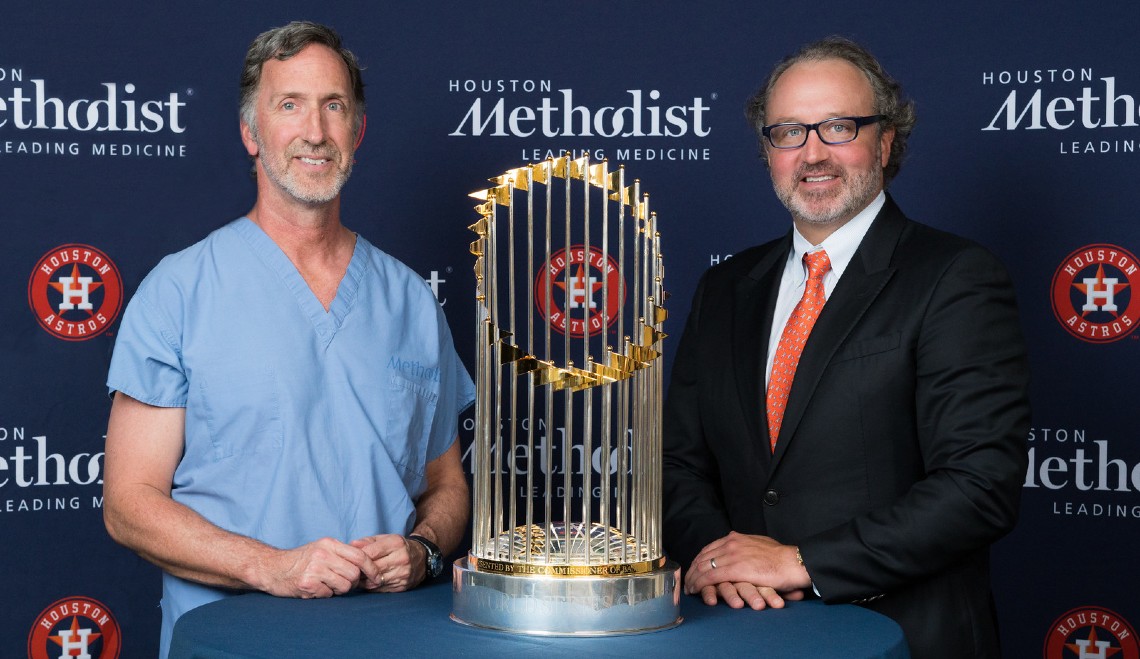 Houston Methodist Hospital has been ranked the #1 hospital in Texas by U.S. News & World Report for 23 years in a row. It is nationally ranked in 8 specialities, including orthopedics where it is ranked #1 in Houston. Houston Methodist Orthopedics & Sports Medicine is one of the largest, most active programs in the nation. Our skilled team of orthopedic surgeons, primary care sports medicine physicians, physical and occupational therapists and athletic trainers use the latest innovative techniques and pioneer new technology to deliver exceptional care to patients with musculoskeletal injuries.
Houston Methodist Orthopedic Sports Medicine Fellowship from Houston Methodist on Vimeo.
We provide care to many of the elite athletes in and around Houston, making this a true sports medicine program with unparalleled access to a broad spectrum of athletes. We are the official health care provider for the Houston Texans (NFL), Houston Astros (MLB) and Rice University Athletics (NCAA). Through the Center for Performing Arts Medicine (CPAM), we also provide care to the Houston Ballet, Houston Symphony and Houston Grand Opera. In addition to in-office consultations and surgical and nonsurgical treatment, fellows assist with sideline, training room, spring training coverage, and draft preparation. Fellows learn how to interact with elite athletes, coaches, trainers and agents.
OFFICIAL HEALTH CARE PROVIDER


We also have one of the largest athletic trainer outreach program in the country, and have affiliations with over 98 area schools. The fellows assist with the care of these athletes through providing game coverage, pre-participation physicals and training room evaluations. The Fellows also provide care to the NASA Astronaut Corps by performing regular visits to Johnson Space Center.
The faculty outpatient offices are located in Outpatient Center, which is connected by walkway to the main hospital building. The orthopedic surgery department occupies the entire 25th floor of the Outpatient Center, with an orthopedic-focused operating suite on the 19th floor of the same building.


This is a one-year Accreditation Council for Graduate Medical Education (ACGME)-accredited fellowship. In thanks and recognition of the very generous support from the Houston Texans Foundation, we have now named all Sports Fellows the Houston Texans Scholars. The sports medicine fellowship is an intensive training program in advanced techniques within sports medicine, with extensive exposure to caring for elite athletes, both collegiate and professional. The sheer volume of clinical experience our fellows get - both in scope and breadth - makes our program unique. As an AOSSM-accredited program, this allows graduates to obtain their Certificate of Added Qualification (CAQ) in Sports Medicine.
---
Program Contacts
Jessica Q. Walsh, MFA
Education Manager
6445 Main St., Suite 2500
Houston, TX 77030
Tel: 713.441.3892
Fax: 713.793.7107
Email:
jqwalsh@houstonmethodist.org
David Lintner, MD
Program Director
6445 Main St., Suite 2500
Houston, TX 77030
Fax: 713.790.2054
Patrick McCulloch, MD
Co-Program Director
6445 Main St., Suite 2500
Houston, TX 77030
Fax: 713.790.2058