Houston Methodist Hospital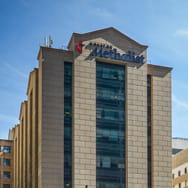 Houston Methodist Hospital
serves as the primary teaching hospital of the residency program. While rotating at Houston Methodist, residents will have a broad exposure to many complex surgical disease processes. They will receive extensive operative experience in foregut surgery, hepatobiliary surgery, colorectal surgery, advanced laparoendoscopic surgery, endocrine surgery, cardiothoracic surgery and vascular surgery. Residents will also gain unparalleled experience in critical care at the Dunn Surgical Intensive Care Unit, a 31-bed unit staffed by five fellowship trained surgical intensivists.
Memorial Hermann Hospital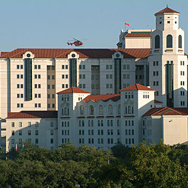 Memorial Hermann Hospital
, located in the Texas Medical Center, is a 755-bed tertiary care teaching hospital has one of the busiest Level I trauma centers in the country and is the site of the regional adult burn unit. It is also home to the Children's Memorial Hermann Hospital, an integrated facility within Memorial Hermann Hospital that is a large referral site for children with routine and complex surgical disorders.
Our general surgery residents will spend approximately nine months of their residency at Memorial Hermann Hospital in each three rotation area:
Rotation on the trauma service at both the junior and senior resident levels
Rotation on the pediatric surgery service during the intern and third year
Rotation on the burn service during the second year
MD Anderson Cancer Center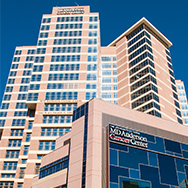 Located in the Texas Medical Center,
The University of Texas MD Anderson Cancer Center
provides our residents with world-class training in the multi-disciplinary management of patients with common and rare complex malignancies including breast, melanoma and sarcoma. As a site of training for many surgical residents and fellows from around the world, the volume of clinical activity provides residents with an extensive exposure to surgical oncology. Residents will spend approximately three months of their training at MD Anderson Cancer Center.