Last month, a team of Houston Methodist doctors and health care workers traveled to Ukraine to provide care to soldiers and civilians injured in the war with Russia.
The team was part of a 13-person medical mission coordinated by the Face the Future Foundation, a nonprofit that provides life-altering reconstructive surgery to people in need around the world.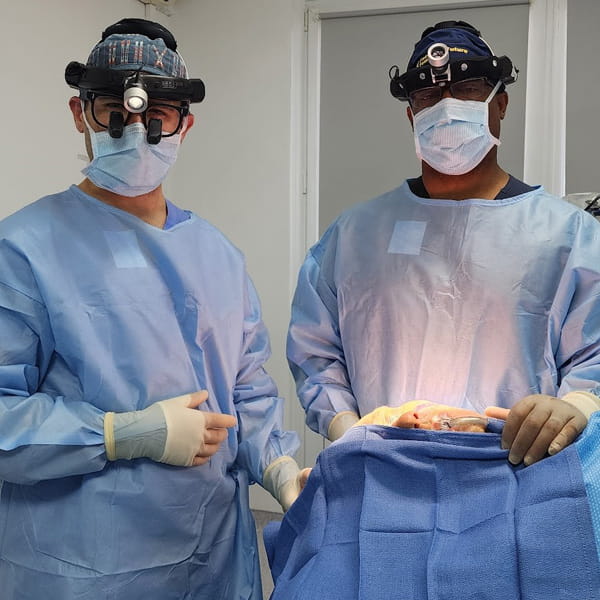 The mission — in Ivano-Frankivsk, a city in the northwest region of Ukraine — involved surgery on wounded soldiers and civilians and training Ukrainian surgeons the surgical techniques they would need to provide such care when they're on their own again.
The Houston Methodist team consisted of facial plastic surgeon Dr. Anthony Brissett (pictured right above), head and neck cancer surgeon Dr. Joshua Kain (pictured left above), anesthesiologist Dr. Burke Bradley and surgical technician Heather Leard.
Between March 25 and April 3, the full 13-person group performed 112 procedures on 30 patients, accounting for almost 100 hours of surgery.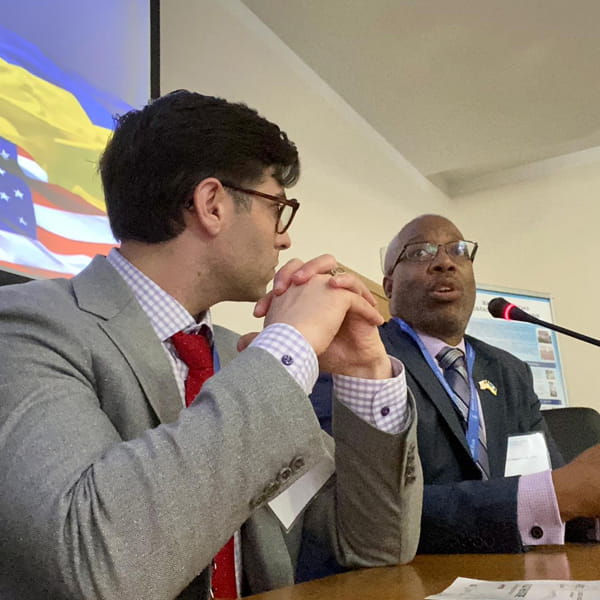 Training and educating Ukrainian surgeons was a key component of the mission.
While Ukraine has a robust health care system, it is being challenged not just by large volumes of patients — around 100 soldiers and civilians are dropped off at hospitals for treatment every month, noted Dr. Brissett — but also by the incredibly complex nature of the injuries.
"Wounded patients are usually stabilized in military hospitals and then sent to regional hospitals to be treated," explained Dr. Brissett. "The head and neck surgeons at these hospitals are trained in procedures like sinus surgeries but often have no experience managing this level of injury."
Drs. Brissett and Kain participated in a teaching symposium for surgeons from Kyiv, lecturing on trauma management. Several of their surgeries were also livestreamed for Ukrainian doctors to watch.
"For most of what we did, it was the first time these surgeons were seeing these procedures," said Dr. Brissett.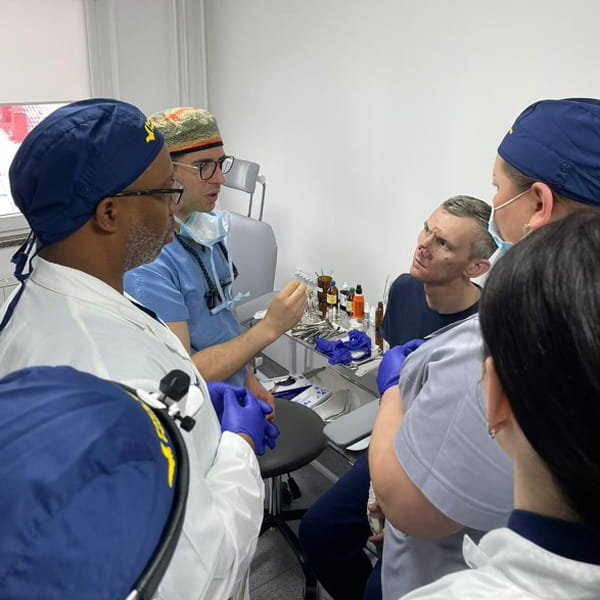 Treating trauma isn't new to Drs. Brissett and Kain. From motor vehicle accidents and gun violence to resection of head and neck tumors, the surgeons have ample experience with traumatic or disfiguring injuries here in the U.S.
"Our skillset of reconstructing areas of the head, neck and face can be useful to war-related injuries," said Dr. Kain.
Dr. Brissett has taken part in several medical missions through the Face the Future Foundation. For instance, he treated blunt-force injuries during the Rwanda genocide.
Still, Drs. Brissett and Kain both noted that the magnitude of the injuries they encountered in Ukraine — many of which were blast-related — was unlike anything they had seen.
"Because of the high velocity nature of blasts and explosions, there can be incredible amounts of scarring and soft tissue loss left around blast injuries," Dr. Kain explained.
Dr. Brissett added, "Upon being there — seeing the patients, their families, talking to other civilians — you can't help but have this affect you emotionally in some way. A lot of these people are young men and women in their 20s, living essentially normal lives, with young children. Their lives are now so severely affected."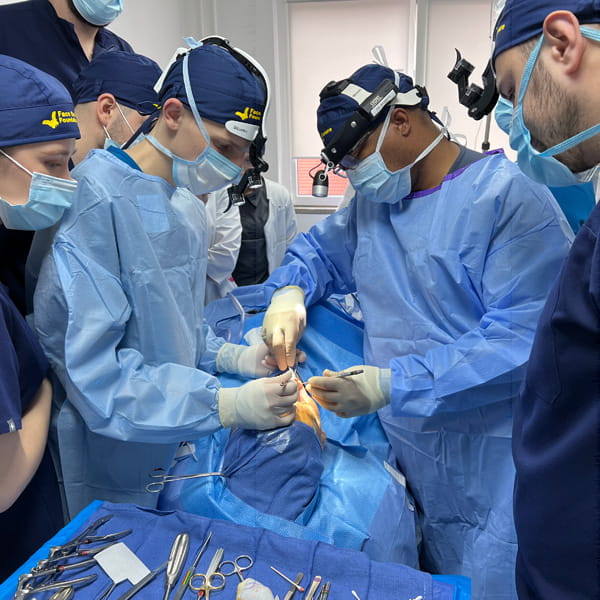 Dr. Brissett spoke about a notable case, a man whose nose was left partially amputated after he sustained an injury during evacuation. Medical professionals provided the lifesaving care needed at the time, but there'd been no reconstruction attempted.
"We made a new nose using cartilage from inside the nose and a flap from the forehead," explained Dr. Brissett. "We expect a significant improvement in function for him."
The procedure is usually done in two or three stages. Dr. Brissett completed the first and will meet virtually with Ukrainian surgeons to instruct and guide them how to perform the final steps.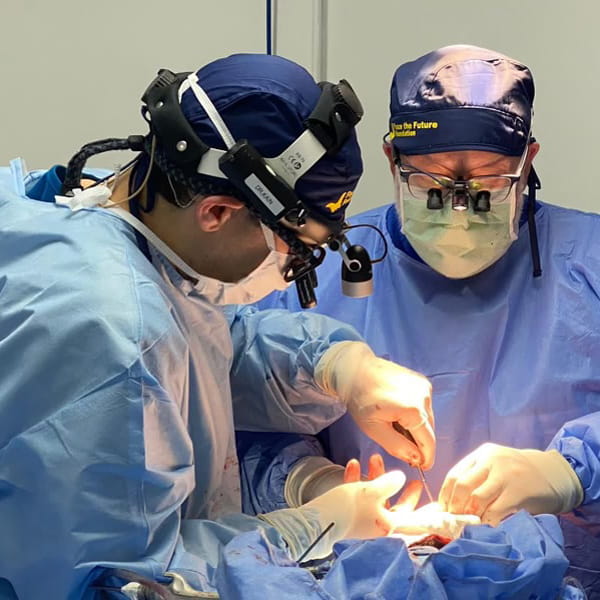 Dr. Kain's most impactful case was a young man, only 24, who sustained a blast injury that left one side of his face completely paralyzed.
"He also had a 10-inch scar that ran from his lips to behind his ear, leaving his cheek and face grossly disfigured," said Dr. Kain. "We used a nerve graft from his leg to transfer motor function from the unparalyzed side of his face to the paralyzed side."
He noted it will take time for the procedure's benefits to take effect, but the hope is that the graft will reestablish motor function in the paralyzed side, allowing the patient to move his mouth and smile again.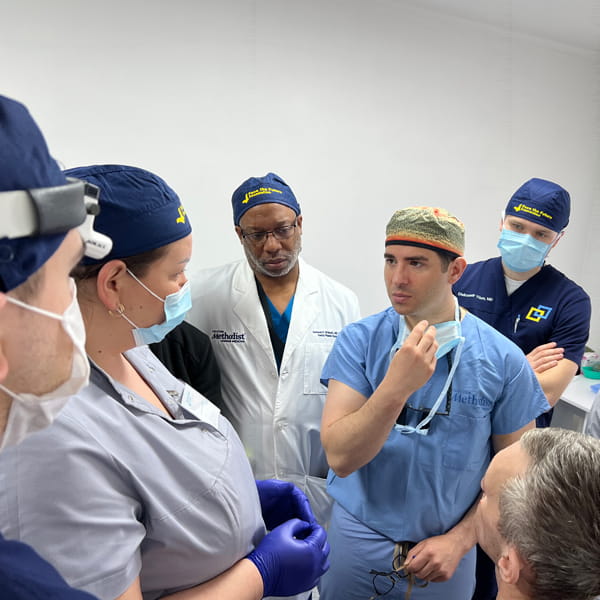 It wasn't just the patients who touched Drs. Brissett and Kain. Everyone readily shared their stories with the team. Dr. Kain recounted one touching conversation with a 25-year-old resident he trained.
"He told me about his wife, who was late in the second trimester of her pregnancy when the war began," said Dr. Kain. "She was forced to seek safe passage in Poland, and the two lived apart for almost three months. He talked about how they wrestled with whether she should come back to Ukraine for the birth or have the baby by herself in Poland."
The couple ultimately decided she would come home for the birth, so the baby could be born in Ukraine and be a Ukrainian.
"That nationalism and pride was seen everywhere," said Dr. Kain. "They have a deep, rich appreciation for their country and their way of life."
Dr. Kain felt a personal connection to the mission and stories like this because of his heritage. A descendant of Jews living in Poland during the Nazi invasion, he knows tyranny's effect on a people all too well.
"This situation has many likenesses to what happened in Poland less than 100 years ago," said Dr. Kain. "Similar-minded people with similar ambitions, losing their country and their lands. A war that's affecting an entire generation of people. It was a phenomenal opportunity to meet these folks and provide care in their time of need."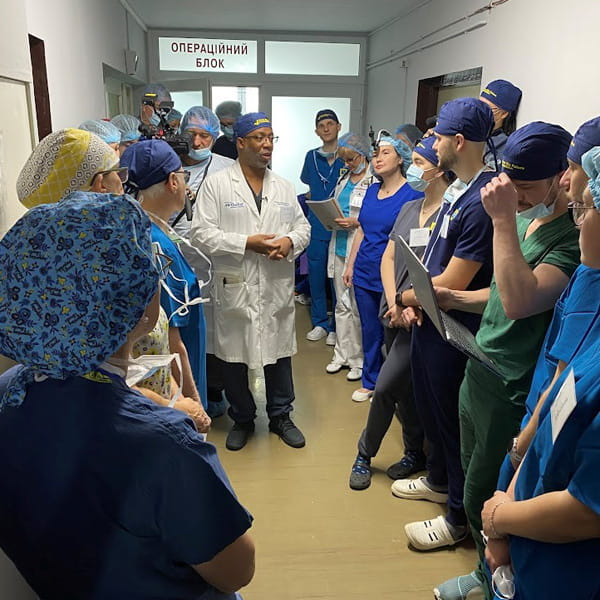 Dr. Kain described the mission as an unforgettable journey, emphasizing that he's grateful to have been part of an effort to bring hope to a young generation that's suffering right now.
"Our hospital has a foundation for what we did," said Dr. Brissett. "We're committed to service, and we put that into action through our ICARE values (integrity, compassion, accountability, respect and excellence) — not just for people here, but around the world."
He echoed that the mission is a story of hope. Mostly for the people of Ukraine, but also for democracy and humanity, as well as for medical care and training.