Tips to Live By
Why I Miss My Gym — And Why That's Okay For Now
May 6, 2020
By Stefanie Asin
Director, communications, public relations & creative services, Houston Methodist
While my colleagues at Houston Methodist are valiantly caring for patients upstairs, I am writing communications from the COVID-19 command center. That's a fancy term for an enormous room on the second floor of Houston Methodist Hospital where people with diverse skills work together to monitor, discuss and strategize all things coronavirus — all day, every day. It's my 60th day here.
I am very busy. But even with the swirl of the epidemic all around me, what do I think about every day on my way home? How much I miss the gym.
I miss my friends, my nail salon, my dinner parties and my favorite restaurants. But oh do I miss my gym.
And missing my gym isn't just what you think it is. Sure, I miss the free weights and the treadmills and the planks. But, mostly, I miss the people I see there every other day during the week. The three older guys whom I have befriended over the years. We talk and work out and I make recommendations for which Houston Methodist doctors they could see. We even talk about our colonoscopies.
Then there's the guy who wears superman outfits to work out in (tights included), and the woman who must have known COVID-19 was coming because she literally sanitizes each piece of equipment four times before getting on it.
I miss getting on the treadmill during SportsCenter and loving every minute of the workout that goes by in a flash. I miss the young men in the free weights area calling me ma'am, and seeing some men work out in their Lee jeans and work boots.
This is my normal life at its best — I want this slice of life back! But in the meantime, I still must work out. Here are some suggestions.
What you did on the treadmill, just do outside. People are way more friendly than they were before. You can even pretend you are traveling, as you walk on streets you have never been on before. You can burn 400 calories walking fast for an hour. Not bad!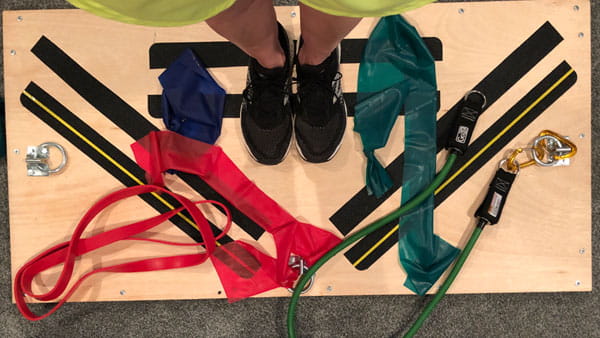 And use bands to replace your weights. Surely someone you know has had physical therapy and has those ubiquitous green, yellow and red elastic bands shoved in a drawer somewhere in their home. I have developed an hour-long routine just using elastic bands. Don't even follow some video online. Just use the bands to work all your muscles. I can't believe it, but it works!
When I look around the command center — which, like a casino, has no windows, no clocks and constant noise — I am reminded of how much I miss the gym. But for now I'm needed here, so I have to accept this is my new normal.
And even when this virus calms down, I may not even go back to the gym for a few months. I want to check in with my seniors, but I feel safest in my upstairs "gym" — stretching my bands. Even if they do snap back and hit me in the face every once in a while.