Tips to Live By
How I'm Managing My Teenager During the Coronavirus Pandemic
July 28, 2020
By Amy Karlson
Dealing with the coronavirus has been tough — for everyone. Especially for my 15-year-old daughter, Katie. For her, the world has shrunk to the size of her phone. Sometimes it expands to her laptop, possibly the TV, and once in a while, even to our tiny back patio. She moves from her bed to the couch, phone in hand, with a meal by herself at the kitchen table thrown in for good measure. She's an only child, which may seem okay, but not when you live in a house with parents who are working from home, with no one else to socialize with but the two of us. For her, every day is exactly the same — like the movie Groundhog Day, but worse. And there's no end in sight.
There are so many things about this time that make me sad. The last quarter of Katie's freshman year of high school was a bust. Sure, she had "remote" learning, but it wasn't planned for, and frankly wasn't much — except for stressful. Selfishly, I must admit that I feel kind of lucky she wasn't a senior, missing prom, graduation, that feeling you have when completing your 12 years of education. Not to mention whatever would happen with college.
Katie doesn't feel lucky, though, and I must say I don't really blame her. She is 15 and only knows what she herself missed out on — is missing out on — which is a lot.
She missed her first high school track season, her first set of high school finals, and her fifteenth birthday party where she was supposed to hang out with her friends. And there is more she will miss. There will be no in-person start of school, no official cross-country season and none of the giddiness that comes on that first day back on campus after summer break.
Heartbreakingly, she also missed seeing her "poppy" one last time before he died last month. It happened so quickly, and because of the virus there was no funeral, so I don't know if she has been able to absorb that her grandfather is gone — or what that even means — since I barely can.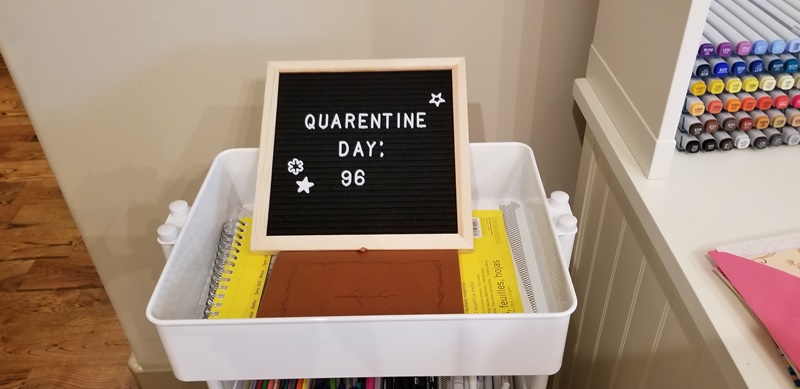 And as sad as these things are, one of the saddest things, in my opinion, is seeing the sign she put in her room to count the days she's spent quarantined…stuck on day 96. Like she couldn't bring herself to count anymore.

Because she is so desperate for something to change, Katie has followed the quarantine order to the letter. She hasn't gone anywhere. And I mean anywhere. (Well, except for the Chick-fil-A drive-thru for a milkshake — and that was just once, and I bribed her.) She "snaps" her friends on her phone (which I guess is how they talk), chimes in to my coworkers on conference calls, but she hasn't seen anyone or done much of anything. And for a fairly social girl, this is rough.
She stays up super late, sleeps in and spends an inordinate amount of time on her devices. In the beginning, we tried to get her to establish a routine (study for the PSAT, regular sleep schedule, exercise, etc.), but she really couldn't do it. And when we spoke to the pediatrician about it, she advised us to let her be. And as hard as that has been, we have done just that.

As a mom, it is painful to watch my child go through all of this. To see her spend days, weeks even, schlumping around doing nothing but watch The Bachelor and Dance Moms. She talks to her friends virtually, but it is simply not the same as person-to-person interaction, which she so desperately wants — and needs. To be honest, I worry about what this virus could do to her not just physically, but also emotionally. And I worry about what the world will ultimately look like for her in a year, two years, five years. I hear her defeated sighs, her "whatevers," and honestly, I don't know what to think or do.

But actually, I do.

I give her a hug, tell her I love her and suggest a walk through our neighborhood or a family board game (okay, so Pandemic may be a little tasteless right now, but we like it). We tackle home improvement projects, throw ourselves into complicated baking recipes and, more than anything else, make a point to talk about what she is thinking, what she is feeling, and about the future. A happy, productive future.

We also talk about how lucky we are compared to so many, blessed with our jobs, our health, our family. We try to focus on small things — things that make her smile, that make all of us happy. Like chocolate chip pancakes and laughing at our silly cats. Telling embarrassing family stories. Going waterskiing at 6 a.m. on a workday. And for myself, appreciating the fact that while my daughter may act like she is mad at me all of the time, she tends to find a way to hunker down wherever I am, regardless of what I am doing. Even now, as I work, she is wedged into two chairs she has pushed together on the other side of my desk, watching another episode of Dance Moms on her laptop with her cat. And I know it's simply to be near me.
So as tough as it has been dealing with this coronavirus pandemic, and as tough as it has been managing my teenage daughter during this time, I can appreciate that. And I know, deep down, that I'm doing okay, that she is doing okay, and that one day, everything else will be okay again.
About Amy
Amy Karlson is Creative Services Lead Editor at Houston Methodist.