Whether running a half marathon or a full one, it's important to have a pair of running shoes you can count on to get you to the finish line — pain-free.
"A proper running shoe helps facilitate the natural movement and biomechanics of your foot, which is especially important during a marathon or long run," says Kristin Salinas, athletic trainer at Houston Methodist. "An improper shoe can affect your normal foot movement while you run and can increase injury."
You probably already know the basics of what's considered a bad running shoe. Shoes that are too tight may cause blisters, bruises on your toes or foot numbness. Shoes that are too big may cause your feet to slide back and forth — affecting how you move and run and placing unwanted stress on your foot.
"Knowing your shoe size is important," says Salinas. "But, when it comes to training and running a marathon, there's more to an improper running shoe than being too big or too small."
Mistake #1: Your shoes don't match your foot type
Finding a running shoe you can trust to take you long distances means knowing your foot type — since this affects the way your foot contacts the ground as you run or walk.
The simplest way to use your foot type to pick out a proper shoe is to look at the arch of your foot.
If you have a high arch, look for a shoe that has a lot of cushioning.
If you have a low arch (or flat feet), look for a shoe that provides plenty of stability and motion control.
If you have a normal arch, look for a shoe geared around stability.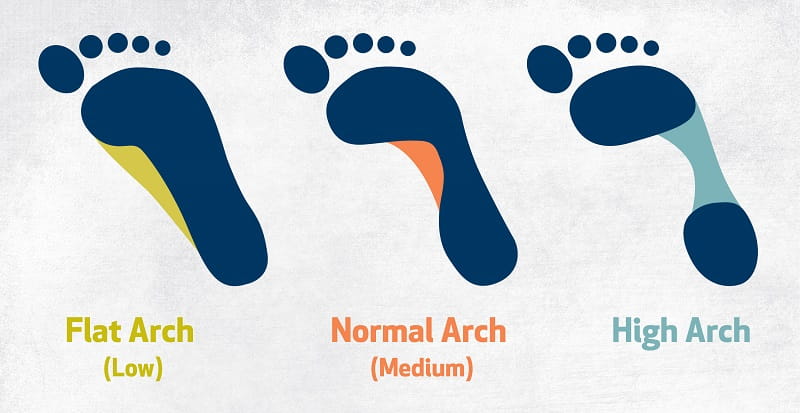 "When it comes to determining your foot type, I recommend going to a specialty running shoe store," explains Salinas. "The sales associates at specialty stores are incredibly knowledgeable about how foot type, stride and mechanics affect your run – and they can help you get in the proper shoe."

If you're in a pinch, there's also a quick DIY method to determine your foot type.

"You can also get your feet wet and stand on dry cement," says Salinas. "From your footprint, you can usually get a pretty good idea of whether you have a normal, high or low arch."
Mistake #2: Your shoes are too old
Your running shoes have a limited lifespan, and it's measured by miles — not time.
"Running shoes have between 300 to 400 miles in them," says Salinas. "If you wear your running shoes beyond that, you increase your chance of getting sidelined due to injury."
That might sound like a lot of miles, but if you're training for a marathon they may fly by faster than you expect. To make sure you don't wear through your running shoes too quickly, Salinas recommends only wearing them while training or during the marathon itself.
And while you can wait for signals like lower leg or foot pain to let you know your shoes are near the end of their life, Salinas recommends a more proactive approach.
"There are great smartphone apps that can help you keep track of the number of miles you've logged in your running shoes," explains Salinas. "Some of these apps, like Run Keeper, will also send alerts when your shoes are getting close to their max mileage."
And knowing how close your shoes are to end of their lifespan is important, since it takes planning to make sure you buy new ones at the right time.
Mistake #3: You shoes are too new
Wearing old shoes during a marathon can lead to foot pain. But so can wearing a brand-new shoe that your foot isn't used to yet.
"After buying a new pair of running shoes, you'll want to log between 50 to100 miles (or about 4 to 6 long runs) in them before wearing them for a marathon," explains Salinas. "This is plenty of miles for your feet to adjust to the shoe, but few enough that you won't wear through the cushioning too much."
While this may take a bit of planning, this is where relying on an app to help you track shoe mileage can help.
And when it comes to buying new shoes, Salinas recommends finding a shoe you like and repurchasing it every time you need a new pair.
"Once you find a pair of shoes that feels right and works for your foot and running goals, stick with it," says Salinas. "If the shoe is discontinued, visit a specialty shoe store and ask the experts to suggest a close alternative."