At Houston Methodist, our goal is to bring nanotechnologies to the clinic. By using interdisciplinary methods to combine nanoengineering, mathematical modeling and biomedical sciences, we develop nanotechnology-enabled therapeutic and diagnostic platforms to combat diseases including cancer, diabetes, cardiovascular and infectious diseases. Our main strategies are to make it possible for clinicians to detect disease early from blood proteomic signatures through the use of nanochips, to produce injectable nanovectors for targeted therapies and to design and create intelligent implants that allow controlled, time-released doses of substances. We have also created nanoscale scaffolding to aid in bone tissue engineering. Through our research, we are also attempting to understand the physics of mass transport within a cancer lesion and mass exchanges between cancer and surrounding host biology in order to create better nanomedicine treatments for cancer. We use several core facilities to advance our research goals; Molecular Diagnostics, Nanoengineering and Peptidomics-Nanoengineering to name just a few.


Remote-Controlled Drug Delivery Implant May Help Chronic Disease Management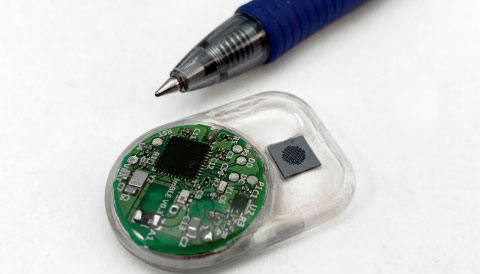 Houston Methodist scientists led by Alessandro Grattoni, PhD, successfully delivered dosages of chronic disease medications using a nanochannel delivery system controlled remotely via Bluetooth technology. Learn More>
Space Study Focuses on Potential Biomedical, Aerospace Applications
Houston Methodist researchers are test-driving Lamborghini's carbon fiber materials in space. Learn more>
---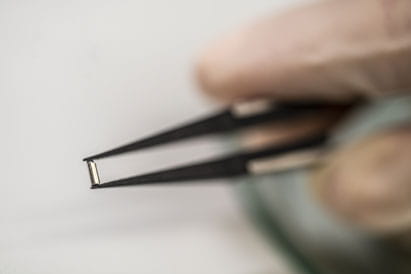 ---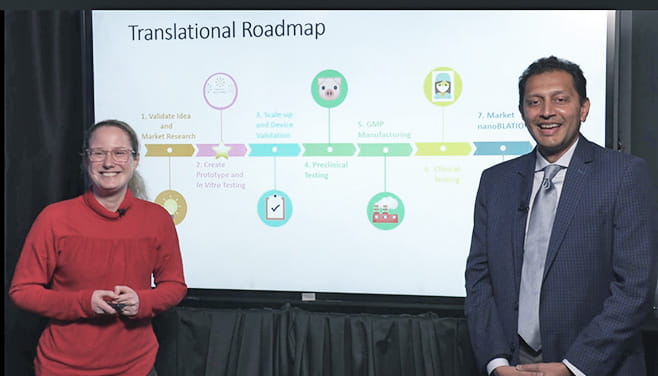 team nanoblation wins the first place in translational innovation
Congratulations to Team Nanoblation on their 1st Place award in the Translational Innovations Competition Cardiovascular Nanomedicine Edition presented at the George and Angelina Kostas Research Center for Cardiovascular Nanomedicine Annual International Meeting. Dr. Carly Filgueira (PhD), an Assistant Professor in the Nanomedicine Department - Houston Methodist Research Institute, teamed up with Dr. Nilesh Mathuria (MD, FHRS), an Associate Professor of Clinical Medicine – Division of Cardiac Electrophysiology at Houston Methodist Hospital. The award was made possible by a generous gift from the Kostas family. Cardiac ablation uses heat energy through radiofrequency ablation, or cold energy through cryoablation, to stop erratic impulse propagation and to restore a normal beating rhythm. It is performed via a catheter inserted through a vein or artery under image guidance to reach the abnormal heart tissue. The procedure is exposed to challenges related to catheter slippage or inadequate depth tissue reach, resulting in arrhythmia recurrence. The winning team used innovative heat-emitting nanoparticles enabling a targeted ablation that covers the entire arrhythmia-causing region.