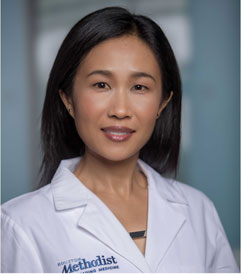 Zejuan Li, MD, PhD, FACMG
Associate Professor of Pathology and Genomic Medicine
Houston Methodist Academic Institute
The Li lab is interested in understanding the pathological mechanisms underlying the development of leukemia and lymphoma and uses advanced in vitro and in vivo techniques to interrogate the functional roles of protein-coding and non-coding genes in these diseases. The lab is also interested in identifying novel genetic and epigenetic biomarkers for diagnosis, prognosis, and therapeutic response prediction in leukemia, lymphoma, and solid tumors. Dr. Li's research has been published in high-impact journals, including Cancer Cell, Journal of Clinical Oncology, Nature Communications, Blood, Leukemia, Proceedings of the National Academy of Science, Genome Research, and Cancer Research.
Dr. Li is the Associate Medical Director of the Houston Methodist Hospital Molecular Diagnostic Laboratory and an Associate Professor in the Department of Pathology and Genomic Medicine at the Houston Methodist Academic Institute and Weill Cornell Medical College. Prior to joining Houston Methodist in 2018, she was an Assistant Professor of Human Genetics and an Assistant Director of the Molecular Diagnostic Laboratory at the University of Chicago. Dr. Li is board certified in Clinical Molecular Genetics by the American Board of Medical Genetics and Genomics and has received awards and funding from several agencies, including the American Cancer Society, Leukemia & Lymphoma Society, and Gabrielle's Angel Foundation for Cancer Research.