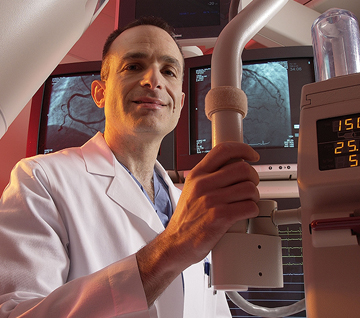 Neal Kleiman, MD
Professor of Cardiology
Houston Methodist Academic Institute
Dr. Kleiman's research efforts, have been focused on acute coronary syndromes and coronary interventions. The bulk of this effort has been in the design, management and execution phases of clinical trials in these two fields, at both the single center and multicenter levels. As a part of this effort, he has dedicated considerable time to serving on the steering committees of several dozen multicenter trials.
Dr. Kleiman established the Applied Platelet Physiology Laboratory, where work has centered around two areas: providing clinical trials that were complemented by nested mechanistic and pathophysiologic studies, and carrying out independent physiologic studies examining issues such as aspirin dosing, platelet activation during coronary interventions, individual responses to the activity of thienopyridines, and the relation of platelet turnover and COX-2 expression to aspirin sensitivity. The laboratory has also collaborated with other labs in the Texas Medical Center, including Rice University's Department of Bioengineering, Baylor's Leukocyte Biology Laboratory, and most recently, the Molecular Genetics of Cardiovascular Diseases laboratory at Baylor and the stem cell group at M.D. Anderson Cancer Center. These collaborations have allowed the laboratory to expand its foci to include investigations such as the effects of P2Y12 inhibition and GP IIb/IIIa ligation on leukocyte rolling, leukocyte activation following GP IIb/IIIa administration, the role of platelet P-selectin on leukocyte membrane changes, and, most recently, the relationship between circulating endothelial precursor cells and coronary collateral vessels in patients with acute coronary syndromes.
The specialists at the laboratory also promote and support clinical research operations by providing phlebotomy, processing and shipping services for a broad range of clinical trials, including oncology, cardiology, orthopedics, neurology and endocrinology by handling the submission of general safety lab tests, pre- and post-dose PK samples, pharmacogenetic samples, biomarkers and platelet-related PD testing via aggregometry. They also offer sample handling, from flash freezing and separation of cell supernatants to recovery of its substrate. The laboratory is certified to ship samples on dry ice, refrigerated or in an ambient state according to International Air Transport Association (IATA) regulations.
To learn more or schedule resources for the Applied Platelet Physiology Laboratory, please log in to
iLab
or contact our Lab Manager.
Timothy R. Delao, Lab Manager
tdelao@houstonmethodist.org
713-441-1242