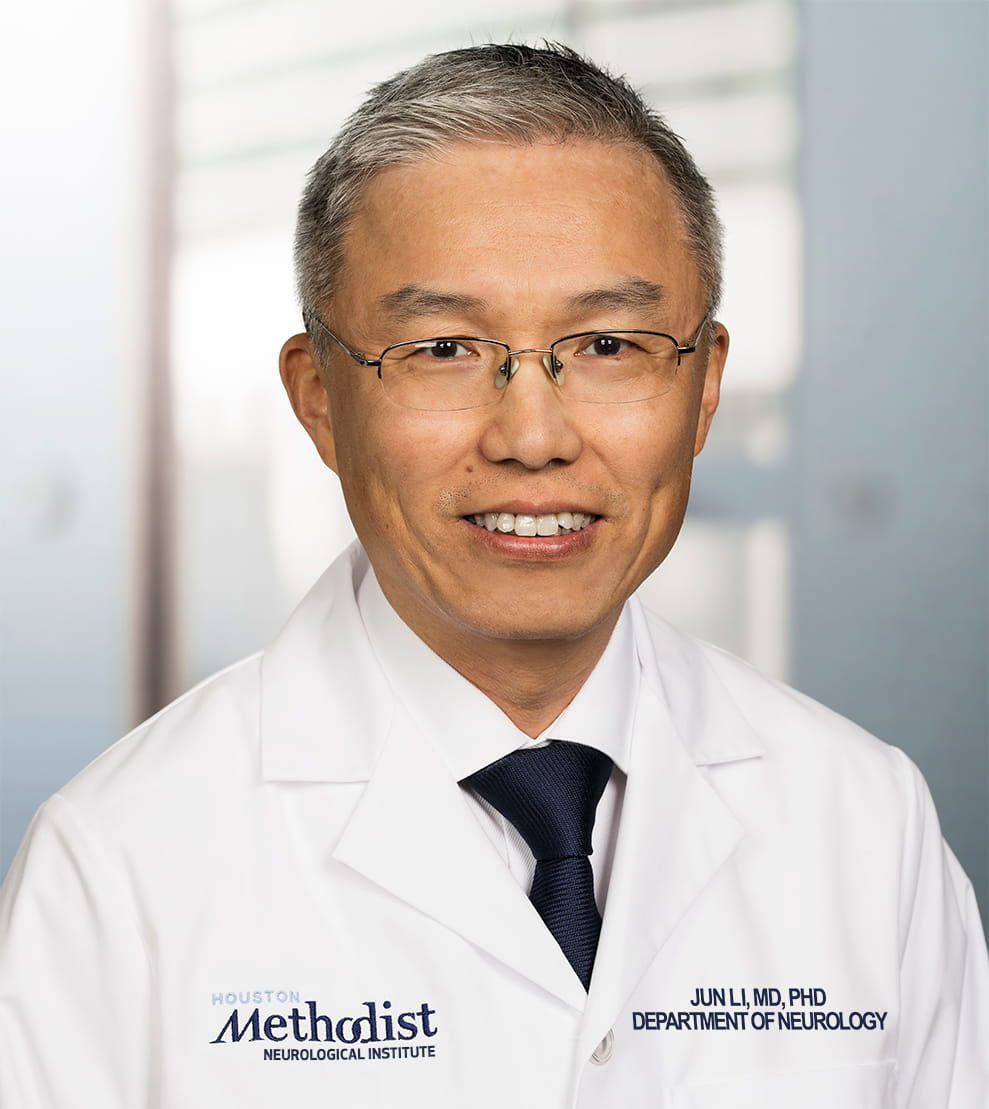 Jun Li, MD, PhD, FANA, FAAN
Chair, Stanley H. Appel Department of Neurology
Professor of Neurology, Academic Institute
Full Clinical Member, Research Institute
Houston Methodist

Dr. Jun Li, MD, PhD, was appointed to be the Chair of the Stanley H. Appel Department of Neurology at the Houston Methodist Hospital, effective on June 1, 2022. Dr. Li most recently served as Professor and Chair of the Department of Neurology at Wayne State University (WSU), where he was also Specialist-in-Chief of Neurology at the Detroit Medical Center and Scientific Director of Translational Neuroscience Initiatives. Dr. Li spent the first nine years of his faculty career at WSU, followed by nine years at Vanderbilt University before taking on the chair position at WSU in 2018. As a physician-scientist, he subspecializes in peripheral nerve diseases and myelin biology. His laboratory has been continuously funded by NIH since 2004. He has published more than 90 articles in peer-reviewed journals and book chapters. These contributions earned him the Wolfe Research Prize from the American Neurological Association in 2014.
In addition to his own work, Li has a passion for mentoring students, post-doctoral scientists, and junior faculty. Many of his trainees have become independent investigators in academic institutions.
He is a newly elected counselor of AUPN and a current member of the American Neurological Association Board of Directors. He has also served as a member of the Scientific Advisory Board for the Muscular Dystrophy Association and the Charcot-Marie-Tooth Association, and the scientific committee of the Peripheral Nerve Society. He has been a member of NIH study sections for more than a decade.
Research Areas
inherited peripheral nerve diseases
myelin biology
peripheral nerve electrophysiology
electromyogram
nerve conduction study
peripheral nerve quantitative MRI (qMRI) to track myelin and axon pathology
automation of quantification of peripheral nerve pathology