Message from the Program Director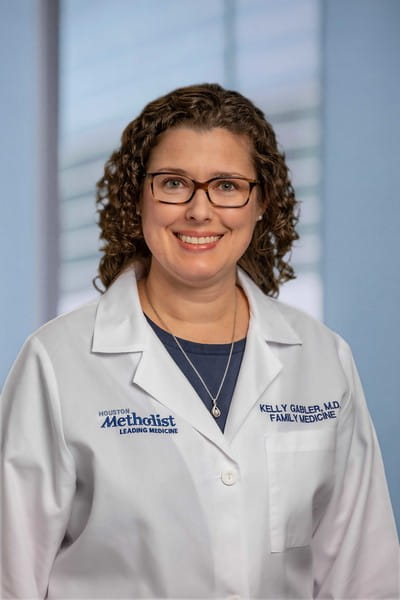 Kelly Gabler, MD
Program Director
Welcome to the Houston Methodist Family Medicine Residency Program website. Whether you are an applicant interested in residency training, a student looking for a rotation or someone who just stumbled across the site on accident, I hope that you are able to learn a little more about who we are and what we do.
Our program has been in existence for over 20 years and has been sponsored by Houston Methodist Hospital since 2005. In 2015, the residency merged with the former Houston Methodist San Jacinto Family Medicine Residency. This allowed us to open up the entire Houston Methodist system to all residents in the newly merged program.
The residency has two family medicine clinics – the Denver Harbor Clinic in Houston and the Legacy San Jacinto Clinic in Baytown. Both clinics are federally qualified health centers (FQHC) and both have been residency teaching continuity clinics for many years. Both clinics provide high quality medical care to patients of all ages and socioeconomic statuses, with an emphasis on serving the underserved.
Houston Methodist Hospital
, our primary teaching hospital, is a tertiary care facility located in the world-renowned Texas Medical Center, which is truly at the forefront of medical care, education and research in the United States.
US News and World Report
has rated the hospital as the best hospital in Texas and one of the best in the nation. The combination of work and learning at Houston Methodist and in one of our FQHC clinics allows our trainees to have an educational experience that is unique in opportunity and exposure.
The true strength of a residency – of any residency – is the people. The committed and enthusiastic faculty, the diverse and hard-working residents, and the dedicated staff and leadership of both the sponsoring institution and FQHCs are the backbone of the program. When you are here, you are part of the family.
Graduates of the program are practicing in numerous and varied practice settings around Texas and across the country. We have successfully placed numerous graduates in fellowship programs in both geriatrics and sports medicine. We are dedicated to helping our residents achieve their own personal goals, however they define them.
Please take some time and look through the website, learn a little more about us and our mission of top quality medical education and patient care. Don't hesitate to contact us if you have a question or need any information that hasn't been provided.
Thanks for taking a few minutes with us.
Kelly Gabler, MD
Program Director, Family Medicine Residency