Family Medicine Residency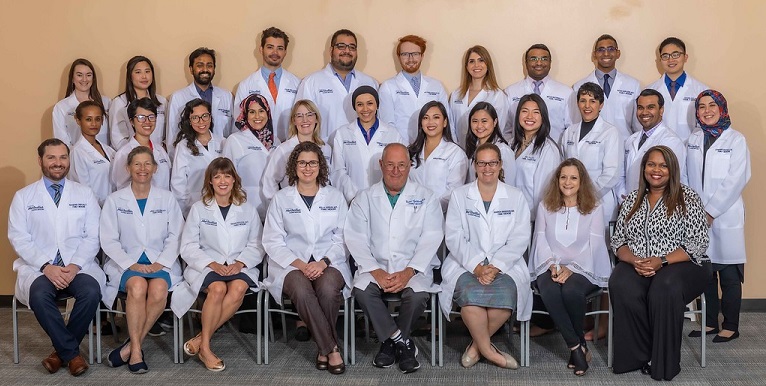 Houston Methodist's community-based family medicine residency is steeped in the tradition of caring for the family, including all ages, ethnicities and walks of life. Along with a dedication to our patients, mutual respect and strong partnerships exist between the residents and the faculty, which enables residents to help direct their education and prepare for their individual professional goals, while maintaining a healthy quality of life.
Program Overview
The Family Medicine Residency Program at Houston Methodist provides a well-rounded experience for its residents, with excellent training in inpatient care (including ICU management) obstetrics-gynecology (OB-GYN) and continuity clinic experience. Inpatient pediatric rotations are performed at Children's Memorial Hermann Hospital, one of the foremost children's hospitals in the country.
Graduates of our residency program are practicing in numerous and varied practice settings around Texas and across the country. We have successfully placed numerous graduates in fellowship programs in geriatrics, sports medicine, preventative medicine and bariatrics. After graduation, residents have also opened up solo private practices or joined group private practices, faculty, hospitalist practices, ER physician practices, etc. Houston Methodist is dedicated to helping our residents achieve their professional goals, however they define them.
Program Highlights
To further the depth of education for its residents, Houston Methodist boasts a strong didactic curriculum. Lectures include morning reports, Wednesday didactic lectures, board review and monthly journal clubs, which are led by faculty, visiting lecturers and residents. These lectures have improved our residents' performances on the national boards and allowed them to develop their confidence in leading medical discussions. Highlights of our family medicine residency are listed below:
Community-Based Program with a University-Based Learning Experience: Houston Methodist is a world-renowned healthcare center in the heart of the Texas Medical Center. We offer small class sizes and a high faculty-to-resident ratio, with direct full-time residency faculty supervision in all areas.
Excellent Clinical Teaching Sites: Our facilities enable residents to use electronic medical records (EMRs) and Wi-Fi-enabled tablet PCs.
Wide Variety of Clinical Exposure: The continuity clinic offers residents a wide variety of patients, including OB-GYN, infants and geriatrics. Many of our clinic patients are underserved and have complex medical conditions. Being in the Texas Medical Center ensures a diverse patient body from within our community and around the world. Residents are exposed to many procedures, such as joint injections, circumcisions, colposcopy, endometrial biopsy, cryosurgery, radio frequency ablations, skin procedures, flexible sigmoidoscopy, osteopathic manipulative treatments, laceration repair and more.
State-of-the-Art Training Facility: Methodist Hospital allows our residents access to the inanimate and animate skills labs at the Houston Methodist Institute for Innovation, Technology & Education (MITIE), where under supervision by faculty and using the latest technology, residents can learn and fine-tune various procedural skills.
Commitment to Evidence-Based Medicine: Our residents learn how to find proper evidence to guide their patient care through resource refinement and efficiency.
Management Practice Curriculum: Our residents have exposure to the core essentials they need to succeed professionally. During this rotation and the longitudinal curriculum, our residents learn how to manage a practice, meet with financial advisors, meet with vice presidents of organizations, etc.
Research: Quality improvement projects and scholarly activity are a core part of the residency.
Professional Growth: As a physician, you will always be a leader of the community. Our program serves to foster that interest and desire in our physicians by providing opportunities to serve in leadership roles on various committees.
---
Program Coordinator
Program Director
Program Director
Kelly Gabler, MD
424 Hahlo St.
Houston, TX 77020
Fax. 713.343.5488