Magnetic Resonance Imaging Facility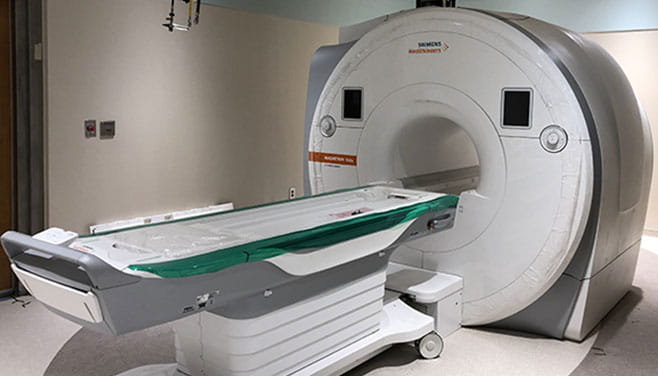 Core Director:
Christof Karmonik, PhD
Medical Director:
Steve H. Fung, MD

To learn more about the core or to schedule resources for this core, please log in to iLab or contact our core director.
Christof Karmonik, PhD
ckarmonik@houstonmethodist.org
Phone: 713.441.7979
As part of the Translational Imaging Center at Houston Methodist, the scientists of the Magnetic Resonance Imaging Facility are ready to assist you with your clinical and preclinical imaging (9.4 T Bruker vertical bone MRI scanner) needs by offering services to help you design experiments, acquire complex images and perform clinical translational research studies. The human MRI scanners we use include the first clinical 7 Tesla MRI (Siemens MAGNETOM Terra) and a state-of-the-art 70 cm wide-bore 3 Tesla whole body MRI scanner (Siemens MAGNETOM Vida) that is in immediate proximity to the positron emission tomography (PET) facility, making it simple to facilitate high-throughput multi-modality imaging. The scanner is equipped to perform a variety of research studies.
Augmenting Information in Medical Image Data: Applications in a Clinical Research Environment
This presentation describes selected MRI research projects performed at the Houston Methodist Hospital where advanced post-processing and analysis methods were utilized to enhance the information contained in MRI image data.