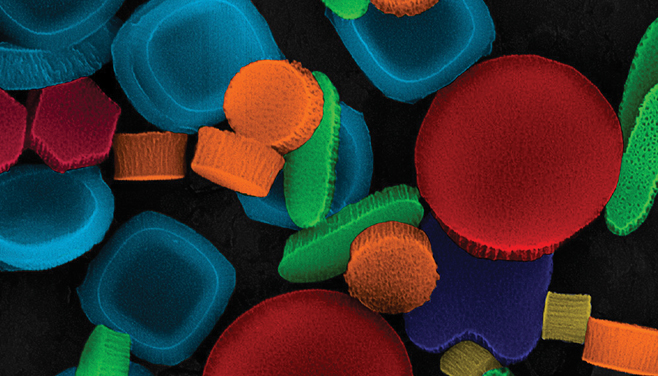 Core Director: Xuewu Liu, PhD
713.441.7322
xliu@houstonmethodist.org

To schedule resources for this Core, please log in to iLab.

Download core brochure for more information.

The experienced professionals at the Nanoengineering Core at Houston Methodist develop and produce state-of-the-art silicon-based bio-nanotechnology using micro-fabrication techniques, achieving some of the highest levels of scalability, precision and reproducibility necessary for accurate clinical applications. Using industry-proven silicon fabrication techniques, coupled with chemical methods, we create novel nanomaterials and nanodevices for biomedical applications. We have also designed fabrication protocols to make many types of porous silicon particles (PSPs) for multistage delivery systems. Owing to their biodegradability and readily modified surface properties, PSPs are emerging as promising injectable drug delivery carriers.

Services:

Develop and produce silicon-based nanoparticles
-Routine: 1 μm x 400 nm discs with 30 nm or 60 nm pores, 2.5 μm x 700 nm discs with
60 nm pores, and 600 nm x 400 nm discs with 30 nm pores
-Available by request: 7 μm x 2 μm discs, 3.2 μm hemisphere, 1 μm x 200 nm discs, 600
nm x 200 nm discs, 1 μm x 400 nm discs with larger pores, and 2.5 μm x 700 nm discs
with larger pores
Design and fabricate PSPs featuring precisely tailored size, shape, and porous structure
Develop multistage delivery system comprising several nested nanocomponents, each of which is designed to negotiate one or more biological barriers
Fabricate stage 1 PSPs in a non-spherical geometry to enable superior blood margination and cell surface adhesion
Design and fabricate 3-dimensional nanostructures for biomedical application