Marialuisa Lectureship for Life

The Marialuisa Lectureship award was established at The Ohio State University Comprehensive Cancer Center - Arthur G. James Cancer Hospital and Richard J. Solove Research Institute by the Ferrari family in memory of Marialuisa Ferrari. The Lectureship is hosted annually on a rotating schedule between Houston Methodist Research Institute, Ohio State University and MD Anderson Cancer Center.

This annual event educates researchers, physicians, nurses, caregivers and the community about the importance of symptom and pain management for cancer patients.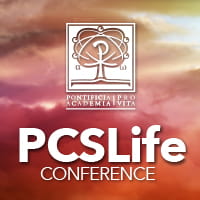 2018 Marialuisa Lectureship for Life
September 16, 2018
The 2018 Marialuisa Lectureship for Life award was presented to His Eminence Archbishop Vincenzo Paglia and the Pontifical Academy for Life, In Honor of the Holy Father, Pope Francis. The award was presented at a closed event during the 2018 Palliative Care and Spirituality for Life (PCSLife) Conference.
For more information about PCSLife, please visit https://www.pcslife.org/
---
Past honorees include:

2018
19th Annual Marialuisa Lectureship for Life
Houston Methodist Award Recipient - His Eminence Archbishop Vincenzo Paglia and the Pontifical Academy for Life, In Honor of the Holy Father, Pope Francis
The Ohio State University Award Recipient - Charles von Gunten, MD, PhD, FAAHPM, FAACE | OhioHealth, Riverside Methodist Hospital

2017
Houston Methodist Award Recipient - Devon Still
A Father's Experience Tackling Childhood Cancer
Still Strong Foundation
The Ohio State University Award Recipient -Tony Yaksh, PhD | University of California San Diego

2016 - Joseph J. Fins, MD, MACP | Cornell University Weill Cornell Medicine
Preserving the right to die and affirming the right to care
The Ohio State University Award Recipient - Arthur G. James, MD (posthumous) and John J. Bonica, MD (posthumous)

2015 – Sir Thomas Hughes-Hallett
How philanthropy and social entrepreneurship can transform the care of the dying

2014 – Philip A. Pizzo, MD | Stanford University
Chronic pain: overcoming a public health challenge

2013 – Costantino Benedetti, MD | The Ohio State University and International Association for the Study of Pain
The two faces of pain: a beneficial, warning vital function; a malefic, consuming neurologic disease

2012 – Allan Basbaum, PhD | University of California San Francisco
Can we treat the 'disease' of neuropathic pain

2011 – Linda Emanuel, MD, PhD | Northwestern University
The last frontier in palliative care research: Bringing rigor to research in palliative care chaplaincy

2010 – Eduardo Bruera, MD, FAAHPM | The University of Texas MD Anderson Cancer Center
Palliative cancer care for patients and healthcare professionals

2009 – Ben A. Rich, JD, PhD | University of California Davis
Palliative care education and the culpability of cultivated ignorance

2008 – Umberto Veronesi, MD
New paradigms in the management of breast cancer

2007 – Mino Damato
The unknown odyssey of abandoned children with HIV

2006 – Frances M. Visco | National Breast Cancer Coalition
The power of patient advocacy

2005 – Richard Smalley, MD
Hope on the cancer front

2004 – Edmund D. Pellegrino, MD, MACP | Georgetown University

2003 – Andrew C. von Eschenbach, MD | Samaritan Health Initiatives Inc.
Palliative care as a cancer intervention: Progress with a purpose

2002 – T. Declan Walsh, MD | Levine Cancer Institute, Carolinas HealthCare System

2001 – Kathleen M. Foley, MD | Cornell University Weill Cornell Medicine

2000 – Neil MacDonald, MD | University of Alberta and McGill University

To view videos of previous lectureships, visit
go.osu.edu/FerrariLecture
If you would like to make a donation to support the lectureship, please send to:
Houston Methodist Hospital Foundation
Attn: Marialuisa Lectureship
P.O. Box 4384, Houston, Texas 77210-4384