Clinical Investigator and Research Fellowship
This track is for those who have completed a general ID fellowship, and wish to do an extra year to gain expertise in infectious diseases research. It will be a mentored research experience in the context of an identified research project. Once the research project and mentors are identified, the fellow and their mentors are responsible for presenting their progress at research in progress meetings every three months. Research faculty from different areas of expertise in Texas Medical Center will be invited to these meetings, and will give useful feedback to the presenter. A RRC (Research review committee) will critically review the progress and evaluate the research project every three months to provide feedback and identify resources to complete the project successfully. The goal of the track is to allow the fellow dedicated time to producing preliminary data, publications, and a sound scientific foundation to compete for an National Institutes of Health Career Development Award or equivalent.
Transplant and Oncologic Infectious Diseases Fellowship
This intensive year-long opportunity is designed for individuals who have already completed a General Infectious Disease Fellowship and are eager to enhance their skills in the field of transplant-oncology related infectious diseases. Through a combination of comprehensive training, hands-on experience, and exposure to cutting-edge facilities, you will emerge as a proficient clinician capable of addressing complex cases in immunocompromised patients with cancer, Hematopoietic Stem Cell Transplantation (HSCT), and Solid Organ Transplantation (SOT). Engage with emerging treatments and interventions, including CAR T cell therapies and advanced Hematopoietic Stem Cell Transplantation techniques, and the infectious diseases associated with them.
Program Highlights
During this advanced fellowship, you will be immersed in a dynamic learning environment that bridges clinical excellence with research innovation. Our program offers the following key features:
Comprehensive Clinical Exposure:Collaborate with experts and gain hands-on experience in the infectious disease management of patients undergoing Solid Organ Transplants and dealing with other forms of immunocompromised conditions. Your training will take place at two leading institutions: Houston Methodist Hospital (HMH) and MD Anderson Cancer Center (MDACC).
Institutional Excellence: Benefit from the combined expertise of Houston Methodist Hospital, a top-tier solid organ transplant center in the nation with a remarkable record of 10,000 transplants, and MD Anderson Cancer Center, the premier cancer hospital known for its significant contributions to research and treatment in cancer care.
Specialized Rotations: Over the course of the year, you will rotate through both institutions to gain exposure to a diverse range of cases. Spend six months at Houston Methodist Hospital, specializing in immunocompromised host infectious disease consults, with a focus on Solid Organ Transplants, oncologic, and related conditions. Transition to MD Anderson Cancer Center for five months, delving into Infectious Disease consultations within the HSCT service (2 months), Leukemia service (2 months), and Medical Oncology service (1 month).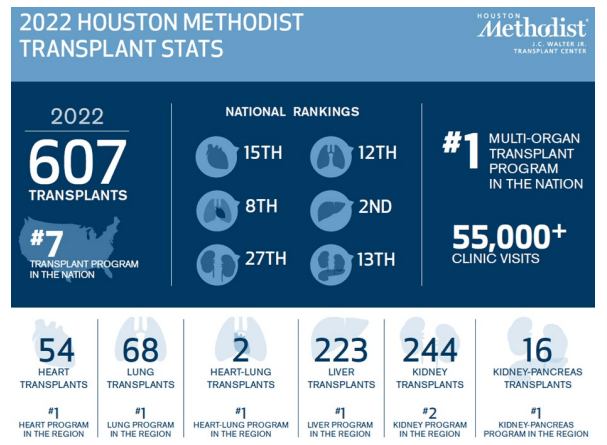 Eligibility and Application:
We invite applications from driven individuals who meet the following requirements:
Previous Completion: Successful graduation from an ACGME-accredited 2-year General Infectious Disease Fellowship Program before the Transplant and Oncology ID fellowship's start date.
Letters of Recommendation: Submission of three letters of recommendation, including at least one from the program director of your General Infectious Disease Fellowship.
Updated CV: Provide an updated Curriculum Vitae highlighting your academic achievements, clinical experiences, and research contributions.
Statement of Interest: Submit a personal statement detailing your interest in the program and your aspirations within the field of transplant-oncology related infectious diseases.
Drug and Tobacco Screening
Job seekers will be tested for nicotine and drug usage during the post-offer physical. If a job seeker tests positive for nicotine use, including nicotine gum and patches, the offer will be rescinded, and individuals will be given the opportunity to participate in a free Houston Methodist-provided tobacco cessation program. Job seekers wishing to reapply after testing positive for nicotine may do so 90 days after the date the initial offer was rescinded. If the job seeker tests positive for drug use, the offer will be rescinded. Job seekers wishing to reapply after the drug screening is positive may do so one year after the date the initial offer was rescinded.
Background Check
Prior to employment start date, job seekers must complete a criminal background check.
COVID-19
In addition, as we continue to protect the health of our community, all new hires will be required to receive a COVID-19 vaccine and booster or submit proof of previous vaccination.
---