MITIE: Houston Methodist Institute for Technology, Innovation & Education


The Houston Methodist Institute for Technology, Innovation & Education (MITIE
SM
) is an innovative virtual hospital and hands-on clinical training facility for health care professionals seeking to maintain excellent procedural skills and acquire new proficiencies. We aim to improve patient safety through these educational pursuits and to conduct research on skills acquisition and technological development.
MITIE was founded by executive director,
Barbara Lee Bass, MD
, the John F., Jr. and Carolyn Bookout Presidential Distinguished Chair of the Department of Surgery, former chair of the Board of Governors for the American College of Surgeons, and three-term member of the Board of Regents and chair of the American Board of Surgery.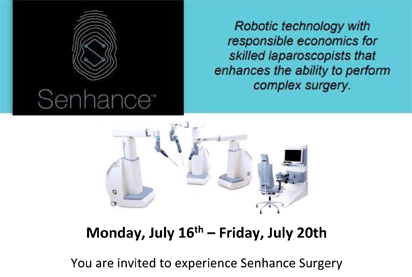 MITIESM demonstrates how telementoring expands the reach of experienced clinical mentorship from epicenters of health care innovation to benefit patients around the world. Read more in the Houston Chronicle>>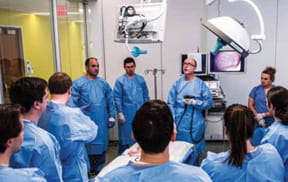 A New Home for Surgical Education

The Houston Methodist Institute for Technology, Innovation & Education offers practicing physicians a platform to hone their technique and safely adopt new technologies. Read the entire article about MITIE in the March issue of the TMC Pulse.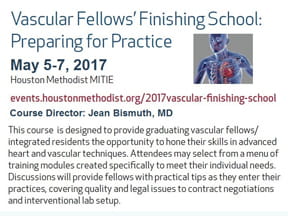 CARDIOVASCULAR FELLOWS' FINISHING SCHOOL

May 5-7, 2017

Click here to Register.

We are pleased to invite your fellows to attend the Cardiovascular Fellows' Finishing School to be held May 5-7, 2017 at the Houston Methodist DeBakey Heart & Vascular Center, Houston, Texas.

This course aims to provide graduating vascular surgery fellows and fifth year integrated residents the opportunity to hone their advanced open and endovascular techniques through direct hands-on and simulator training.


Click
Finishing School
to visit our site.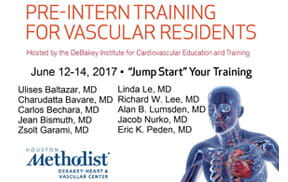 Pre-Intern
June 12-14, 2017

Click here to Register.


This course is specifically designed to provide incoming 4th year medical students matched into integrated vascular surgery residencies with an opportunity to learn skills that will allow them to be functional on the floor and in the OR from their first day. This course covers a three day period, during which time attendees will learn:
How to gown and scrub
Recognize instruments and devices
Place central lines
ABIs
Master basic suturing techniques
Additionally, participants will learn algorithms for basic floor issues and emergencies. Skill stations will consist of live lectures on:
Present cases on rounds in conference
Obtain consent
Enter VQI
Applied anatomy
Basic ultrasound principles
Radiation safety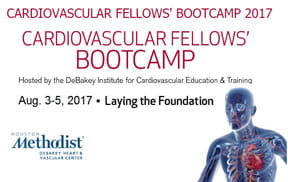 CARDIOVASCULAR FELLOWS' BOOTCAMP

Click Bootcamp to visit our site.


August 3-5, 2017


Click here to Register.
This condensed 3-day course in the fundamentals of cardiovascular sciences for fellows and residents is designed to upgrade knowledge early in training. It is targeted at first year vascular surgery, cardiology, CT surgery, vascular medicine, interventional radiology fellows and third year primary certificate VS residents.


At completion of this course, fellows will have a deeper foundation in the fundamentals of cardiovascular science.


Join us at the state-of-the-art Houston Methodist MITIE facilities and luxurious Hotel ZaZa Houston for an unforgettable weekend of cardiovascular education and networking.
Houston Methodist Institute for Technology, Innovation & Education
6670 Bertner Ave., 5th Floor
Houston, TX 77030
Email:
mitie@houstonmethodist.org
713.441.7912
1.888.MITIETX (888.648.4389)
Fax: 713.363.7888