1980: Interventional Cardiology Is Born
Angioplasty is first performed at The Methodist Hospital in March by Drs. Albert Raizner, William Winters, and John Lewis. It is a pivotal moment as cardiologists became doers, and the specialty of interventional cardiology base born at The Methodist Hospital.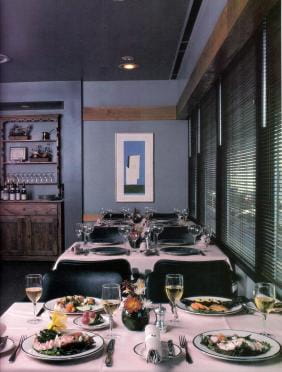 1981: Chez Eddy Opens
Chez Eddy revolutionizes healthy fine dining in the Texas Medical Center The restaurant, named after Eddy Scurlock, unites the preventive medicine programs of cardiac rehabilitation, nutrition and behavioral sciences and provides program participants with a restaurant serving foods low in cholesterol, sodium and calories. The gourmet restaurant seats 120 and has a menu that changes seasonally with dishes containing no eggs, butter or sugar and minimal salt. Ted Bowen and Dr. Antonio Gotto create the restaurant to encourage preventive medicine through food. The opening of the restaurant is covered by national news sources and is listed by Houston City as one of Houston's 25 all-time greatest restaurants.
1983: Larry Mathis Is Named President
During his 14 year term as CEO, Mathis will complete a $197 million expansion including the creation of Smith and Dunn Towers; build a strong leadership team that remains together throughout his tenure; and become chairman of the Texas Hospital Association and the American Hospital Association. Mathis will lead the institution to become both a first-class service organization and recognized as one of the best 100 companies to work for in the US. He and his team create a strategy for expanding high quality health care access to the Greater Houston area by creating community hospitals. In 1983 he and his team acquire San Jacinto Hospital, Methodist's first community hospital. He also prioritizes expanding affiliation agreements to include hospitals in Mexico, Turkey, Greece, Guatemala, Italy, Peru, and more, thereby increasing the hospital's global relationships and services. In 2016, he will be inducted into the Health Care Hall of Fame.
1984: Myocardial Infarction Trial
As part of the thrombolysis in myocardial infarction trial, The Methodist Hospital physicians are among the first to administer clot-dissolving drugs directly to the coronary artery to treat heart attack patients.
1984: Multiorgan Transplant Center
Satisfied with the development of cyclocporine, a new anti-rejection medication, Drs. Michael DeBakey and George Noon resume heart transplants at The Methodist Hospital. The Multiorgan Transplant Center is established through a $500,000 matching grant from the Cullen Trust for Health Care and a gift from Claud Hamill. It is built to support the complex procurement of diverse organs such as the heart, kidney, cornea, pancreas, liver, and combined heart and lungs.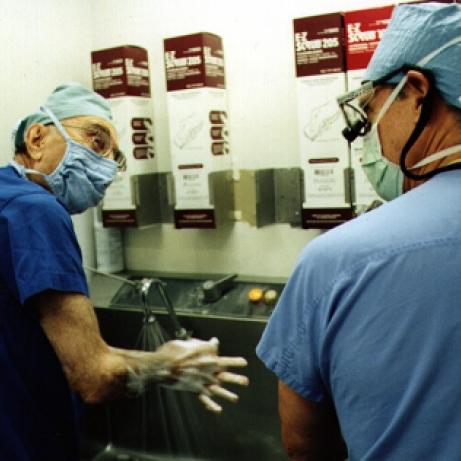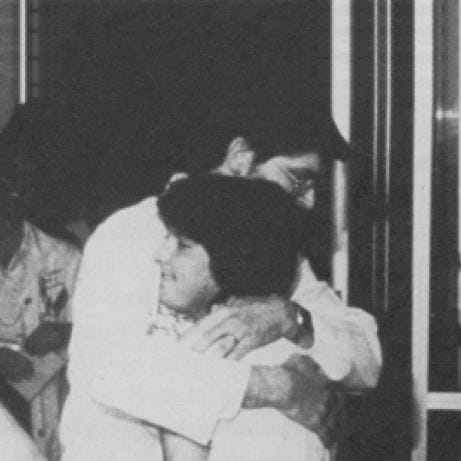 1985: First Heart-Lung Transplant in Texas
Tracy Baird undergoes a historic double transplant. Before arriving in Houston, 17-year-old Baird spent six months in Fort Worth Children's Hospital with a diagnosis of irreversible bronchiolitis obliterans, a rare disease that destroyed the airways of her lungs. Her double transplant is the first successful heart-lung transplant in Texas.
1985: First Liver Transplant
Dr. Hartwell Whisennand performs The Methodist Hospital's first liver transplant. The transplant is performed on a 57-year-old mother of three at the Multi-Organ Transplant Center. Whisennand and his team complete the procedure in record time—just five and a half hours. Prior to this, liver transplants averaged 14 hours. Drs. RafaelEspada, George P. Noon and David Short assist during the operation.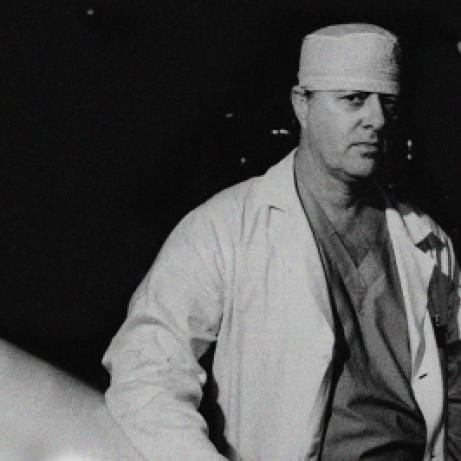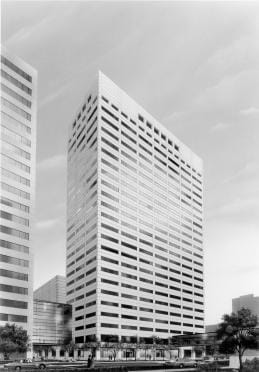 1988: Smith Tower
Smith Tower is the tallest tower in the Texas Medical Center at the time, opens to patients. Named for Bishop A. Frank Smith and his wife, is a 25-story,500,000-square-foot building. It has 250 private physician offices, four floors dedicated to geriatrics, cancer, multi-organ transplant programs and urology, 12 floors dedicated to clinical facilities, and additional outpatient clinical space. The outpatient floors are connected to Scurlock Tower's facilities with a four-story elevated crosswalk.
1989: Dunn Tower
The 10-story patient tower, named for John S. Dunn, houses 338 beds, new labor and delivery facilities and a new gynecological suite. This addition makes The Methodist Hospital the largest private, nonprofit hospital in the country. The building is named for a generous commitment from the John S. Dunn Foundation.