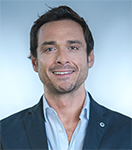 Francesca Taraballi, PhD
Francesca Taraballi, PhD, is an assistant professor of orthopedic surgery at Houston Methodist. She earned her BS in biological sciences and her MS in biochemistry at the University of Milan – Bicocca, Italy, and a PhD in nanostructures and nanotechnologies from a joint program of the materials science department of University of Milan – Bicocca with the Lawrence National Berkeley Laboratory in 2009. Her research focuses on tissue engineering for different applications (spinal cord injury, cardiovascular, musculoskeletal).
Jonathan Martinez, PhD
Jonathan Martinez is a postdoctoral fellow whose current research involves evaluating the use of biomimetic nanoparticles for cancer applications, investigating the feasibility of cell-based therapies combined with nanotechnology, and understanding the interplay at the nano-bio interface. He received his BS in bioengineering from Rice University and his PhD in biomedical sciences and experimental therapeutics from The University of Texas Health Science Center at Houston and MD Anderson Cancer Center. He is distinguished in his field for providing expertise for time-lapse imaging and confocal microscopy resulting in published articles in Nature Nanotechnology, Small, and ACS Nano.
Tomoyuki Naoi, PhD
Tomoyuki Naoi is a visiting research scientist from Kyowa Hakko Kirin, a Japanese pharmaceutical company. He has more than 10 years of research experience and expertise in the formulation, manufacturing and analysis of lipid nanoparticles for delivering siRNA to tumor tissue or inflammatory sites for drug discovery and development. His research is focused on biomimetic nanoparticles projects.
Anna Pasto, PhD
Anna Pasto is a postdoctoral fellow with research interests in cancer stem cells, particularly their properties as it relates to survivability and metastasis. She received her PhD in oncology and surgical oncology from the University of Padua, Italy.
Chris Tsao, PhD
Chris Tsao is a postdoctoral fellow with a research interest in cardiac tissue engineering. His expertise involves the application of induced pluripotent stem cells and functional nanomaterials to create biomimetic strategies for cardiac regeneration. Prior to research, Chris served five years as an infantry officer in the U.S. Army after completing a BS in life sciences from the United States Military Academy. He earned an MS in biomedical engineering from UTSA and a PhD in bioengineering from Rice University.
Xin Wang
Xin Wang is a postdoctoral fellow working to understand the molecular mechanisms of how our biomimetic materials overcome the body's defense barriers and shuffle therapeutic drugs to targeted sites or enhance the de novo regeneration at the defective tissues. By researching at the molecular level, she is determining what kinds of cells have been recruited to the microenvironments, how materials interact with adjacent native tissues, how the materials play their roles, and which genes, functional groups, or biological pathways are involved in the processes.
Assaf Zinger, PhD
Assaf Zinger is a postdoctoral fellow working to develop innovative nanotechnology platforms and biomaterials for drug delivery and regenerative medicine. His research strategy is to utilize specific cellular biomarkers into membranes of lipid nanoparticles while retaining the versatility of these nano particles to load and release drugs with various chemical properties and deliver genetic cargo. He received his PhD in 2017 from the Technion Faculty of Chemical Engineering. He is the current chair of the Gordon Research Seminar on Cancer Nanotechnology
Graduate Students
Christian Boada
Christian Boada is pursuing his doctoral degree in biotechnology, under the mentorship of Ennio Tasciotti, PhD, in conjunction with Instituto Tecnológico y de Estudios Superiores de Monterrey where he received his bachelor's degree and where he is working toward his MD/PhD. His current research focus is the synthesis of biomimetic apolipoproteins as a method of specialized drug delivery into atherosclerotic plaques for treatment and prevention of disease.
Ava Brozovich
Ava Brozovich is an MD/PhD student at Texas A&M and is interested in developing novel treatments for osteosarcoma in pediatric patients. She graduated from UC-Berkeley with a BA in molecular and cell biology with an emphasis in immunology and infectious diseases. She received her MPH with a focus in epidemiology from Columbia University. Ava has worked at Duke University as the lead coordinator for the
International Pediatric Fungal Network
, a network of over 50 sites throughout the world.
Troy Hendrickson
Troy Hendrickson is a Texas A&M Health Sciences Center MD/PhD student interested in cardiac tissue engineering. His clinical aims are to be a pediatric cardiologist. His research is focused on iPSC cardiomyocytes and conduction deficits. Troy received a BS in biochemistry from the University of Minnesota, Duluth.
Chiara Mancino
Chiara Mancino is a master's degree student in biomedical engineering at Politecnico di Torino (Italy). Her undergraduate degree is also in biomedical engineering. Her research is focused on cardiac tissue regeneration with tissue engineering approaches.
Manuela Sushnitha
Manuela Sushnitha is a third-year PhD student in bioengineering at Rice University. Her current work is aimed at studying the use of a leukocyte-based nanoparticle for the treatment of triple-negative breast cancer. Her research interests are in the development of biomimetic technologies with a special focus on the use of nanotechnology as a therapeutic strategy for cancer. Manuela received her BS in biomedical engineering from Georgia Tech University.