houston methodist hand & upper extremity center

The Houston Methodist Hand & Upper Extremity Center is a comprehensive, patient-centered health care program unlike any other. By providing the highest quality, cost-effective health care for patients with hand and upper extremity problems, we deliver the best value to the people we serve.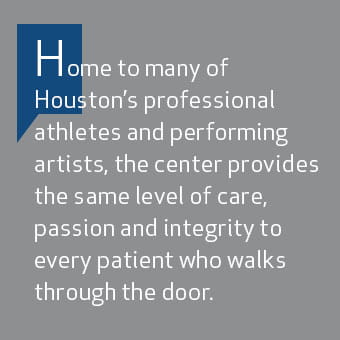 With all hand care resources located in one central location, Dr. Collins is able to monitor patient progress and discuss necessary changes in treatment or coordination of care with the therapists and extended hand support team. Together, orthopedic specialists and rehabilitation therapists work uniquely with hand, wrist, elbow and shoulder patients to produce the best possible outcomes.

Houston Methodist's patients have access to the latest minimally invasive treatment options, joint reconstruction procedures and hand therapy built on evidence based research and clinical outcomes. Some of the injuries and conditions we treat include:
Arthritis
Carpal tunnel syndrome
Cubital tunnel syndrome
deQuervains's tendonitis
Dupuytren's disease
Finger fractures
Forearm fractures
Golfer's elbow
Tennis elbow
Trigger finger
Wrist fractures
Our Locations
Houston Methodist Hand & Upper Extremity Center - Texas Medical Center
Evan Collins, MD
6560 Fannin St.
Scurlock Tower, Suite 410
Houston, TX 77030
p. 713.441.3535
f. 713.790.2142
toll free. 877.726.9362
Houston Methodist Hand & Upper Extremity Center - Pearland
Evan Collins, MD
8520 W. Broadway St.
Suite 100
Pearland, TX 77584
p. 713.441.3535
f. 713.790.2142
toll free. 877.726.9362