The Pain Management Center at the Houston Methodist Neurological Institute provides effective symptom management, functional rehabilitation and improved quality of life for patients suffering from pain.
With expertise across a variety of disciplines, we will work together
to understand and properly diagnose your condition, and provide
the pain management plan that works best.
We can help if you're
suffering from:
Acute and chronic pain to complex regional pain syndrome
Degenerative Disc Disease
Epidural Steroid Injections
Herniated discs
Joint Pain--knee, shoulder, hip
Myofascial pain
Neck and low back pain
Neuropathic pain
Pain associated with multiple sclerosis or stroke
Treatment options include the following:
Botox injections
Cervical radiculopathy
Facet Injections
Implantable drug delivery devices such as the intrathecal baclofen pumps to manage both pain and spasticity
Infusion therapies
Lumbar radiculopathy
Medication
Nerve blocks
Peripheral nerve injections
Radiofrequency Ablations
Spinal Cord stimulators to manage chronic pain


Our research interests include treatment for chronic back pain and headaches, complex regional pain syndrome and use of ultrasound in pain intervention techniques for epilepsy and severe depression.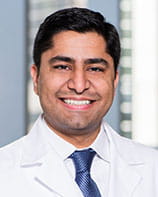 interventional pain physician at Houston
Methodist. He primarily focuses on
interventions, including injections, physical
therapy, CBT and nonnarcotic medications
to help patients manage chronic pain.
To schedule an appointment,
call 832.539.4081.