COVID-19 Blood-Transfusion Therapy

The nation's first experimental plasma treatment against COVID-19 is currently being tested at Houston Methodist.
When facing a pandemic, every second is critical. And since the outbreak, Houston Methodist's physician-scientists have been readying the nation's first experimental COVID-19 plasma treatment.
The experimental treatment transfuses vital antibodies found in the plasma of recovered COVID-19 patients into a critically ill patient, in the hopes of providing that patient with lifesaving treatment. One of the major advantages of this treatment approach is that it can be tested and used right now, while vaccines and antiviral drugs can take from months to years to develop.
From Bench to Bedside — Fast
The Food and Drug Administration (FDA) classifies this experimental treatment as an emergency investigational new drug protocol (eIND) that requires FDA approval for each patient infused with donated convalescent serum.
Houston Methodist physician-scientists began recruiting blood plasma donors from across the Greater Houston area who have recovered after testing positive for the COVID-19 virus. We immediately identified willing donors, who each give a quart of blood plasma in a procedure much like donating whole blood.

Our physician-scientists will seek additional FDA approval for follow-up experimental studies, and possibly a multicenter national trial on the effectiveness of convalescent serum therapy against the COVID-19 virus.
Beating COVID-19 — Using Antibodies Made to Fight It
Plasma from someone who has recovered from COVID-19 contains antibodies made by the immune system that potentially could be used to destroy the virus. Transfusing this antibody-rich plasma into a COVID-19 patient — a patient still fighting the virus — may transfer the benefits of the antibodies into a healing, possibly life-saving therapy.
If you would like to learn more about other ways to support Houston Methodist's Infectious Diseases Research Fund, click here.
Your Plasma Donation Is Vital
We are hoping that this can be a viable, scalable treatment that helps in this crisis. If you have had COVID-19 and are interested in helping others by donating your plasma, please call 346.238.4360 or learn more here. Please note: You do not have to be a Houston Methodist patient to donate, but you must have a verified, positive COVID-19 test.
What Is Donating Plasma Like?
The process for donating plasma is similar to donating blood and takes about an hour. Plasma donors are hooked up to a small device that removes plasma while simultaneously returning red blood cells to their bodies. Unlike regular blood donation in which donors have to wait for red blood cells to replenish between donations, plasma can be donated more frequently, as often as twice a week.
FDA Approves First Plasma Therapy for Houston Methodist COVID-19 Patient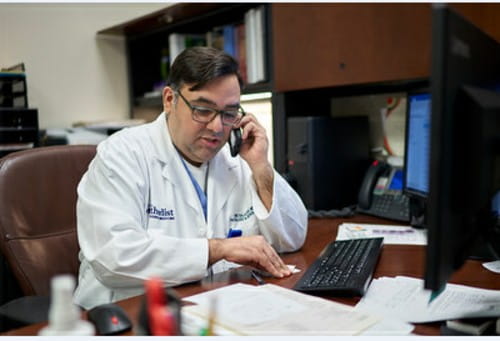 Houston Methodist received FDA approval to become the first academic medical center in the nation to transfuse donated plasma from a recovered COVID-19 patient into a critically ill patient. Read more