The Bricker Award for Science Writing in Medicine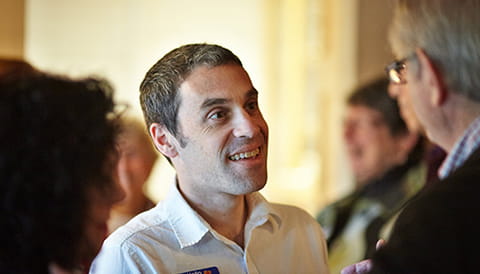 Beer, soccer, and classical music may have been his professed passions, but David Bricker had a passion for science writing ingrained in his soul. He was fascinated by the work of scientists and how they change the world, and David understood how to tell those stories in way that captures the attention of people who otherwise might have never paused to hear them.

David understood that some scientists are natural storytellers, while others struggle to communicate what their work means. He was one of the dedicated few science writers who had mastered this art of storytelling, and he always supported his fellow writers in doing the same. David died at the age of 42 in August 2015, after battling gastric cancer.
The Bricker Award for Science Writing in Medicine

The Bricker Award for Science Writing in Medicine supports science writers like David, who seek strong science, tease out impactful stories, and advocate tirelessly for time on the stage to tell these stories to the world. This award recognizes writers with the skill to craft technical advances into must-read stories, and the tenacity to place them in the public spotlight. Their stories are the stories of our biomedical scientists, the stories our scientists would tell themselves if they could, and the stories that will inspire us all to defy the failings of our bodies, seek knowledge through science, and break through the boundaries of medicine.

The Bricker Award honors gifted science writers and provides an honorarium of $3,000 in addition to travel expenses for both an annual lectureship at Houston Methodist in the Texas Medical Center and a meeting of a leading national association like the National Association of Science Writers (NASW) or the American Association for the Advancement of Science (AAAS). An award will be presented to the winner at the national association meeting. A silver name plate will be awarded at the Houston Methodist annual lectureship and displayed on the Bricker Award plaque in the Houston Methodist Research Institute.


"You need a burning curiosity – about how the world works, what people are doing, why they are doing it and why it matters."
–Jo Marchant, author of Decoding the Heavens and The Shadow King on being a science writer