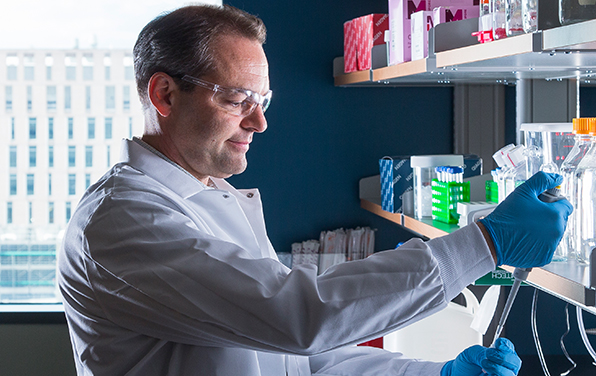 Philip J Horner, PhD
Principal Investigator
Phil Horner received a PhD in physiology from Ohio State University in 1995. He did his postdoctoral training with Dr. Fred H. Gage and became a staff scientist in the Lab of Genetics at the Salk Institute in 1998. In 2001, Dr. Horner joined the faculty of the Department of Neurological Surgery at the University of Washington in Seattle. He directed a laboratory at the UW South Lake Union Campus and was a member of the Institute for Stem Cell and Regenerative Medicine. In 2015, Dr. Horner became the scientific director of the Center for Neuroregeneration and the co-director, Center for Regenerative and Restorative Neurosurgery at the Houston Methodist Research Institute. He also holds a faculty position at the Weill Cornell Medical College, New York. Dr. Horner's research focuses on the role of glial and neural progenitor cells in the regeneration of the injured and aging nervous system. During his free time, he likes to smoke salmon, cook paella and play with his Australian Shepherd.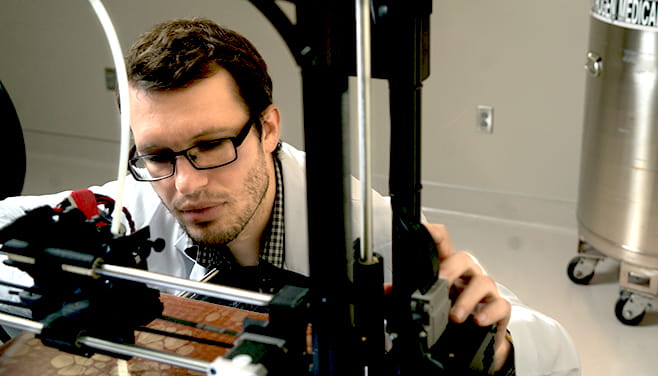 Matthew Hogan, PhD
Postdoctoral Fellow
Matt Hogan
's research focuses is on semi-high throughput methods for optogenetic interrogation of neurons. He hopes to elucidate the role, if any, of neurons in spinal regeneration. Prior to joining Dr. Horner's lab, Matt completed his PhD in biomedical engineering at the University of Houston under the mentorship of Dr. Ravi K Birla. He participated in the development of multiple engineered cardiac tissue models including heart muscle, ventricle and whole heart models. He also deployed several novel bioreactors for the conditioning and maintenance of in vitro tissue mimetic cultures. Matt enjoys woodworking, guitar, coding, cooking and sports. Most weekends we find him tinkering in his workshop at home or being forcibly cultured by his more sophisticated significant other.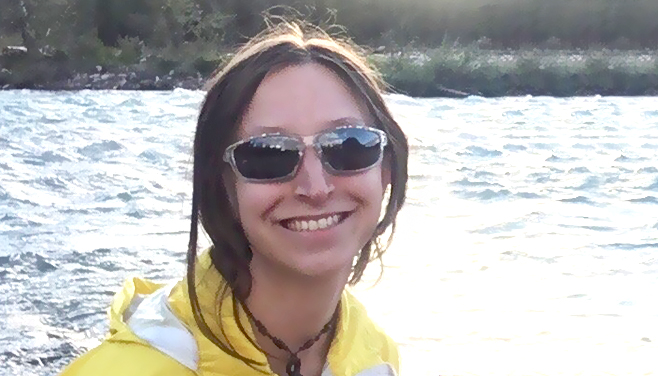 Bethany Kondiles
Graduate Student
Bethany
is a graduate student enrolled at the University of Washington, Seattle, where she is co-mentored by Dr. Horner[Houston Methodist] and Dr. Perlmutter[UW, Seattle]. She is a visiting fellow at HMRI to pursue her work in spinal cord injury. She is interested in the ways neural activity influences white matter remodeling following spinal cord injury. Prior to graduate school, she conducted research at the Rehabilitation Institute of Chicago's Brain Injury Program, which inspired her to pursue her graduate studies in traumatic neural injuries. She hopes to pursue a career in academic research and translational research, with the goal of improving outcomes for patients who have suffered traumatic injuries. When not in lab, she enjoys partner acrobatics, rock climbing, and skiing.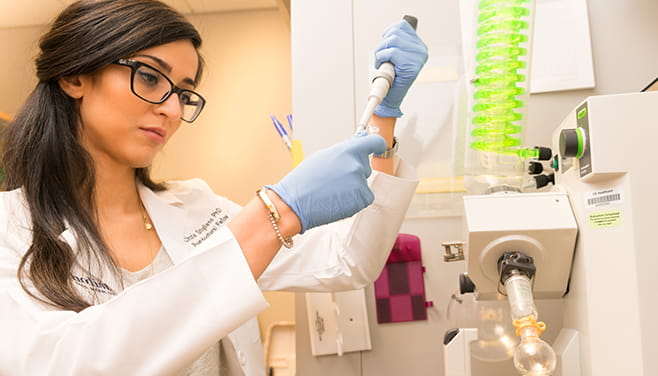 Cinzia Stigliano, PhD
Postdoctoral Fellow
Cinzia
works on the delivery of therapeutic agents with nanoparticles to spinal cord injury in mouse and rat models. She completed her PhD in biotechnology at University of Bari, Italy and she has worked as postdoctoral fellow in the Department of Nanomedicine before she decided to apply her nanomedicine expertise in neuroregeneration. Cinzia loves travel and have fun with yoga and spinning classes in the free time.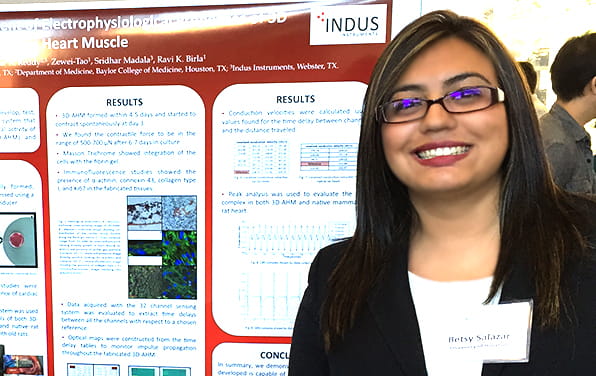 BETSY SALAZAR, PHD
POSTDOCTORAL FELLOW

Betsy Salazar'
s research focuses on the use of noninvasive electrical stimulation to promote remyelination and motor recovery following spinal cord injury. She completed her doctoral training at the University of Houston in 2015, where her research mainly focused on the electrophysiological characteristics of the rodent heart including whole heart models, ex-vivo, as well as bioengineered cardiac constructs. Upon completion of her PhD, Dr. Salazar began postdoctoral training at the Houston Methodist Research Institute under the guidance of Dr. Alvaro Munoz and Dr. Timothy B. Boone. There, she investigated the electromyographic characterization of the lower urinary tract in intact and spinal cord injury rodent models. Currently, she utilizes her time on the use of noninvasive electrical stimulation to promote remyelination and recovery following a spinal cord injury in rodent models. In her spare time, Betsy enjoys reading, drawing, traveling, and spending time with her fiancée and wonderful puppy.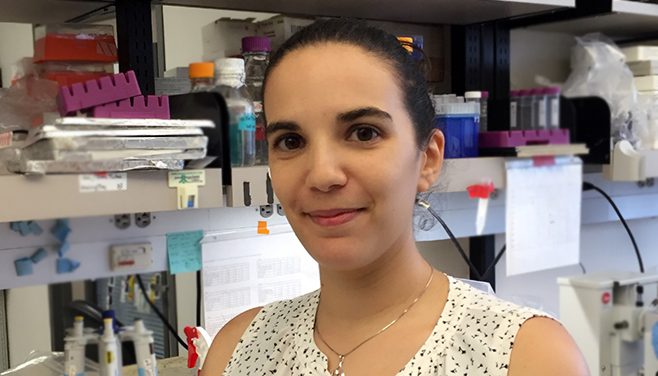 LESLEY CHABOUB PhD
POSTDOCTORAL FELLOW
Lesley completed her PhD at Baylor College of Medicine in 2016 where she studied astrocyte development. She identified novel genes expressed in astrocytes through a temporal profiling screen, and went on to study their functions in development and disease, especially multiple sclerosis and hypoxic injury patients. She joined The Houston Methodist Research Institute in 2017 where she is interested in studying the biology of the myelin sheath in health and regeneration after injuries. She has experience in genetics, cellular and molecular biology and several injury models. She loves traveling and reading books when she has time for it. But lately, in her spare time, she enjoys spending time with her husband and 3 babies (2 human babies and 1 furry baby).
VISITING AND ROTATING RESEARCHERS:
Robert Scranton, MD
Neurosurgeon, Neurological Surgery, Goodman Campbell Brain & Spine, Indianapolis, IN, USA
Sean Barber, MD
Junior Attending Complex Spine Fellow, The Warren Alpert Medical School of Brown University, Providence, RI, USA
Meng Huang, MD
Resident, Department of Neurosurgery, Houston Methodist Hospital, Houston, TX, USA
Virendra Desai, MD
Resident, Department of Neurosurgery, Houston Methodist Hospital, Houston, TX, USA
Zain Boghani, MD
Resident, Department of Neurosurgery, Houston Methodist Hospital, Houston, TX, USA
William Steele, MD
Resident, Department of Neurosurgery, Houston Methodist Hospital, Houston, TX, USA
Caio Quini, PhD
Visiting Postdoctoral Fellow, Sao Paulo State Univeristy, Sao Paulo, BRA
Cassandra Baker
Undergraduate Research Fellow, University of Houston, Houston, TX, USA
Amanda Altenhofen
Summer Intern 2016, 2017, Baylor University, Waco, TX, USA
Pranav Gadangi
Summer Intern 2016, Texas A&m University, College Station, TX, USA
Roberto Alcazar Felix
MD/PhD Rotation Student 2016, Tecnologico De Monterrey, Monterrey, MEX
Jocelyn Nikita Campa
MD/PhD Rotation Student 2017, Tecnologico De Monterrey, Monterrey, MEX
Dixita Viswanath
MD/PhD Rotation Student 2016, Texas A&M University, College Station, TX, USA
Jonny Cummock
MD/PhD Rotation Student 2016, Texas A&M University, College Station, TX, USA
Drew Levy
Undergraduate Research Fellow, Summer Intern 2017, Duke University, Durham, NC, USA
John Boom
Summer Intern 2017, St. John's School, Houston, TX, USA


The Horner Lab MVPs:
Don Maris
Laboratory & Operations Manager, University of Washington, Seattle, WA
Berit Powers, PhD
Assistant Director, Ionis Pharmaceuticals, Carlsbad, CA, USA
Drew Sellers, PhD
Assistant Professor, Department of Bioengineering, University of Washington, Seattle, WA, USA
Denise Inman, PhD
Assistant Professor, Department of Pharmaceutical Sciences, Northeast Ohio Medical University Foundation, Rootstown, OH, USA
Bryan White, PhD
Senior Lecturer, School of Interdisciplinary Arts & Sciences, University of Washington Bothell, Bothell, WA, USA
Jurate Lasiene, PhD
Project Manager, PSI CRO UK Ltd, Oxford, GBR
Laura Horky, MD
Nuclear Medicine Physician, Kaiser Permanente, Oakland, CA, USA
Wendi Lambert, PhD
Senior Staff Scientist, Vanderbilt Eye Institute, Vanderbilt University, Nashville, TN, USA