Peggy & Gary Edwards ALS  Laboratory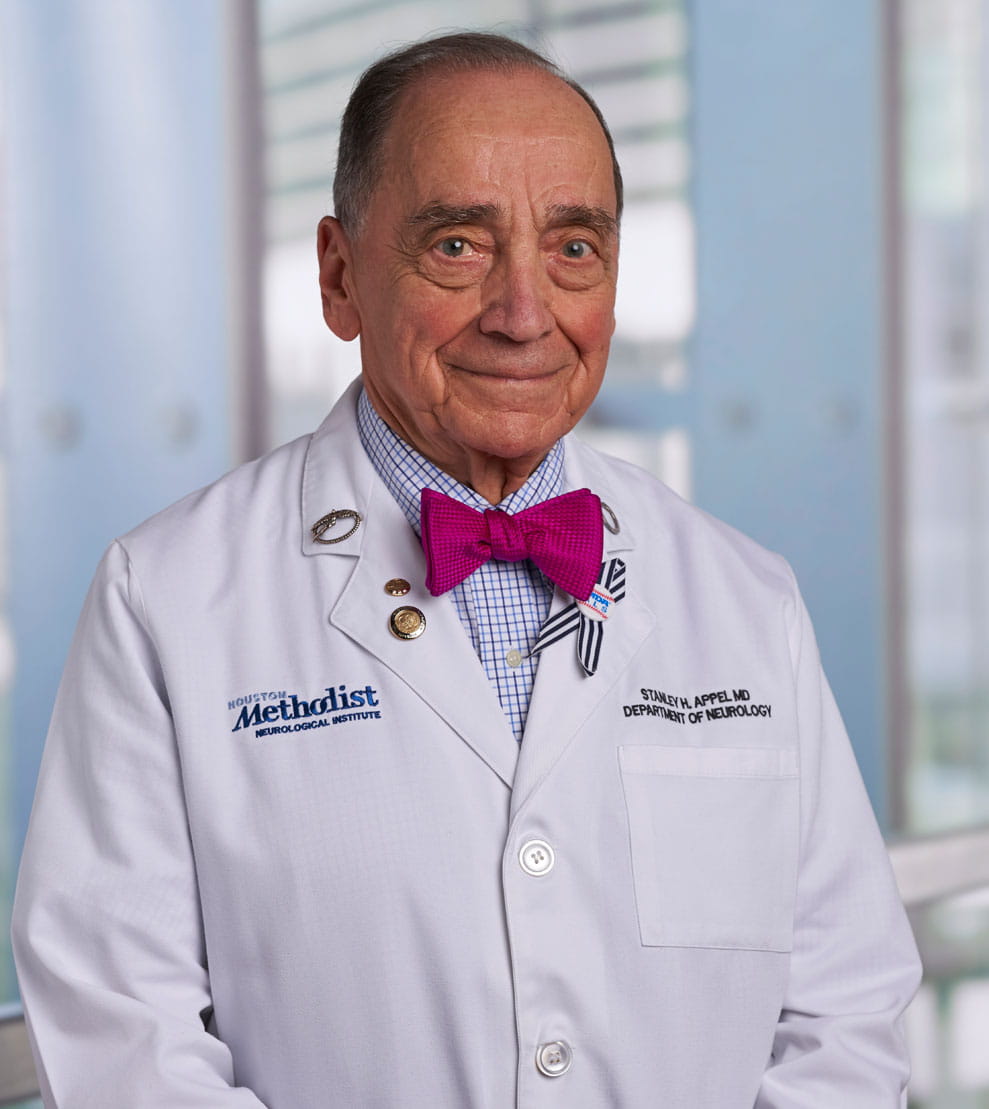 Stanley H. Appel, MD
Peggy & Gary Edwards
Distinguished Endowed Chair,
Stanley H. Appel Department of Neurology
Professor of Neurology,
Institute for Academic Medicine
Full Member, Research Institute
Co-Director, Neurological Institute
Houston Methodist
Weill Cornell Medical College
Research in Dr. Appel's laboratory focuses on developing new insights into degenerative neurologic diseases, with a primary emphasis on amyotrophic lateral sclerosis (ALS). More specifically, we are studying the importance of immune/inflammatory alterations, as well as increased intracellular calcium and free-radical stress in ALS, Parkinson's disease and Alzheimer's disease.

Dr. Appel's focus on neuroinflammation stems from his early immunological studies on multiple sclerosis. In Parkinson's disease, his laboratory developed an immune-mediated model of nigral neuron injury and then demonstrated the ability of Parkinson's disease immunoglobulin G (IgG) to cause nigral injury in vitro and in vivo. In ALS, Dr. Appel's laboratory was first to develop an immune-mediated preclinical model of motor neuron disease and then to document the presence of neuroinflammatory markers, including elevated immunoglobulins, activated microglia and T cell lymphocytes, in both the preclinical model and human sporadic ALS.
His laboratory has also demonstrated the presence of increased intracellular calcium and altered mitochondria in human sporadic ALS motor neuron axon terminals. This demonstration of increased intracellular calcium was associated with the absence of calcium-binding proteins in motor neurons and could help explain the selective vulnerability of motor neurons in ALS.

Dr. Appel's preclinical studies have also documented enhanced neuroinflammation and activated microglia prior to evidence of clinical disease and motor neuron cell death. Comparable studies in human ALS have employed PCR polymerase chain reaction (PCR) techniques to confirm the presence of activated microglia and to demonstrate the presence of immature and mature dendritic cells, and enhanced chemokine signaling.
Current studies are focused on defining the intercellular signals between neurons and glia and between the CNS and the systemic circulation, which could contribute to the pathogenesis of motor neuron injury and cell death. Therapeutic efforts in preclinical models and in human ALS are presently focused on modifying the neuroinflammatory responses with bone marrow stem cell transplantation.