At Houston Methodist, our emergency care centers are full-service emergency rooms — we treat life-threatening emergencies as well as minor ones. Our emergency care centers are designed to offer quality emergency medical services outside of our primary hospitals. Houston Methodist brings each neighborhood we serve the same high-quality emergency care for which Houston Methodist is known.
What is the Difference Between Our Centers and an Urgent Care Facility?
Houston Methodist Emergency Care Centers are open 24/7/365
We offer full medical services to all patients, regardless of age or the severity of their illness or injury
Our doctors are

board certifie

d in emergency medicine and nurses are specialty trained
Private treatment rooms
Full-service imaging, including X-ray, CT and ultrasound
On-site laboratory
Staff-facilitated transfer to a hospital for conditions requiring admission
Hospital emergency room co-pays apply
We participate in Medicare and Medicaid programs
Easily accessible with convenient locations throughout Houston
Free parking
Unlike an ER, urgent care centers typically treat minor injuries and illnesses only. They may not be open 24/7. Urgent care centers' insurance co-pays vary by provider, but at an ER facility, hospital emergency room co-pays apply. Also, urgent care practitioners are often not emergency medicine trained, and they may not have a doctor on site.
From minor cuts and sprains to severe symptoms of stroke or heart attack, our staff is committed to stabilizing and treating all patients who walk through our doors. We treat patients for a range of injuries and illnesses:

Abdominal pain
Acute pain
Allergic reactions
Bites, stings, rashes
Breathing complications
Broken bones
Burns
Chest pain
Concussions
Eye infections or injuries
Fever
Flu-like symptoms

Headaches, head injuries
Infections
Lacerations
Minor automobile accidents
Nausea, vomiting, diarrhea
Nose bleeds
Overdose
Seizures, neurological complications
Stroke symptoms
Traumatic injuries
Urinary tract infections
Workplace injuries
Determining Whether to Seek Emergency CareFor more on whether your symptoms are telling you to seek emergency care, visit this page.

To learn more about emergency care at Houston Methodist, visit Frequently Asked Questions About Emergency Care. For a quick way to understand the difference between an urgent care facility and our emergency care centers, download this brochure.
---
Treatment Locations
Our specialists at Houston Methodist provide emergency care at our convenient treatment locations.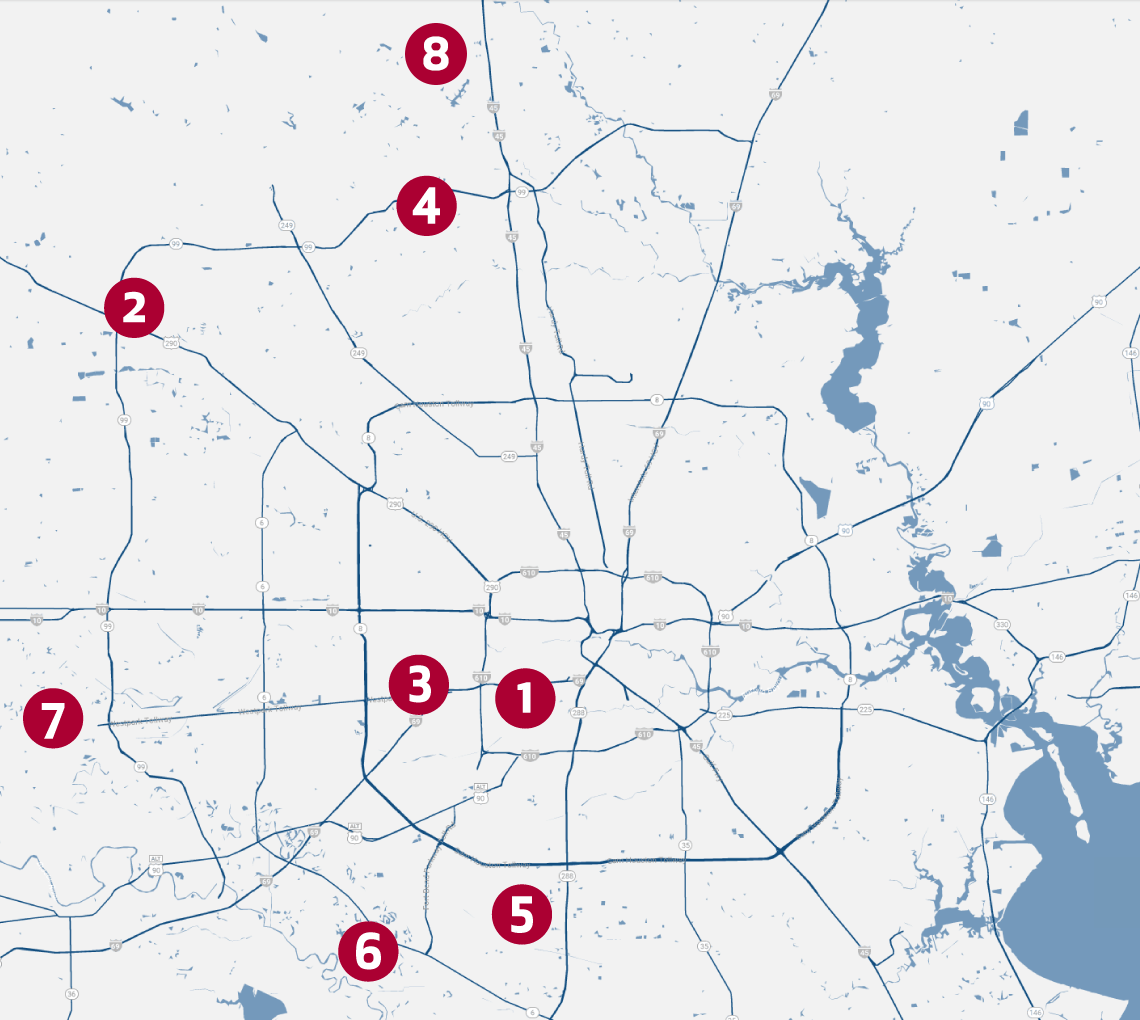 Emergency Care Centers
(1) Kirby
2615 Southwest Frwy. (Exit Kirby)
Suite 140
Houston, TX 77098
713.441.2779
(2) Cypress
27560 U.S. 290 Frontage
Cypress, TX 77433
281.737.2424
(3) Voss
1635 South Voss Rd.
Houston, TX 77057
713.441.8020
(4) Spring
5303 FM 2920
Spring, Texas 77388
936.270.4640
---
Hospitals