Robotic Neurosurgery Program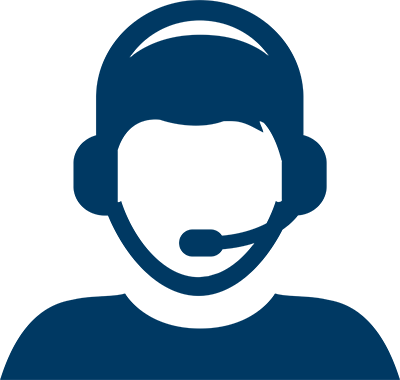 Let Us Help You Find a Doctor
U.S. PATIENTS:713.441.3800
INTERNATIONAL PATIENTS:+1.713.441.2340
Interest has grown in the benefit of using robots and robotic assistance in the operating room. The robot's sensitive electronics and slim surgical arms facilitate highly precise movements through small incisions, resulting in improved clinical results, decreased scar tissue, less pain, less trauma, reduced bleeding, and an overall shorter recovery period.
Robotic assistance also benefits the surgeon, relieving some of the physical demands of surgery, enabling remote or potentially even long-distance performance of surgery, and imparting a steadiness that even the most skilled of human hands cannot match.
Our doctors use all advanced robotic technology available to do state-of-the-art neurosurgery.
Robotic-assisted Surgery Robots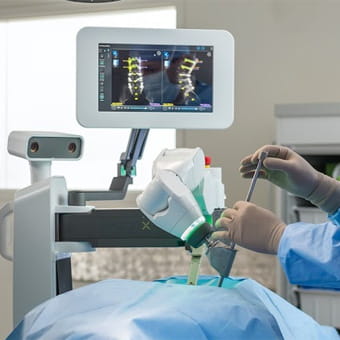 Mazor Robotic Guidance System
The Mazor Robotic Guidance System allows for pre-operative or intra-operative planning and robotic-guided execution of multiple trajectories. Directly connected to patient's bony anatomy when in use, the system is specifically designed to provide a stable and precise environment for performing spine surgery. This system enables our neurosurgeons to conduct spine and brain procedures in an accurate and secure manner. Related center: Spine & Peripheral Nerve Center
Synaptive Brightmatter™
BrightMatter is an innovative solution of advanced imaging, surgical planning and navigation with robotic visualization. Synaptive's technology shares a common imaging hub, which analyzes and assesses the quality of imaging scans in real-time prior to surgical planning and creates the foundation for a clinically-integrated imaging informatics research platform. Related center: Cerebrovascular Center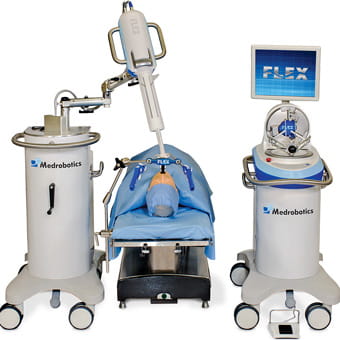 MedRobotic Flex® System
The Flex Robotic System offers a minimally invasive solution for head and neck surgical procedures. This revolutionary system provides patients with faster recovery and return to normal speech and swallowing following surgery. With less pain, fewer complications and no visible scarring, it overcomes limitations of traditional surgery.With a flexible microscope and instruments, it allows our head and neck surgeons increased access to difficult to reach areas while avoiding an open surgery.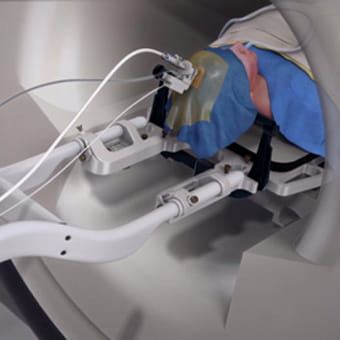 NeuroBlate® System
The Neuroblate system allows us to target ultra-selective locations in the brain for laser therapy treatment options. Laser ablation therapy can be utilized for a variety of intracranial conditions including epilepsy, brain tumors, post-radiation treatment effect, and tremors to name a few. This technology allows us to selectively treat abnormal tissue anywhere inside the head through minimally invasive techniques. Related center: Functional and Movement Disorder Surgical Program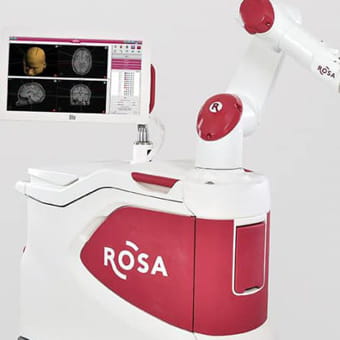 ROSA® Robotic Surgical Assistant
ROSA® assists neurosurgeons in performing minimally invasive brain surgery for epilepsy and other neurologic conditions, in a safer, faster, more effective way. This device, a kind of "GPS" for the brain, assists in navigating the brain. It uses a console and a robotic arm to control the movement and positioning of tiny instruments to support a minimally invasive approach to surgery. Related center: Functional and Movement Disorder Surgical Program
Houston Methodist Neurological Institute
Department of Neurosurgery
6560 Fannin St.
Scurlock Tower, 9th Floor
Houston, TX 77030
713.441.3800
Share: