Glioblastoma Research Lab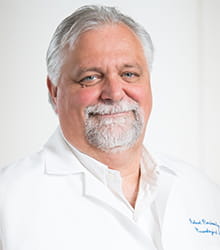 Dr. Robert Rostomily
Professor of Neurosurgery
Director of Translational Research
Co-Director Radiosurgery Program
Houston Methodist Department of Neurological Surgery
Member, Houston Methodist Research Institute (HMRI)
Affiliate Professor, Weill Cornell School of Medicine
John S. "Steve" Dunn, Jr. & Dagmar Dunn Pickens Gipe Chair in Brain Tumor Research
rrostomily@houstonmethodist.org
The Glioblastoma Research Lab addresses basic and translational biology of brain cancers, with a primary focus on glioblastoma (GBM). Our basic science interests revolve around the role of the Twist1 transcription factor as a regulator of epithelial mesenchymal transition (EMT) in GBM. In keeping with its role in metastatic EMT in carcinomas Twist1 promotes invasive and stem cell phenotypes in GBM. These hallmark properties are central to GBM malignancy and treatment resistance. Our long-term goal is to leverage new insights into TWIST1 function in GBM stem cells for therapeutic approaches that inhibit EMT related phenotypes. Our translational efforts revolve around optimization and validation of a microfluidic drug delivery platform to predict patient specific therapeutic responses. Using patient derived tumor slice cultures this preclinical screening paradigm is expected to facilitate the implementation of precision cancer therapy for GBM and other cancers. Additional research questions addressed in the lab include i) the role of aging related mechanisms in GBM malignancy, ii) intra-tumoral molecular heterogeneity, iii) the electrophysiology of glioma stem cells (GSCs) and the basic and translational biology of brain metastasis. Through our NIH funded research efforts and multiple collaborations within HMRI, the Texas Medical Center and outside institutions including the University of Washington, we strive to integrate new understanding of basic mechanisms of GBM malignancy and translational studies to accelerate progress in improving patient outcomes.
Laboratory News
Congratulations: Zeynep Dereli-Korkut who was chosen as a Keck Fellow Affiliate in the Computational Cancer Biology Training Program for July 1, 2018 – June 30, 2019.
Welcome aboard Shawn Brisbay
New lab manager: Shawn Brisbay joins the lab. We welcome Shawn Brisbay as our new lab manager. Shawn has extensive experience running labs at MD Anderson and most recently UT Health.
Recent Publications

Targeting TWIST1 through loss of function inhibits tumorigenicity of human glioblastoma.
Mikheev AM, Mikheeva SA, Severs LJ, Funk CC, Huang L, McFaline-Figueroa JL, Schwensen J, Trapnell C, Price ND, Wong S, Rostomily RC. Mol Oncol. 2018 Jun;12(7):1188-1202.
An anatomic transcriptional atlas of human glioblastoma.
Puchalski RB, Shah N, Miller J, Dalley R, Nomura SR, Yoon JG, Smith KA, Lankerovich M, Bertagnolli D, Bickley K, Boe AF, Brouner K, Butler S, Caldejon S, Chapin M, Datta S, Dee N, Desta T, Dolbeare T, Dotson N, Ebbert A, Feng D, Feng X, Fisher M, Gee G, Goldy J, Gourley L, Gregor BW, Gu G, Hejazinia N, Hohmann J, Hothi P, Howard R, Joines K, Kriedberg A, Kuan L, Lau C, Lee F, Lee H, Lemon T, Long F, Mastan N, Mott E, Murthy C, Ngo K, Olson E, Reding M, Riley Z, Rosen D, Sandman D, Shapovalova N, Slaughterbeck CR, Sodt A, Stockdale G, Szafer A, Wakeman W, Wohnoutka PE, White SJ, Marsh D, Rostomily RC, Ng L, Dang C, Jones A, Keogh B, Gittleman HR, Barnholtz-Sloan JS, Cimino PJ, Uppin MS, Keene CD, Farrokhi FR, Lathia JD, Berens ME, Iavarone A, Bernard A, Lein E, Phillips JW, Rostad SW, Cobbs C, Hawrylycz MJ, Foltz GD. Science. 2018 May 11;360(6389):660-663.
Open positions

Post-doctoral fellowships: The lab is actively interviewing for 1-2 postdoctoral positions to support ongoing projects involving i) mechanisms of Twist1 function in GBM and ii) optimization of primary patient derived GBM organotypic slice culture and tissue engineered cultures as platforms for preclinical screening on a microfluidic drug delivery platform. One position will be a named fellowship supported through the John S. "Steve" Dunn, Jr. & Dagmar Dunn Pickens Gipe Chair in Brain Tumor Research.
Research Assistants: We currently seek a research assistant with experience in the following areas: molecular and cell biology, animal colony management, immunohistochemistry/histology, laser capture microdissection.