Article in
Nature Nanotechnology
, March 2, 2008
Mesoporous silicon particles as a multistage delivery system for imaging and therapeutic applications
Many nanosized particulate systems are in development as intravascular carriers to increase the levels of therapeutic agents delivered to targets, with the fewest side effects. The surface of these carriers is often functionalized with biological recognition molecules for specific, targeted delivery. However, there are a series of biological barriers in the body that prevent these carriers from localizing at their targets at sufficiently high therapeutic concentrations. Here we show a multistage delivery system that can carry, release over time and deliver two types of nanoparticles into primary endothelial cells. The multistage delivery system is based on biodegradable and biocompatible mesoporous silicon particles that have well-controlled shapes, sizes and pores. The envisioned use of this system is to open new avenues for avoiding biological barriers and delivering more than one therapeutic agent to the target at a time, in a time-controlled fashion.
Article in Nature Scientific Reports, December 5, 2017
Immune tuning scaffold for the local induction of a pro-regenerative environment
In mammals, tissue regeneration is accomplished through a well-regulated, complex cascade of events. The disruption of the cellular and molecular processes involved in tissue healing might lead to scar formation. Most tissue engineering approaches have tried to improve the regenerative outcome following an injury, through the combination of biocompatible materials, stem cells and bioactive factors. However, implanted materials can cause further healing impairments due to the persistent inflammatory stimuli that trigger the onset of chronic inflammation. Here it is described at the molecular, cellular and tissue level, the body response to a functionalized biomimetic collagen scaffold. The grafting of chondroitin sulfate on the surface of the scaffold is able to induce a pro-regenerative environment at the site of a subcutaneous implant. The early in situ recruitment and sustained local retention of anti-inflammatory macrophages significantly reduced the pro-inflammatory environment and triggered a different healing cascade, ultimately leading to collagen fibril re-organization, blood vessel formation, and scaffold integration with the surrounding native tissue.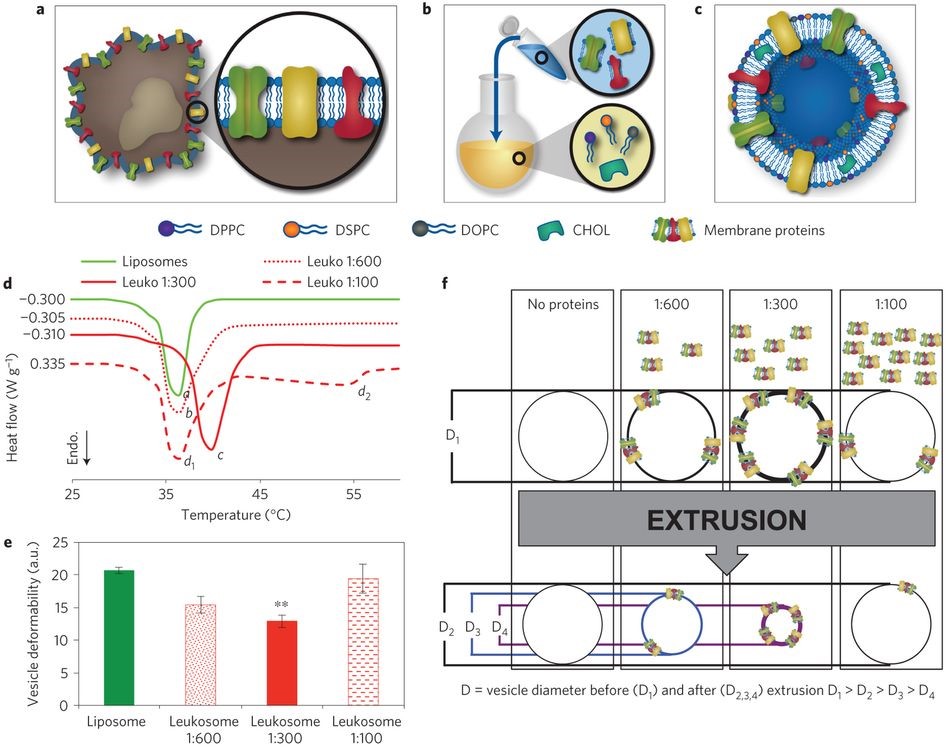 Article in
Nature Nanotechnology
, December 16, 2012
Synthetic nanoparticles functionalized with biomimetic leukocyte membranes possess cell-like functions
The therapeutic efficacy of systemic drug-delivery vehicles depends on their ability to evade the immune system, cross the biological barriers of the body and localize at target tissues. White blood cells of the immune system—known as leukocytes—possess all of these properties and exert their targeting ability through cellular membrane interactions. Here we show that nanoporous silicon particles can successfully perform all these actions when they are coated with cellular membranes purified from leukocytes. These hybrid particles, called leukolike vectors, can avoid being cleared by the immune system. Furthermore, they can communicate with endothelial cells through receptor-ligand interactions, and transport and release a payload across an inflamed reconstructed endothelium. Moreover, leukolike vectors retained their functions when injected in vivo, showing enhanced circulation time and improved accumulation in a tumor.
Article in
Tissue Engineering
, October 29, 2018
Controlled Release of Small Molecules for Cardiac Differentiation of Pluripotent Stem Cells
Induced pluripotent stem cells (iPSC) have shown to differentiate to functional cardiomyocytes with high efficiency through temporally controlled inhibition of the GSK3/Wnt signaling pathways. In this study, we investigated the ability of temporally controlled release of GSK3/Wnt small molecule inhibitors to drive cardiac differentiation of iPSC without manual intervention. Porous silica particles were loaded with GSK3 inhibitor CHIR99021 or Wnt inhibitor IWP2, and the particles containing IWP2 were coated with 5wt% PLGA 50:50 to delay release by approximately 72 hours. Induced pluripotent stem cells reprogrammed through mRNA transfection were cultured with these particles up to 30 days. HPLC suggests a burst release of CHIR99021 within the first 24 hours and a delayed release of IWP2 after 72 hours. Annexin V/PI staining did not show a significant effect on apoptosis or necrosis rates. Cultured cells upregulated both early (Nkx 2.5, Isl-1) and late (cTnT, MHC, Cx43) cardiac markers, assayed with qRT-PCR, and began spontaneous contraction at 3.0±0.6Hz at 15-21 days after the start of differentiation. Cardiomyocytes had clear sarcomeric striations when stained for β-myosin heavy chain, and showed expression and punctate membrane localization of gap junction protein Connexin43. Calcium and voltage sensitive imaging showed both action potential and calcium transients typical of immature cardiomyocytes. This study showed that the cardiac differentiation of pluripotent stem cells can be directed by porous silica vectors with temporally controlled release of small molecules inhibitors. These results suggest methods for automating and eliminating variability in manual maintenance of inhibitor concentrations in the differentiation of pluripotent stem cells to cardiomyocytes.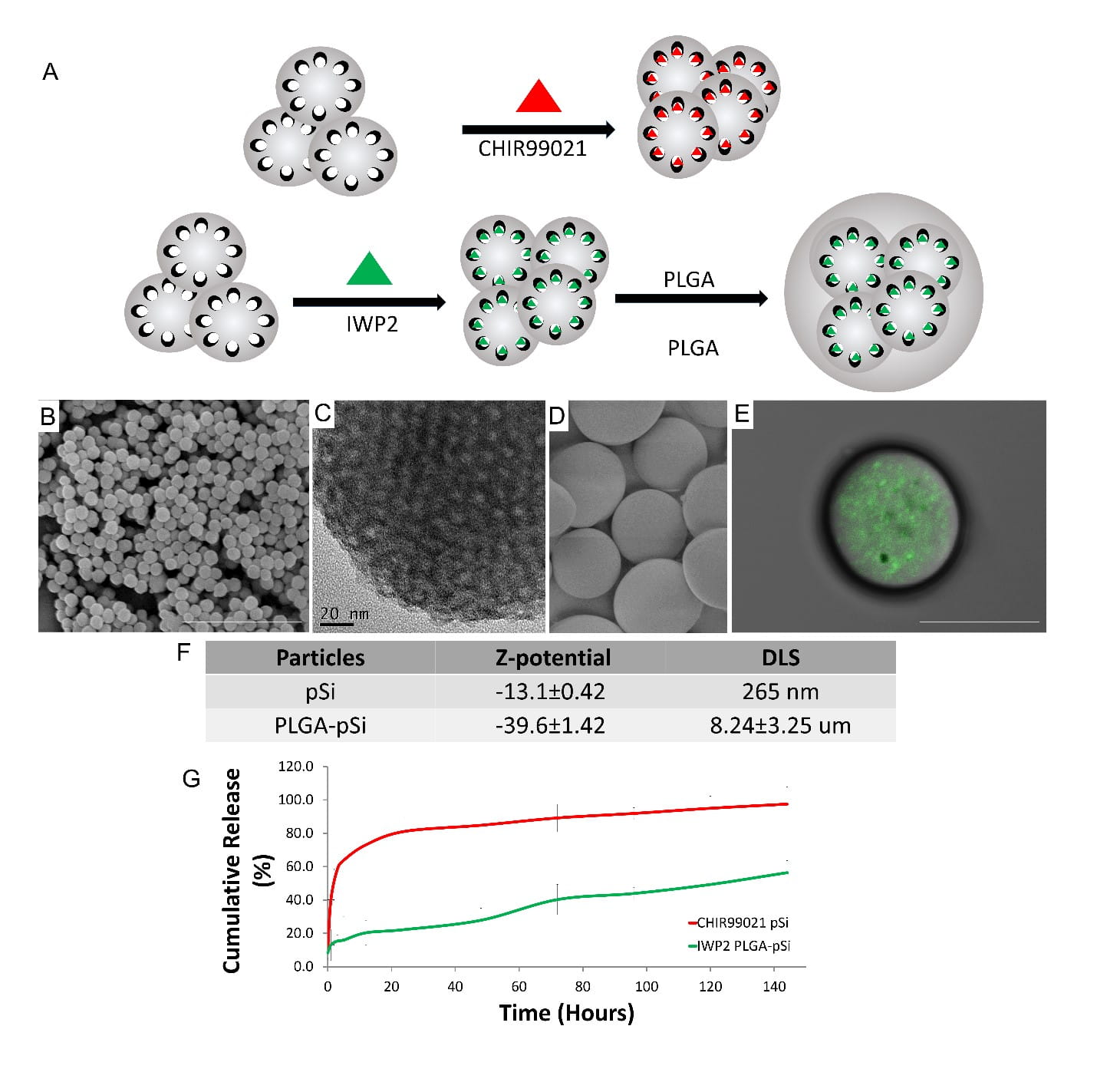 Article in
Stem Cells Translational Medicine
, March 24, 2016
Chondroitin Sulfate Immobilized on a Biomimetic Scaffold Modulates Inflammation While Driving Chondrogenesis
Costs associated with degenerative inflammatory conditions of articular cartilage are exponentially increasing in the aging population, and evidence shows a strong clinical need for innovative therapies. Stem cell-based therapies represent a promising strategy for the treatment of innumerable diseases. Their regenerative potential is undeniable, and it has been widely exploited in many tissue-engineering approaches, especially for bone and cartilage repair. Their immune-modulatory capacities in particular make stem cell-based therapeutics an attractive option for treating inflammatory diseases. However, because of their great plasticity, mesenchymal stem cells (MSCs) are susceptible to different external factors.
Biomaterials capable of concurrently providing physical support to cells while acting as synthetic extracellular matrix have been established as a valuable strategy in cartilage repair. Here we propose a chondroitin sulfate-based biomimetic scaffold that recapitulates the physicochemical features of the chondrogenic niche and retains MSC immunosuppressive potential in vitro, either in response to a proinflammatory cytokine or in the presence of stimulated peripheral blood mononuclear cells. In both cases, a significant increase in the production of molecules associated with immunosuppression (nitric oxide and prostaglandins), as well as in the expression of their inducible enzymes (iNos, Pges, Cox‐2, and Tgf‐β).
When implanted subcutaneously in research models, our scaffold revealed a reduced infiltration of leukocytes at 24 hours, which correlated with a greater upregulation of genes involved in inflammatory cell apoptotic processes. In support of its effective use in tissue-engineering applications of cartilage repair, the potential of the proposed platform to drive chondrogenic and osteogenic differentiation of MSC was also proven.