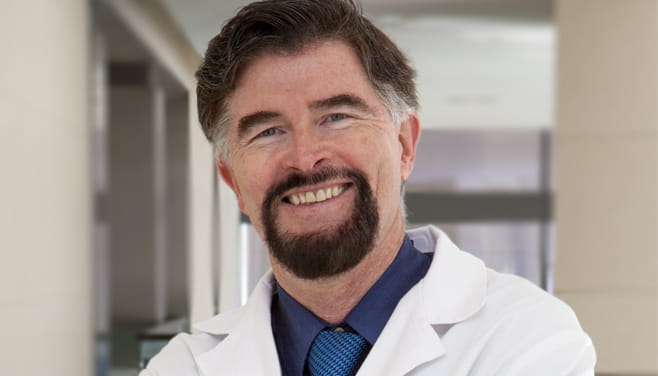 John P. Cooke, MD, PhD
Joseph C. "Rusty" Walter and Carole Walter Looke
Presidential Distinguished Chair in Cardiovascular Disease Research
Chair, Department of Cardiovascular Sciences, Houston Methodist Research Institute
Director, Center for Cardiovascular Regeneration, Houston Methodist DeBakey Heart and Vascular Center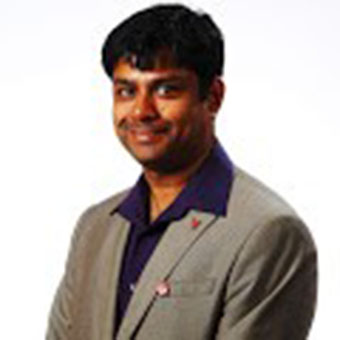 Palas K. Chanda, PhD, Postdoctoral Fellow
Palas Chanda received his MS in Biochemistry from the Kalyani University, his Master of Technology degree in Biotechnology from Jadavpur University, and his PhD in Biochemistry from the Bose Institute and Jadavpur University in Kolkata, all in West Bengal, India. While earning his PhD, he studied the molecular mechanisms of antibiotic resistance in bacterial pathogen Staphylococcus aureus. He joined the Center of Diabetes Research at the Houston Methodist Research Institute as a postdoctoral fellowship under Dr. Ke Ma and was involved in studying the role of circadian genes in the determination of mesenchymal stem cell commitment towards a particular lineage. He joined Dr. Cooke's lab in 2015 and is presently working on the role of innate immunity in epigenetic regulation of nuclear reprogramming. In this project, he is focusing on the biological constraints related to the Goldilock's zone of epigenetic plasticity. For this work, he received the ATVB Young Investigator Travel Award from American Heart Association (AHA) in 2015 and also received the prestigious National Heart, Lung, and Blood Institute (NHLBI) sponsored Progenitor Cell Biology Consortium (PCBC) jump start award in 2016. In his spare time, he likes to listen to music, read books, watch movies and spend quality time with his family.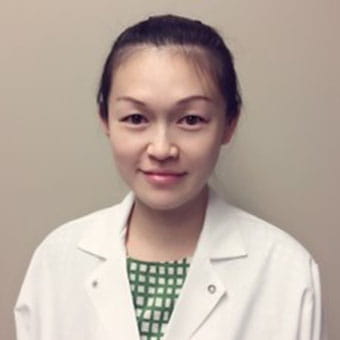 Li Lai, PhD, Postdoctoral Fellow
Li Lai received her BS from Hunan Normal University, Changsha and her PhD from East China Normal University, in Shanghai, China. During her graduate school training, she specialized in the area of physiological and pathological angiogenesis, considered very important in tissue regeneration, as well as tumor proliferation. In 2011, Li received an Oversea Training scholarship to work with Dr. Mingyao Liu at Texas A&M IBT, where she studied the regulation of GPCR LGR4 in breast cancer and retinal development. The positive experience within the Texas Medical Center prompted Li to pursue a postdoctoral fellowship in Dr. Cooke's lab starting in 2014. She is currently conducting research in the area of direct reprograming, or transdifferentiation, of fibroblasts to endothelial cells, under the concept of "transflammation", first described by Dr. Cooke's lab. In her spare time, she likes outdoor sports, including skiing, fishing and swimming. She also enjoys shopping, singing and handcrafting.
View Li Lai's ORCID profile.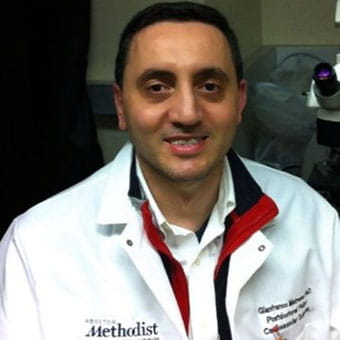 Gianfranco Matrone, PhD, Instructor
Gianfranco Matrone obtained his BS in Biological Science at the University of Naples Federico II, where he worked on cardiomyocyte contractility and exercise-induced neoangiogenic mechanisms in aging rat. Then, he moved to the Cardiovascular Research Centre, INSERM U689 in Paris, France, where he focused on pro-angiogenic cell therapy and neoangiogenic mechanisms in ischemic diseases. He continued to study neoangiogenesis at the Bristol Heart Institute, in England, where he focused on the role of hypoxia and Notch pathway in endothelial progenitor cells and neonatal cardiomyocytes. To further his education, he enrolled at the University of Edinburgh for his PhD where he studied the role of the CDK9 in cardiomyocyte proliferation in the zebrafish following cardiac laser-induced injury. He had a very exciting time in Edinburgh, where he was also involved in several science communication events, including being a performer at the Bright Club Comedy at the Edinburgh International Science Festivals in 2012. You can still watch his performance on zebrafish on the YouTube!
In Dr. Cooke's lab, Gianfranco is now focused on endothelial cell development and lineage specification. By using genetic, cellular and physiological tools he is investigating the sequence of genes that are up and down regulated and changes in cell function during the reprogramming of Embryonic Stem Cells and Induced Pluripotent Stem Cells. By using the Zebrafish as a model, he wants to decipher the role of candidate genes in cardiovascular development and regeneration. He is also particularly interested in understanding the role of the innate immune system in the zebrafish cardiovascular regenerative mechanisms.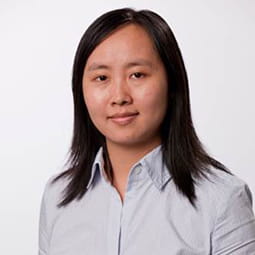 Shu Meng, MD, PhD, Instructor
Shu Meng obtained her MD and MS in Medical Genetics from Sun Yat-sen University School of Medicine in China. She then earned her PhD in Pharmacology from the Pharmacology Department and Cardiovascular Research Center of Temple University School of Medicine under the supervision of Dr. Hong Wang. During her PhD studies, she demonstrated that hyperhomocysteinemia, a cardiovascular risk factor, accelerates thrombosis though ICAM-1 dependent endothelial activation though DNA hypomethylation mechanism. Shu Meng joined Dr. Cooke's lab as a postdoctoral fellow in 2013 to work on the transdifferentiation of fibroblasts into functional endothelial cells using chemical entity based methods. She is particularly interested in using small molecules as a therapeutic approach to reprogram and generate healthy endothelial cells in vivo. She is also involved in characterizing several transcription factors and their role in endothelial development. In her spare time, Shu enjoys to listen to music, travel and spend time with her family.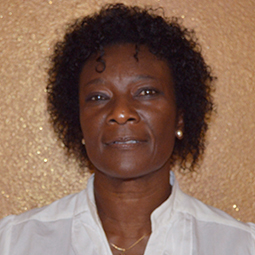 Iris Owusu, Senior Research Assistant
Iris received her BS in Animal Science at the University of Ghana and was sponsored by UNESCO to complete her MS in Animal Breeding and Genetics in the Dairy Science Department at Texas A&M in College Station. In Dr. Robert Blake's lab, she studied and identified genetic markers that influence milk production in Holsteins. After graduate school, Iris was involved in the development of temperature-sensitive vaccines against murine mycoplasmosis derived from monoclonal antibody and recombinant DNA in the lab of Dr. Steven Pakes at the UT Southwestern Medical School. She also had the privilege of working under Dr. Wayne Lai who introduced her to Immunology. She took time off to raise a family, live in Europe and also received another MS in Medical Genetics with a concentration in Immunology at Brunel University in Uxbridge near London, England. After her return to Texas, Iris worked at MD Anderson Cancer Center in the lab of Dr. Faith Strickland, focusing on immunology in skin cancer. She then spent almost a decade at Lexicon Pharmaceuticals in The Woodlands where she was involved in drug development for autoimmune diseases. Iris moved to Ensysce Biosciences to focus on targeted cancer therapy utilizing single-walled carbon nanotubes complexed with siRNA or existing cancer drugs. She joined Dr. Cooke's lab in 2015 to assist with the transflammation and transdifferentiation research. In her spare time, she loves to sew, do yoga, zumba and power-walk. She hopes to participate in a half marathon in the very near future.
View Iris Owusu's ORCID profile.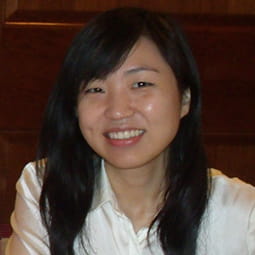 Jinyu Chen, PhD, Center Manager
Jinyu received her B.S. in Biotechnology from South China Normal University. At this time she was also a research assistant at South China Normal University. She decided to continue her education and training at the University of Houston where she obtained her Ph.D. degree 2013 under the supervision of Dr. Zhang Weihua. During her graduate studies, she carried out projects on cancer research focusing on altered glucose metabolism in cancer and how it correlates with various cancer phenotypes including drug resistance and metastasis. Jinyu is currently working as center manager of Center for Cardiovascular Regeneration. With the goal to help build the best center for cardiovascular generation in the nation, Jinyu is dedicated to manage the lab, improve processes and create a good and efficient environment for everybody to work together as a team. It's also Jinyu's firm believe that they can build the best center as the whole team are working hard together towards this goal.

Past Members of Cooke Lab
Gautham Yepuri, PhD, Postdoctoral Fellow
Gang Zhou, PhD, Postdoctoral Fellow
Chun Liu, PhD, Postdoctoral Fellow
Timo Nazari-Shafti, MD, Postdoctoral Fellow
Frank Ospino, BS, Research Assistant
Yanhui Li, PhD, Postdoctoral Fellow
Amir Sanchez-Hernandez, MD, Research Assistant