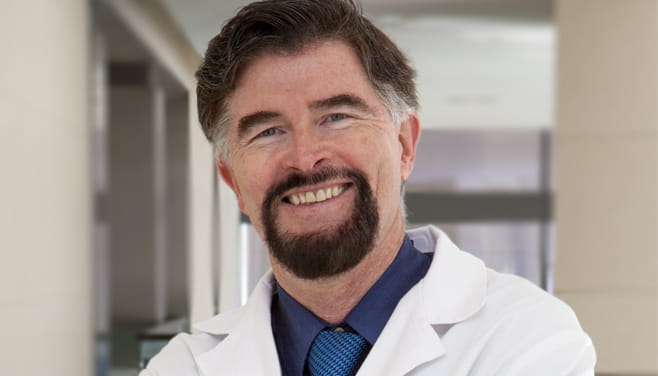 John P. Cooke, MD, PhD
Joseph C. "Rusty" Walter and Carole Walter Looke
Presidential Distinguished Chair in Cardiovascular Disease Research
Chair, Department of Cardiovascular Sciences, Houston Methodist Research Institute
Director, Center for Cardiovascular Regeneration, Houston Methodist DeBakey Heart and Vascular Center

About Cooke Lab Research
Dr. Cooke's translational research program is focused on vascular regeneration. The program is funded by grants from the National Institutes of Health, the American Heart Association, and industry.

The focus is on restoration or stimulation of endothelial functions such as vasodilation and angiogenesis, using small molecules or stem cell therapies. In his 25 years of translational endothelial biology, he first described and characterized the anti-atherogenic effects of endothelium-derived nitric oxide; the anti-angiogenic effect of the NO synthase inhibitor ADMA; the angiogenic pathway mediated by endothelial nicotinic acetylcholine receptors; the role for this pathway in states of pathological angiogenesis; and developed an antagonist of the pathway that is now in Phase II clinical trials. His clinical research group has explored the use of angiogenic agents and adult stem cells in the treatment of peripheral arterial disease. More recently, he has generated and characterized endothelial cells derived from human iPSCs, and explored their role in angiogenesis and vascular regeneration. Recent insights from the laboratory have clarified the role of innate immune signaling in nuclear reprogramming to pluripotency and therapeutic transdifferentiation for vascular disease.

Click here to see Dr. Cooke's site on Scopus.