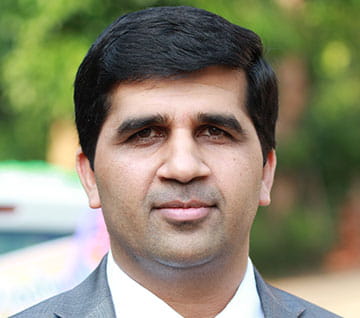 Muralidhar Hegde, PhD
Professor of Neurosurgery
Center for Neuroregeneration
Houston Methodist Research Institute
Houston Methodist

Dr. Hegde's research efforts are focused on delineating the molecular and cellular mechanisms underlying neurodegenerative diseases. The primary emphasis of his research is genome damage, repair, inhibitions/deficiencies in neurons and exploring DNA Damage Response (DDR) targeted approaches in preventing neuronal dysfunction. His group is interested in studying Amyotrophic Lateral Sclerosis (ALS), Alzheimer's Disease (AD), Parkinson's Disease (PD) and Stroke to test whether DNA repair inhibitions/deficiencies play a key role in the etiology of neurodegenerative diseases. They demonstrated that transition metals, iron and copper, act as a 'double whammy' by both inducing DNA damage and by inhibiting their repair via direct binding and oxidation of NEIL enzymes involved in oxidized DNA base repair. Their current studies involve characterizing the role of ALS-linked RNA binding protein TDP-43 in DNA double-strand break repair and testing the hypothesis that TDP-43's nuclear clearance and aggregation in ALS (and other neurodegenerative diseases) cause deficient DNA double-strand repair and contributes significantly to cell death. In another project they are delineating the mechanism of genotoxicity of amyloid proteins including synuclein, particularly in mitochondria and exploring its prevention by natural compounds.