Maan Malahfji, MD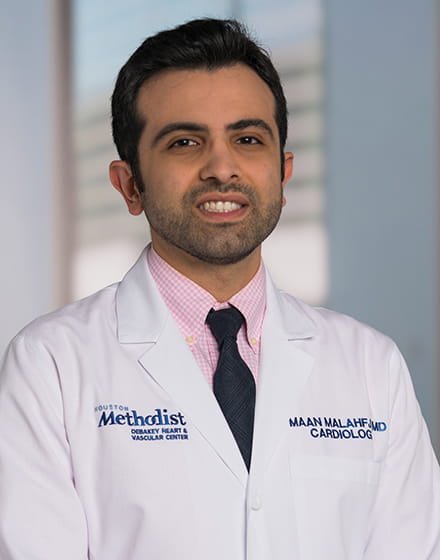 Houston Methodist is an internationally recognized institution with historic achievements and discoveries in the fields of cardiology and cardiovascular surgery, boasting world-renowned faculty. Our faculty are leaders in their fields and include those who are past presidents of the American College of Cardiology, American Society of Echocardiography, as well as chairs and authors of multiple guidelines. As a result, our department offers abundant opportunities for impactful clinical research along with the mentorship for fellows to excel in academics and clinical practice.
I was thrilled to match at Houston Methodist for many reasons. The Department of Cardiology provides exceptional clinical training such that fellows are able to comfortably handle a wide range of complex cases by their second year of training. The breadth of exposure covers all areas of cardiovascular medicine. We have a great collegial relationship between the faculty and fellows who are treated as junior colleagues (quoting our previous chair, Dr. Quinones). There is no shortage of cases and autonomy with appropriate supervision.
The department heavily supports the fellows in many areas. We emphasize work/life balance which is very important for the overall health, well-being, and happiness of the trainees. Rotation schedules and time off are highly flexible with the third year being a 100% elective time. This allows for each fellow to tailor his/her schedule according to their long-term goals and interests. Educational conferences are ample (check out our YouTube channel!) and the fellows are supported to attend meetings and courses. There is very minimal scut work in our fellowship and we are continuously working to get rid of redundancies.
Finally, we are a tightly knit and diverse group. Fellows are relentless in helping others out when needed with clinical questions and call coverage. Graduates of this fellowship have gone on to achieve great success at academic institutions as well as community practices in Texas and throughout the nation.
If you have any questions, please feel free to reach out to me directly at mmalahfji@houstonmethodist.org.
Sincerely,

Maan Malahfji, MD
Department of Cardiology
2018-2019 Chief Fellow