Message from the Director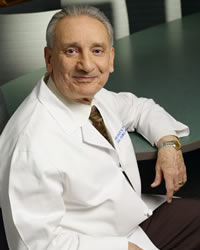 Welcome, and thank you for visiting the website of the Nephrology Fellowship Training Program at the Houston Methodist Hospital. Our Nephrology Service is ranked among the best programs by U.S. News and World Report. The Houston Methodist Hospital itself is ranked among the country's top hospitals in 11 specialties in U.S. News & World Report's 2014 "Best Hospitals" issue, and again was named the No. 1 hospital in Texas and No. 1 in the Houston area.
Our faculty members engaged in teaching and training nephrology fellows are seasoned educators and clinicians, who have been teaching medical students, residents and fellows for many years. As an investigator with close to 300 publications and an academic leader (past President of the Southern Society for Clinical Investigation, past Vice-President of the Renal Physicians Association, past President of the American Society of Nephrology), I cherish directing the Nephrology Fellowship Training Program and seek trainees with a passion for learning and a commitment to excellence.
The Nephrology Clinical Program enjoys a wealth of diverse clinical expertise, spanning the entire spectrum of renal disease from acute kidney injury, chronic kidney disease (CKD), end-stage kidney disease, dialysis to transplantation. Five large and busy ICU's (cardiac, medical, surgical, cardiovascular surgery, neurology/neurosurgery), a busy cardiovascular surgery service, and a large multi-organ transplant program contribute to the abundance of clinical experience available for training Nephrology fellows at Houston Methodist Hospital. A comprehensive experience in out-patient in-center hemodialysis, home peritoneal and hemodialysis, outpatient CKD and post-transplant care, and the care of dialysis vascular access, at a large community nephrology group practice is also available to complement the clinical experience at the hospital.
Houston Methodist has its own Research Institute, and its location in the Texas Medical Center − the largest Medical Center in the world with two medical schools, the largest cancer hospital in the world, and Rice University across the street, provides endless opportunities for those interested in pursuing scientific and clinical research.
Should you have any additional questions, or need further clarification about the program, please do not hesitate to contact me or the Fellowship Coordinator.
Thank you for your interest in our program. We wish you every success in your future career.
Wadi N. Suki, MD, FACP
Director, Nephrology Fellowship Program
Department of Medicine
Professor of Medicine
Institute for Academic Medicne
Houston Methodist