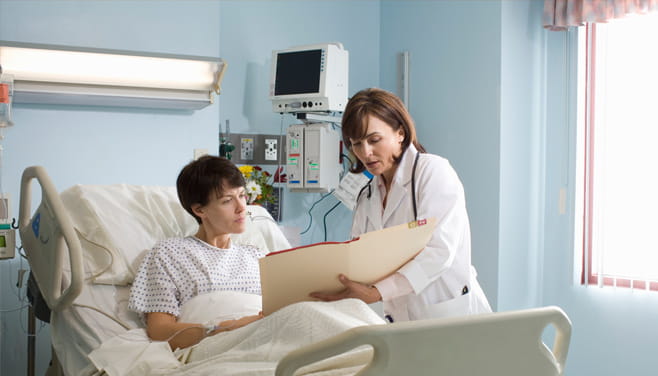 Houston Methodist San Jacinto Hospital has served the citizens of East Harris, Liberty and Chambers counties since 1948. As one of the few private, nonprofit hospitals in the Greater Houston area, Houston Methodist San Jacinto offers patients a healing mix of high technology, medical innovation and human caring. No matter the circumstances, to us each patient is an individual, with individual needs and concerns. It is our job — and our calling — to be of service to you.

During your time here with us, you may have questions about the hospital, about your stay and about the many services we offer patients and guests. We created this patient guide to help answer those questions. We understand, too, that hospitalization can be a stressful time for patients and their families. Be assured that we are here to assist you. Please let any hospital employee know how we can make your stay with us more comfortable and pleasant. Thank you for allowing us to serve you.

Keys to Safety
Your Care Providers
ID and Allergy Bracelets
Hand Hygiene
Medications From Home
Pain Management
Ordering Meals
Vending Machines
Visitation
Tobacco-Free Policy
Leaving Your Room
Patient Confidentiality
Patient Passwords
Room Assignments
Personal Belongings
Telephone Calls
Service Corps Volunteers
Notary Public
Floral Deliveries
Self-Service Kiosk
Housekeeping and Room Maintenance
Reading Materials
Support Groups
Change in Patient Condition
Support and Security Services
Patient- and Family-Centered Advisory Council
Complaints and Grievances
Special Information for Inpatients and Outpatients
Hospital Discharge
Patient Rights and Responsibilities
Notice of Privacy Practices
Applause Program
Wireless Internet

Keys to Safety
We encourage you to be actively involved in your care during your stay at San Jacinto Methodist Hospital.


Speak up if you have questions or concerns, and if you do not understand, ask again. It is your body, and you have a right to know.
Pay attention to the care you are receiving. Make sure you are getting the right treatments and medications by the right health care professionals. Do not assume anything.
Educate yourself about your diagnosis, the medical tests you are undergoing and your treatment plan.
Ask a trusted family member or friend to be your advocate.
Know what medications you take and why you take them. Medication errors are the most common health care errors.
Participate in all decisions concerning your treatment. You are the center of the health care team.
Houston Methodist San Jacinto encourages everyone to take part in patient safety. Our doctors, care givers and leadership team are working to make your stay the best and safest experience possible. If at any time your needs are not being addressed, or if you or your family have concerns about your care, treatment, services or safety, contact your care provider or call a patient relations representative at 281.420.8825.

Your Care Providers
Many team members will be taking care of you throughout your stay. For identification purposes, doctors and employees are required to wear a photo badge with their name printed on it, along with the Houston Methodist name. All staff members wear uniforms. Nurses, for example, wear royal-blue scrubs or the traditional white nursing uniforms, and patient care assistants wear beige, tan or grey scrubs. If at any time you are unsure of who is taking care of you, ask for clarification.

ID Bands and Allergy Bracelets
Every patient receives an identification band during admission to the hospital. Prior to giving medications, obtaining specimens or providing treatment, we will ask you to state your name and date of birth and will compare your answers to the information printed on your ID band and on any associated paperwork. This should happen many times during your hospital stay, and it is for your safety. If we do not ask, then please point this out to our staff. Patients will also be provided bands indicating the following as needed:


Purple = do not resuscitate (DNR)
Red = allergy
Yellow = fall precautions

Hand Hygiene
Doctors and employees are required to wash their hands with soap and water or sanitize with hand gel when leaving the bedside and before touching the next patient. Please feel free to ask staff members if they have washed their hands.

Medications From Home
To make sure that we are using the correct information for our medical records, you will be asked to provide us with the names of all of your medications, the dosage, how often you take them and the reason you are taking them. If you are taking over-the-counter medications, including herbal supplements, this information must also be given to the staff. If home medications are brought to the hospital, show them to your care provider. We will then ask you to send them home with a loved one.

You will also be asked about any allergies to medications, food or latex. Please assist us by providing a complete allergy history.

Pain Management
For patients requiring pain management, we may use a device called a patient-controlled analgesia (PCA) machine. This device is ordered by your doctor and programmed by the nurses to deliver a specific amount of narcotic medicine for pain relief. The machine is equipped with a button that you can push when you feel a need for more pain medication. Specific instructions on how to use the button for pain control will be provided. Only you, the patient, are permitted to press the button. Our nurses will monitor the amount of medication delivered and your level of pain relief, and they will inform your doctor on how well the medication is working. Special time limits and medication amounts are programmed into the machine so that overmedication does not occur.

Ordering Meals
For inpatients at the Garth Campus, you can call extension 4441 on your bedside phone. Room service will deliver meals directly to your room between 7 a.m. and 6:30 p.m. Should you require a meal outside of these hours, the hospital will make arrangements through your care provider.

Vending Machines
Vending machines serving your favorite cold beverages, snacks, candies, frozen treats and other foods are conveniently located throughout our facilities. At the Garth Campus, they are located on the second floor outside the Café and in the main lobbies of Plazas I and II. At the Alexander Campus, they are located on the first floor, in the vending room around the corner from the Café.

Visitation
Visitors are welcome 24 hours a day in most areas of the hospital. However, certain areas may have shorter visitation hours due to clinical necessity. Patients and visitors should check with staff in their patient care unit to confirm the policy for that area. Additional restrictions to the visitation policy may be initiated by an executive order due to a local or national crisis, pandemic or other special situation.


Patients have the right to choose who may and may not visit them. All visitors will enjoy full and equal
visitation privileges consistent with patient preferences.
Individual patient preferences regarding the hours and duration of visitation will be accommodated as clinically appropriate. The number of visitors per patient may be limited based on patient request or clinical necessity, or in consideration of the other patient in a semi-private room. Visitation privileges will not be restricted, limited or otherwise denied on the basis of race, color, national origin, religion, sex, gender identity, sexual orientation, or disability.

Visitors may be requested to step out of the room so that the staff may provide care to the patient or the patient's roommate. All persons should refrain from visiting if they have a cold or any other suspected contagious disease.

Visitors are permitted to remain in designated waiting areas overnight. Unauthorized overnight sleeping in public waiting areas is not permitted. Patients are not authorized to remain in public waiting areas overnight, with the exception of unit-based waiting areas, and should remain in their units after hours.

Houston Methodist San Jacinto is committed to providing a safe, healthy workplace that is free from violence or threats of violence. The hospital does not tolerate behavior — whether direct or through the use of hospital facilities, property or resources — that is violent, threatens violence, harasses or intimidates others, interferes with an individual's legal rights of movement or expression, or disrupts the workplace, the environment of care or the hospital's ability provide and deliver safe, quality care, service and treatment to the public.

Should you have a concern or need assistance, contact your care provider or call the Patient Relations Department, 281.420.8825.

Tobacco-Free Policy
Houston Methodist San Jacinto is a tobacco-free campus where smoking is not permitted.

Leaving Your Room
If you decide to leave the unit to go to the gift shop or lobby, please notify the nursing staff. If a patient has an intravenous access of any type or is on telemetry monitoring, he or she will not be permitted to leave the building unless medically directed and under the supervision of medical personnel. If the patient insists on leaving, he or she will be required to sign out against medical advice (AMA), at which time the IV access and/or telemetry monitor will be removed. If the patient refuses to sign out AMA and continues to insist on leaving, the IV access and/or telemetry monitor will be removed and the patient will be escorted off the premises.

Patient Confidentiality
You may request a "no information" status upon admission or at any time during your stay by calling Patient Access Services at 832.556.6546. "No information" means that we will not give callers or visitors your room number or phone number.
You have the right to request that we communicate health information to you by a means or location other than your home address and telephone number. Your request must be made in writing to the Registration Department, located at 4401 Garth Rd., Attn: Patient Registration, Baytown, TX 77521, or you can call 832.556.6546 to make the request. If you request an alternative means of communication, you should also communicate that request to each of your doctors.

Patient Passwords
For patients with family members who would like to call in and receive clinical information, the hospital can provide a password on a case-by-case basis and with approval from the patient or a qualified personal representative. The password will allow for patient information to be relayed to the family member. To request a password, please see your caregiver.

Room Assignments
We have private and semi-private rooms available. Although we cannot guarantee a specific type of room, every effort will be made to accommodate your room request.

Personal Belongings
Please be aware we are not responsible for lost items. You must notify your caregiver of any personal assistive devices that you bring from home such as a wheelchair, walker, cane or other item of assistance. All personal items and valuables should be left at home. However, if you must bring valuables to the hospital, please ask your caregiver about securing them. Since we cannot be held responsible for your personal items, it is necessary to properly identify them as your personal property with your name, address, phone number and any other identifiable information.

Items such as contact lenses, eyeglasses, dentures and hearing aids require special attention. Please do not wrap them in facial tissue, washcloths or towels, leave the on your meal tray, or put them under your pillow. If you wear dentures, ask your caregiver for a special denture container to keep at your bedside table.

Telephone Calls
Your personal telephone number is listed on the phone beside your bed, except in the ICU.


For in-hospital calls, dial the four-digit extension.
To reach the hospital operator, dial 0.
For local calls, dial 9 plus the number you are calling.

Service Corps Volunteers
We have volunteers throughout the hospital at the Alexander and Garth campuses. If you need to contact the Volunteer Information Desk, call 281.420.8535 Monday through Friday from 9 a.m. to 6 p.m., or call the main hospital number, 281.420.8600.

Notary Public
If you require a notary public, call 281.420.8825 Monday through Friday between 8 a.m. and 5 p.m. Some restrictions may apply. After hours and on the weekends, please notify your caregiver.

Floral Deliveries
Flowers sent to you by well-wishers will be delivered to your room. Flowers are not permitted in the intensive care unit (ICU).

Self-Service Kiosk
Our electronic self-service kiosk, located in the lobby at the Garth Campus by the front desk, is available to assist you with directions and other helpful information. If the screen is black or blank, just tap it to activate the system.

Housekeeping and Room Maintenance
Your room is cleaned daily and upon request by hospital personnel. If your room is not cleaned to your satisfaction, you can request an additional cleaning by picking up your bedside phone and dialing 8736. You can also request a temperature adjustment or room repair.

Reading Materials
If you would like reading materials in your room, please call the Patient Relations Department at 281.420.8825, and a representative will be glad to assist you. The gift shop, located on the first floor of the Garth Campus, also has reading material for sale.

Support Groups

Cancer Support Group
The Cancer Support Group meets the first Tuesday of each month at noon in the Cancer Center Community Room at 4021 Garth Road. A project of the American Cancer Society and Houston Methodist San Jacinto, this group is open to all cancer survivors, patients who are newly diagnosed, their families and their caregivers. For information, call the Cancer Center at 281.420.8557.

Diabetes Support Group
The Diabetes Support Group meets the first Tuesday of each month and is open to individuals and their families who are learning to deal with diabetes. For information, call 281.420.8525.

Grief Support Group
The Grief Support Group meets the third Thursday of each month at 7 p.m. in the chaplain's second floor office at 4401 Garth Road. The group is open to any area resident who has lost a loved one. For more information, call 281.420.8811.

Ostomy Support Group
The Ostomy Association of the Houston Area, Baytown Group, meets the first Monday of each month at the San Jacinto Methodist Hospital's Cancer Center Community Room, 4401 Garth Road, from 6 to 7 p.m. The organization is open to all individuals with an ostomy, their families and their caregivers. For more information, contact 281.420.8671.

Stroke Support Group
This group is designed to meet the needs of stroke survivors, their families and their caregivers. The group meets the third Tuesday of each month from 5 to 6 p.m. at the Center for Rehabilitation and Stroke Care, Alexander Campus, 1700 James Bowie Drive. Topics include programs on types of strokes, prevention, rehabilitation, new medication and treatment developments. For information, call 281.428.3034.

Change in Patient Condition
If a noted change in a patient's condition occurs that has not been addressed, family members or visitors can call extension 5550 from the patient's bedside phone. The operator will ask for caller identification, room number, patient name and condition. The operator will immediately activate a hospital rapid response team. This process is called, "Condition H," with "H" standing for "help."

Support and Security Services

Physician Referral
For your convenience, Houston Methodist San Jacinto offers a physician referral service. To request a referral, call 281.428.2273

Spiritual Care and Education
Our chaplains specialize in pastoral and spiritual care, and they can be helpful in sorting out emotional needs. Learn more about Spiritual Care and Education at Houston Methodist San Jacinto.

Case Management and Social Services
Houston Methodist San Jacinto has trained professionals to assist you with your choices for future health care needs. Our registered nurses and licensed social workers are available to assist with home health care choices, nursing home placement, hospice services and other alternatives for your health care. They can also answer questions about forms for advance directives, living wills, durable power of attorney for health care and out-of-hospital do not resuscitate (DNR) orders. Your caregiver will gladly contact a case manager or social worker at your request.

Security
Security services are available 24 hours a day, seven days a week. To request an escort to your car or to inquire about lost and found items or other security related issues, dial 0 on your bedside phone and the operator will gladly assist you.

Firearms
State law prohibits the carrying of firearms in the facility.

Services for the Sensory Impaired
The hospital has services and devices available for sensory-impaired patients' use at no charge. If you need an assistive device such as a teletypewriter (TTY), a telecommunications device for the deaf (TDD), a braille device or an augmentative communication device, please let your caregiver know.

Services for Limited English Proficiency
The hospital has interpretation services available. Let your caregiver know if you are in need of an interpreter and one will be provided.

Blood Donations
Houston Methodist San Jacinto has blood drives open to the general public throughout the year. Additionally, the Gulf Coast Regional Blood Center hosts blood drives in the Baytown and Houston areas. For more information, call the hospital laboratory at 281.420.8660 or the Gulf Coast Regional Blood Center at 713.790.1200.

Patient- and Family-Centered Advisory Council
The Houston Methodist San Jacinto Patient- and Family-Centered Advisory Council allows patients to have a voice. This council is made up of a team of health care professionals, local city and business leaders, and patients who have been hospitalized. The Council promotes patient safety and helps others understand what it is like to be a patient.
Through Council initiatives, we can identify ways to make the hospital even better. For more information, call 281.420.8717.

Complaints and Grievances
For patient complaints, please call the Patient Relations Department at 281.420.8825. You may also contact the Facility Licensing Group, Department of State Health Services, 1100 W. 49th St., Austin, TX 78756, 888.973.0022, fax 512.834.6653Complaints may also be addressed to CEO/President, Houston Methodist San Jacinto Hospital, 4401 Garth Rd., Baytown, TX, 77521.

Special Information for Inpatients and Outpatients

Pre-registration/Registration
To register or pre-register, call Patient Access Services at 281.420.8500 at least three days prior to your scheduled admission or scheduled outpatient test or procedure. Please have the following items with you:


Social Security number
Insurance policy and group numbers
Method of payment

Express Check-In
By completing your pre-registration over the phone, you may qualify for Express Check-In on your date of service, which allows you to complete your registration in one to two minutes with no wait. For more information, please call 281.420.8500.

Pre-Surgical Assessment
Complete your pre-surgical assessment via telephone with the preadmission nurse; or, if needed, schedule a visit with the nurse for your pre-surgical assessment. Be sure to bring all paperwork given to you by your doctor for the assessment and a list of current medications.

Payment Arrangements
As a courtesy, the hospital will file your insurance claim for your hospital charges. At the time of your outpatient service or before you leave as an inpatient, we request that you make payment arrangements for all charges not covered by your insurance or initial deposit. Payments may be made by cash, personal check, MasterCard, Visa, American Express or Discover.

Inpatients may contact the Financial Counselor in Patient Access Services at 832.556.6546 for assistance with financial arrangements.

All doctors and surgeons furnishing services to you — including but not limited to, radiologists, pathologists and anesthesiologists — are independent contractors and are not employees of the hospital. You will receive separate bills for these professional services. Following is the contact information for doctors in the hospital who are independent contractors:


Greater Houston Anesthesiology: 713.620.4040
Northwest Anesthesiology and Pain Services, P.A.: 832.698.5320
Baytown Radiology: 800.385.9841
Emergency Physician Professional Association: 800.456.1362

Hospital Discharge
Our hospital discharge time is 11 a.m. However, your doctor must have written the discharge order before the process can begin. Prior to discharge, you will receive discharge instructions and any other necessary education.

Should you require assistance or more information, please contact your care provider.

After Discharge
If you have any questions regarding your bill after discharge, please contact Patient Accounting Services at 281.420.6221.

Charity Care Assistance
Applications for charity care assistance may be made by contacting the Financial Resources Office at 281.428.4404. Our financial resources specialist will ask you or a family member to complete an application and will request information about your financial obligations. In addition, the specialist will ask for a copy of your most recent federal tax return, as well as other required documents. In evaluating your application for charity care assistance, the hospital will consider your income, your debts and your assets.

An annual report of our community benefits plan is public information and is available from the Texas Health and Human Services Commission.

Patient Rights and Responsibilities
The mission of Houston Methodist is to provide the best medical care and service in a spiritual environment. In order for the hospital to fulfill this mission, the hospital medical staff and the patient/parent(s)/guardian(s) must acknowledge the existence of shared obligations based upon patients' fundamental rights and responsibilities. Patient rights cover various issues:


The right to a reasonable response to their requests and needs for treatment or service, within the entity's capacity, mission and applicable laws and regulations
The right to know how Houston Methodist is required and permitted by law to use and disclose their health information
The right to know their health information rights, including the right to access and request amendment of their health information and to obtain an accounting of disclosures regarding their health information as permitted under applicable law
The right to and need for effective communication.
The right to considerate and respectful care, including the consideration of developmental age, sensory impairment, psychosocial, spiritual, and cultural variables, and the comfort and dignity of dying patients by addressing and treating symptoms that respond to medically appropriate treatment as desired by the patient or surrogate decision maker.
The right to know the name of the physician who has primary responsibility for coordinating the care and the names and professional relationships of other physicians and non-physicians who will see the patient
The right to receive information about the illness, course of treatment and prospects for recovery in terms that the patient can understand
The right, in collaboration with their physicians, to make decisions involving their health care, including the acceptance or refusal of treatment and the use of advance directives.
The right to receive, at the time of hospital admission, in a language or method that the patient understands, information about Houston Methodist's patient rights policy, and the mechanism for initiation, review, and when possible, resolution of patient complaints regarding quality of care
The right to voice a concern to the appropriate entity personnel or to the Texas Department of State Health Services.
The right to voice a concern about any health care provider licensed by the State of Texas
For concerns regarding health information privacy, the right to voice the concern to appropriate entity personnel or to the Secretary of the United States Department of Health and Human Services
The right to participate in, or have their qualified personal representative participate in, the consideration of ethical issues arising in their care
The right to participate or not to participate in any human experimentation, research or education projects for which the patient is eligible
The right, within legal limits, to personal privacy and confidentiality of information shared during case discussion, consultation, examination and treatment
The right to be told the reason for the presence of any individual during these events
The right to consent or refuse to consent to recording or filming (photographic, video, electronic or audio material) or use of any personal identifiable information for purposes other than the identification, diagnosis or treatment of the patient
The right, within legal limits, to access, or have their qualified personal representative access information contained in their medical records
The right of their guardian, next of kin or qualified personal representative to exercise, to the extent permitted by law, the rights delineated on their behalf if they are incapable of understanding treatment, unable to communicate their wishes, are judged incompetent or are minors
The right to be informed, along with their family, when appropriate, of the outcomes of care including unanticipated outcomes
The right to have their pain managed effectively
The right to receive a high standard of patient safety
The right to be free from restraint or seclusion of any form, imposed as a means of coercion, discipline, convenience or retaliation by staff
The right to an environment that preserves dignity and contributes to a positive self-image
The right to be free from mental, physical, sexual and verbal abuse, neglect and exploitation
The right to access protective and advocacy services
The right to be informed of continuing health care needs following discharge from the hospital
The right to exercise the above rights without regard to sex, economic status, gender identity, educational background, race, color, religion, ancestry, national origin, sexual orientation, marital status or the source of payment for care

Patient Responsibilities
In turn, patients should accept certain responsibilities:


The responsibility to identify themselves, for providing reasonably accurate and complete information about their medical history and unexpected changes in their current condition, and for asking questions when they do not understand medical information they have received
The responsibility for complying with the directions and instructions of their health care providers unless they have exercised their right to refuse treatment
The responsibility to recognize the effect of their lifestyle on health
The responsibility for respecting the rights of others, including, but not limited to, other patients and health care providers
The responsibility to know the extent and limitations of their health care benefits

Notice of Privacy Practices
Click here to view our Notice of Privacy Practices in English. (Click here to view in Spanish.)

Applause Program
Our goal is not simply to deliver quality health care to our patients, but to do so in a way that is courteous, helpful and respectful. We would like for you to let us know if an employee has gone out of his or her way to do something special, has been very helpful, has answered your questions and/or has treated you with respect. If you would like to fill out an applause card to recognize someone who had provided you with outstanding care, please request a card from your nurse.

Wireless Internet Access
Houston Methodist San Jacinto offers wireless Internet access for our guests. If you would like to use this service, please call 832.667.5600