Inferior Vena Cava (IVC) Filter and Removal
What is an IVC Filter?

As defined by the Food and Drug Administration, inferior vena cava (IVC) filters are small, cage-like devices that are inserted into the inferior vena cava to capture blood clots and prevent them from reaching the lungs. The inferior vena cava is the main vessel returning blood from the lower half of the body to the heart. IVC filters are frequently placed in patients at risk for pulmonary embolism (a blood clot in the lungs) when anticoagulant therapy cannot be used or is ineffective. IVC filters are designed to be permanent implants, although some of these devices may have the option to be removed.
Why Choose Houston Methodist

Our experts have vast experience with a variety of IVC filter removal techniques, including using robotic systems, with advanced, 3-D imaging.
Houston Methodist has some of the most advanced imaging suites in the country, allowing our doctors to more easily evaluate IVC filters.
Our doctors are leaders in IVC filters and their removal, publishing papers and running training courses for other physicians across the country.


Our Approach to Treatment

The internationally renowned vascular surgeons at
Houston Methodist DeBakey Heart & Vascular Center
are leading experts in IVC filter removal. We address concerns and provide the expertise needed, when appropriate, to remove IVC filters.
Our surgeons at
Houston Methodist Cardiovascular Surgery Associates
offer patients:
Second opinions and advice about their IVC filters, responding to a nationwide call for patients to file lawsuits against filter manufacturers because of complications
Consultation in filter complication management
A variety of filter removal techniques, including robotic-guided removal

IVC filters are surgically implanted into more than 250,000 patients annually nationwide, our specialists estimate. These filters have been used for decades to prevent pulmonary embolisms, the passage of blood clots from the legs into the lungs. However, while effective in selected patients, they can cause serious complications.
In 2014, the FDA recommended filters be removed as soon as possible after implantation, ideally within 29 to 54 days in eligible patients. As a result, IVC filter removal is performed throughout Houston Methodist.
In 2015,
Alan Lumsden, MD
, director of DeBakey Heart & Vascular Center, performed the world's first intravascular robot-assisted retrieval of an IVC filter at Houston Methodist Hospital.
Get Your IVC Filter Evaluated

If you have not followed up with your doctor within 60 days after the IVC filter was placed, we encourage you to contact your doctor to determine a recommended plan of care regarding your IVC filter. If you would like a doctor who specializes in these type of cases to evaluate your IVC filter, please call Houston Methodist Cardiovascular Surgery Associates at
713.441.5200
to schedule an appointment.
For Health Professionals
Patients with IVC filters must be evaluated regarding filter removal risks and benefits. Filter implantation is relatively simple, which may have contributed to their overuse. However, removal can be challenging and potentially hazardous. To be a candidate for this procedure, removal must be less risky than leaving a filter in place. Our specialists have the experience to make this assessment.
IVC Filter Removal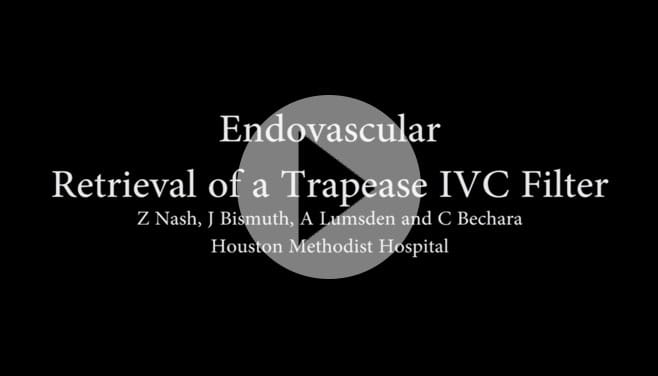 Watch Houston Methodist DeBakey Heart & Vascular Center surgeons retrieve a patient's inferior vena cava filter.
Related Research
Open Removal of Penetrating Inferior Vena Cava Filter with Repair of Secondary Aortic Dissection: Case Report.
Chauhan Y, Al Jabbari O, Abu Saleh WK, Loh T, Ali I, Lumsden A. Ann Vasc Surg. 2016 Apr;32:130.e9-12. doi: 10.1016/j.avsg.2015.10.033. Epub 2016 Jan 22.
Early Technical and Clinical Results with Retrievable Inferior Vena Caval Filters.
Lam RC, Bush RL, Lin PH, Lumsden AB. Vascular. 2004 Jul-Aug;12(4):233-7.
The Regained Referral Ground and Clinical Practice of Vena Cava Filter Placement in Vascular Surgery.
Lin PH, Kulbaski MJ, Terramani TT, Bush RL, Brinkman WT, Chen C, Conklin B, Lumsden AB. Am Surg. 2002 Oct;68(10):865-70.
Endovascular Retrieval of a Trapease IVC Filter.
Zack Nash, MD, Jean Bismuth, MD, Alan Lumsden, MD, FRCS, MS. Houston Methodist Hospital, Houston, Texas. Journal of Vascular Surgery, June 2016, Volume 63, Issue 6, Supplement, Page 232S.
Robot-Assisted Removal of Inferior Vena Cava Filters.
Ali Irshad, MD, Ponraj Chinnadurai, Alan B. Lumsden, M.D. Houston Methodist Hospital, Houston, TX, USA. The Society for Clinical Vascular Surgery, 44th annual symposium, March 12-16, 2016, Las Vegas, Nev.
Venous Thromboembolic Disease.
Editors Mark G. Davies, Alan B. Lumsden, Cardiotext Publishing, 2011.
It Wasn't Cupid: Multimodality Imaging of Inferior Vena Cava Filter Fracture with Strut Migration to the Interventricular Septum: Case Report.
Kassi M, Lopez J, Barker C, Trerotola S, Kleiman N, Kurrelmeyer K. Methodist DeBakey Cardiovasc J. 2014 Jul-Sep;10(3):198-200.
Houston Methodist DeBakey Heart & Vascular Center
6565 Fannin St.
Houston, TX 77030
713.441.5200