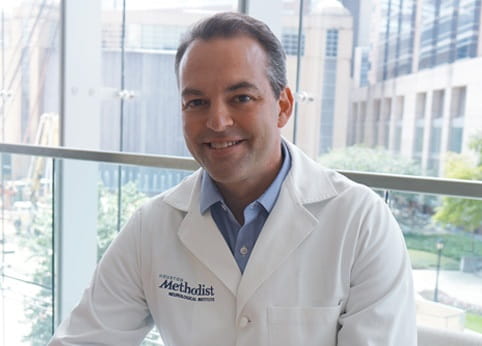 Philip J. Horner, PhD
Professor of Neuroregeneration, Institute for Academic Medicine
Full Member, Research Institute
Scientific Director, Center for Neuroregeneration
Houston Methodist
Matthew Hogan, PhD, Postdoctoral Fellow
Matt is a postdoctoral fellow in the Department of Neuroregenerative Medicine at Houston Methodist Research Institute. He is focusing on semi-high throughput methods for optogenetic interrogation of neurons. He hopes to elucidate the role, if any, of neurons in spinal regeneration. Prior to joining Dr. Horner's lab, Matt completed his Ph.D. in Biomedical Engineering at the University of Houston under the mentorship of Dr. Ravi K. Birla. He participated in the development of multiple engineered cardiac tissue models including heart muscle, ventricle and whole heart models. He also deployed several novel bioreactors for the conditioning and maintenance of in vitro tissue mimetic cultures. Matt enjoys woodworking, guitar, coding, cooking and sports. Most weekends find him tinkering in his workshop at home or being forcibly cultured by his more sophisticated significant other.

Robert Scranton, MD, Neurosurgery Resident
Dr. Scranton is a resident in Neurosurgery at Houston Methodist Hospital with a strong interest in minimally invasive skull base surgery. He is working in the lab of Dr. Gavin Britz and Dr. Phil Horner developing a large animal model of intracranial hemorrhage to explore innovative surgical and regenerative techniques. He completed his undergraduate education at Texas A&M University and medical school at the University of Texas Health Science Center in San Antonio. Rob's hobbies include spending time with his family, running, and hunting.

Prem Siddharth Gunamalai, Research Laboratory Manager
Sid Gunamalai graduated with a Bachelor's degree in Bioengineering in India and decided to further his education with a Master's Degree from the University of Houston-Clear Lake. Sid began his of scientific career in the USA at the Baylor College of Medicine in 2011 before joining the Houston Methodist Research institute in 2012. He has been working with various different animal models using mice and rats, performing various surgical techniques, breeding, blood draws, and organ collection. He also manages the laboratory and trains users on multiple techniques. His expertise includes various cell culture assays, extensive molecular biology techniques, genetics, cloning, immunohistochemistry and protein engineering. Outside of work, he is always ready to go on hikes, fishing trips and camping or play cricket. In his spare time, he also loves to build computers and play video games.

Tae Hoon Lee, PhD, Research Associate I
Dr. Lee is developing a Maloney viral packaging system for neuroregeneration after spinal cord injury. He majored in biochemistry and earned his PhD at Yonsei University, South Korea. He has broad experience with 10 publications in biochemistry, molecular biology, genetics, immunology, and translational imaging.

Tatiana Wolfe,
Postdoctoral Fellow II
Dr. Wolfe is a medical physicist postdoctoral fellow working on the development of new imaging techniques and processes to undermine soft-tissue features noninvasively. She is focusing on magnetic signatures of myelin in the central nervous system (CNS) under Dr. Philip Horner's mentorship. She has experience in magnetic resonance imaging (MRI) and clinical radiation physics. Imaging reconstruction and signal decomposition are her areas of interest. Dr. Wolfe also has experience with biological assays at the basic science level, preclinical level and, more recently, has initiated studies in human subjects. Her favorite hobbies are cooking, reading and writing. Currently, she has a new book under pre-edition themed on
the pleasure of cooking healthy,
which blends bold recipes from the Brazilian, Portuguese and American cuisines. In the book she discusses the multi-sensorial experimentation of food texture, flavor and aroma. Tatiana is a very nurturing mother and wife, and she likes to spend the weekends outdoors with her husband and lovely two year old son, while they expect a little princess to join the family sometime in August.

Sean M. Barber, MD, Resident Physician

Dr. Barber is a native Houstonian who received his two undergraduate degrees from the University of Texas: Austin and his medical degree from the University of Texas Medical Branch. He is a resident physician in the department of Neurosurgery at Houston Methodist Hospital. Sean's academic interests include the treatment of complex spinal pathology, neuroregenerative medicine and spinal cord injury research.

Cinzia Stigliano, PhD,
Postdoctoral fellow
Dr. Stigliano is a postdoctoral fellow in Neuro-regenerative medicine at Houston Methodist Research Institute. Her work is focused on the delivery of therapeutic agents with nanoparticles to spinal cord injury in mouse and rat models. She completed her PhD in Biotechnology at University of Bari in Italy and she has worked as post-doctoral fellow at the department of Nanomedicine at Houston Methodist Research Institute. Cinzia loves travel and have fun with yoga and spinning classes in the free time.

Don Maris,
Operations Manager
Don worked in the Department of Neurological Surgery at the University of Washington for 35 years with the last 14 acting as lab manager for Dr. Horner. He was hired by the Center for Neuroregenerative Medicine to aid in planning, development and growth of resources commiserate with Houston Methodist's interdisciplinary approach to collaborative research. Don enjoys fly fishing, hiking, and snow skiing when not pestered by his Labrador retriever to throw the Frisbee.

Past Members of Dr. Horner's Lab

Sam Emerson, MD, PhD: 2nd Year resident, Dept. of Neurosurgery, University of Washington
Denise Inman, PhD: Assistant Professor, Dept. of Pharmaceutical Sciences, Northeast Ohio Medical University
Jurate Lasiente, PhD: Clinical Trial Lead, PSI CRO AG, Oxford, United Kingdom
Audrey Petit, PhD: Medical Student, University of Montreal
Berit Powers, PhD: Senior Scientist, Isis Pharmaceuticals, Carlsbad, CA
Drew Sellers, PhD: Research Assistant Professor, Dept. of Bioengineering, University of Washington
Wendi Lambert, PhD: Senior Staff Scientist, Vanderbilt Eye Institute, Vanderbilt University