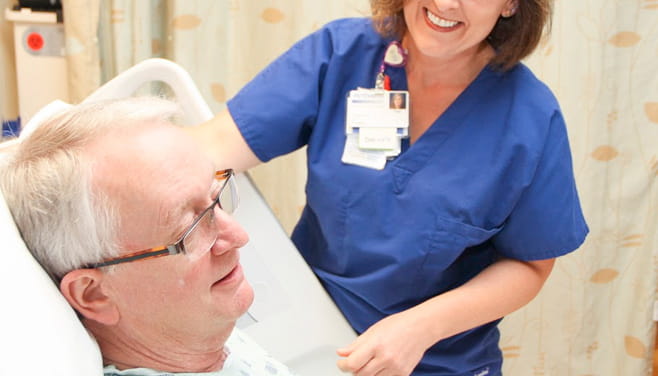 Online Registration
Houston Methodist West welcomes you to register for several services online:

What to Expect While in the Hospital
At Houston Methodist West, our goal is to deliver excellent patient care and to involve your family in your care at all times. Your doctor will arrange your admission and determine the type of medical care you receive. Upon admission to your room, our nursing team will assist you in the following areas:


Explain what to expect during your stay
Complete your admission history and assessment
Discuss your plan of care and expected length of stay

Each day, your nurse will review your plan of care as well as your goals for that day.

Your Hospital Room
Your room is equipped with many accommodations to provide a comfortable and relaxing stay for you and your family.


Each room has a TV (closed captioning available on request), a bedside telephone, wireless internet, pull-out furniture so guests may stay with you, a full bathroom and a stand-up shower.
Each patient room is equipped with a combination safe for storing valuables that cannot be left at home.
Visitors should ask the nurse's permission before bringing food or drink to patients.
Visitors should not visit if they have colds or any infectious disease.
If you wish not to be disturbed, we will post a "No Visitors" sign on your door.
Visitors are encouraged to wash their hands when they enter patient rooms, and alcohol-based cleaners are available throughout the hospital.

Meals
Patient meals are provided by room service. A menu is available in your room, and you can place orders by dialing 832.522.1200.

Guests are welcome to dine at Live Oaks Café on the first floor of the hospital, or they may order off a menu provided by the nurse. There are also vending machines located throughout the hospital, and Live Oaks Espresso offers light fare on the third floor.

Visitor Guidelines


Houston Methodist West has a 24-hour visitation policy.
Between 9 p.m. and 6 a.m., we ask visitors to enter through the emergency department entrance.
Patients may designate who is and is not allowed to visit during their stay.
Families and loved ones who will be staying with you after your discharge are encouraged to visit and learn how to help take care of you once you return home.
Spiritual Care & Education
The hospital chaplain is available to all patients and families. You may request a visit from the chaplain by notifying your nurse or calling 832.522.0010. Learn more about spiritual care and education.

Support Groups
Houston Methodist West offers several support programs for patients, family members and caregivers.

Mended Hearts Support Group
Our chapter of the Mended Hearts Support Group, a national patient support organization, meets the third Thursday of each month from 5:30 to 7 p.m. in Mesquite Conference Room A. To RSVP, contact Volunteer Services at 832.522.3062.

Women's Cancer Support Group
Fighting cancer can be a tough road, and the journey can affect you physically, emotionally and spiritually. But you are not alone. No matter your stage of diagnosis or treatment, we are here to help – empowering you with information and lifting you up with peer support. The group is led by trained facilitators from Houston Methodist West Hospital. Meetings are held the second Wednesday of every month, from 6 to 7:30 p.m. at Houston Methodist Cancer Center at West. For more information, email egesprit@houstonmethodist.org or call 832.522.8110.

Look Good…Feel Better®
With the guidance of certified beauticians, the Look Good…Feel Better program teaches beauty techniques to help manage appearance-related side effects of radiation and chemotherapy treatment. For more information, please call 832.522.2873.

Bereavement Support
In partnership with Houston Hospice, Houston Methodist West offers bereavement support and counseling to all members of our community who have lost loved ones. For further information, contact Spiritual Care and Value Integration at 832.522.0010.

Your Account
We are pleased to offer the convenience of online bill payment. You can pay either your hospital bill or your Houston Methodist Specialty Physician Group bill using the Houston Methodist Online Billing Manager.

It is important to remember that your bill covers services provided by the hospital such as your room, nursing care, meals, housekeeping and linen. It may also include services ordered by your physician such as X-rays, laboratory tests, medical supplies and oxygen. The bill does not include charges for your personal physician, surgeon, anesthesiologist, pathologist, emergency physician, radiologist or other physician consultants. You will receive separate bills from those physicians.

If you have any additional billing questions, please call our main number, 832.667.5900, and ask to speak to Patient Billing Services. We sincerely appreciate the opportunity to serve you.

Please note: Email messages and some areas of the Internet are not secure. Please do not use email to send confidential information, such as social security numbers, personal health information, credit card numbers, etc. When conveying confidential or private information, please contact us directly at the phone number listed on your statement.

All payment and account information obtained using our online billing manager, or personal information submitted using online forms on this web site, is encrypted or encoded. This information is secure and can only be read by the intended recipients.

Medical Records
For information about medical records, visit our Health Information Management page.

Click here to review our Notice of Privacy Practices in English (here to review in Spanish).